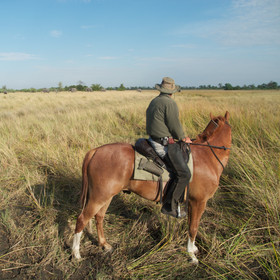 Africa has some great horseback safaris...
Riding holidays in Africa
There are many opportunities for riding holidays in Africa: Almost all countries offer rides through the African wilderness, excursions varying from a few hours to several days out while sleeping in fly camps. Whether quad biking or in a more eco-friendly way on an elephant or horseback, riding provides you with a different view of the surrounding areas.

Horseback riding in Africa is usually offered by camps and lodges in areas which have lower game densities. Thus even beginners can be amazed by rolling hills, pristine beaches and vast plains, without worrying about the dangers of riding in lion country. More experienced riders will enjoy faster paces, longer ride outs or several days in the saddle with magnificent horses of great character. Even if you're just looking for a few hours in the saddle, just contact us for further details. The regular clip-clop of your horses' hooves has a relaxing effect and adds perfectly to your safari experience.

For those seeking an alternative, a few camps spread over Botswana and Zambia even offer elephant rides. While in the Livingstone area in Zambia elephant riding is not available at a specific camp we feature, we are happy to help you include it into your itinerary with our local partners. In Botswana, there is Abu Camp, whose elephants are well known. You can walk side by side with them or do gentle riding, elephants in Africa are the largest mammals to live in terrestrial habitats and even bigger than their Indian counterparts.

The vast Makgadigkadi salt pans in Botswana are a great choice for quad-bike rides in Africa. Chose between rides from one to several days right into the centre of the pans and explore this diverse environment. To try to avoid damaging the pan's fragile crust, quad biking is only available from June to November.