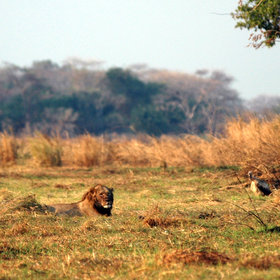 The huge Kafue National Park has a wide variety of different environments ...
Latest Kafue National Park safari reviews
Great lodge
3-Oct to 15-Oct 15
Excellent

Beautiful Busanga Bushcamp
16-Aug to 3-Sep 15
Excellent

Very good camp, friendly, comfortable,
22-Oct to 5-Nov 14
Excellent

Kaingu Lodge
17-Sep to 23-Oct 14
Excellent

Shumba Camp review
3-Sep to 15-Sep 14
Excellent

Kafue National Park
About the same size as Wales, Kafue National Park is Zambia's largest park. It protects a wide variety of different environments on an undulating plateau veined by rivers. Generally Kafue receives far less safari visitors than either the
South Luangwa
or the
Lower Zambezi
national parks. However, as both of the parks offer environments which are very different from those in Kafue, a trip to either will combine well with a trip to Kafue National Park.
Safaris to Kafue National Park
There are three practical options for getting to Kafue, and getting around once you are there. Firstly, you can fly in, and stay at one of the better camps or lodges; the team from the camp will then walk, drive and boat you around their area of the park.
Secondly, you can drive yourself into and around the park in a 4WD. Or thirdly, you can arrange for a safari company from outside to drive you in here, and drive you around.
Almost all of
Expert Africa
's trips take the fly-in approach. Getting to Kafue by air or scheduled transfer is certainly the most relaxing, especially if your time is relatively limited, or you like the idea of a safari holiday here rather than an expedition. There are no scheduled flights into the park, but several charter companies in Lusaka will fly you in or out on request.
Safari areas in Kafue National Park
Established in 1924, the Kafue National Park covers some 22,400km² (about the size of Wales, or Massachusetts) of very varied terrain and is one of the world's largest parks. Naturally, its geography varies considerably. Throughout the park, the permanent Kafue River follows a well-defined course, and widens in a few places where barriers of harder rocks near the surface force it into shallow, rocky rapids – Kafwala and the area beside Kaingu Safari Lodge being the obvious examples. Bordering the eastern side of southern Kafue is Lake Itezhi-Tezhi – a large, manmade lake that was created in 1977.
Surrounding the whole are no fewer than eight game management areas (GMAs), which provide a valuable buffer zone for the park's wildlife.
Northern Kafue: the Busanga Plains
The northern section of Kafue National Park is a slightly undulating plateau, veined by rivers – the Lufupa, the Lunga, the Ntemwa, the Mukombo, the Mukunashi, and the Lubuji – which are all tributaries of the main Kafue, whose basin extends to the border with DRC.
In the far north of Kafue National Park, the Lufupa River flows into the Busanga Swamps. During the rains, this floods out over the adjacent
Busanga Plains
. Later, around May, when these waters recede, they leave behind a carpet of lush vegetation – which is irresistible to many herbivores. The Busanga Plains is certainly Kafue's most enticing area for the diversity and quantity of its big game.
Here you find flat grassland plains dotted with photogenic 'islands' of wild date palms, sausage trees and fig trees; it's a unique environment for Kafue. You'll often also find huge herds of red lechwe and puku, as well as buffalo, zebra, wildebeest and other antelope. The prides of lion residing here are known for their tree-climbing antics; it's Zambia's best area for cheetah and one of its best for wild dogs – and certainly the best game area in Kafue National Park.
The south side of Kafue
Since Northern Kafue receives a little more rain than the south, resulting in richer, taller vegetation Southern Kafue has been largely ignored for many years. The reality is that the game can be quite patchy, clustered around areas where it has historically been best protected. These areas have been expanding recently though, and it's gradually becoming an area worth visiting for more old Africa hands who value the exploration as much as the game-sightings. Note that sometimes it makes more sense to be driven to Southern Kafue from Lusaka, rather than flying here.
Flora & Fauna of Kafue National Park
Covering such a large area, with a variety of habitats, Kafue is rich in wildlife and many of its species seem to exhibit strong local variations in their distribution. This is a reflection of the wide variety of habitats in such a large park.
Animals
Kafue has a superb range of antelope, but you will have to travel throughout the park if you wish to see them all. It's possible to visit and see large herds of red lechwe and puku, with smaller groups of zebra and blue wildebeest in the Busanga Plains around June, when it starts to dry out.
Across the northern half of the park, there's a good range of mixed bush environments, and here kudu, bushbuck, eland, reedbuck, common duiker, grysbok and defassa waterbuck are all frequently seen.
Lion are relatively widespread all over the park, but the larger males are increasingly uncommon, with inevitable consequences for numbers as a whole. On the Busanga Plains, prides stalk through nervous herds of puku and lechwe nightly, using the natural drainage ditches for cover with deadly efficiency.
Leopards remain very common throughout the main forested areas of the park, though they are seldom seen on the open plains. Spotted hyenas are seen regularly, though not often, throughout the park. Cheetah are not common anywhere, but they're most frequently seen in the north of the park, where they seem to be thriving. Occasional sightings of wild dog occur all over the park which is one of Zambia's best strongholds for them
Birds
The birding in Kafue is very good. There have been about 495 species recorded here, suggesting that the park has probably the richest birdlife of any Zambian park. This reflects Kafue's wide range of habitats- Kafue has plenty of rivers, extensive wetlands and – in the north – seasonal floodplains.
The wetlands and floodplains have the full range of herons (including the black heron), storks and ibises, plus crowned and wattled cranes, Denham's (or Stanley's) and kori bustards, secretary birds, and geese (spur-winged and Egyptian) by the thousand.
In the long, verdant stretches of riverine vegetation you're likely to spot Ross's turaco, Narina trogons, MacClounie's (black-backed) barbet, olive woodpecker, brown-headed apalis and the yellow-throated leaflove. Kafue's extensive miombo woodlands have endemics such as pale-billed hornbill, miombo pied barbet, grey tit, miombo rock thrush, Sousa's shrike, chestnut-mantled sparrow-weaver, spotted creeper, and three species of eremomela. In the south, on the Nanzhila Plains, the black-cheeked lovebird – near-endemic to southern Zambia – is relatively common.
Vegetation
Most of Kafue is an undulating mosaic of miombo woodlands and dambos, within which you'll find smaller patches of munga woodland, and bands of riparian forest and thickets along the larger rivers.
In the extreme northwest of the park are the permanently wet
Busanga Swamps
, surrounded by adjacent floodplains and now a designated Ramsar site. These are dotted with raised 'tree islands', notable for some mammoth specimens of sycamore figs, amongst other vegetation. These floodplains are ringed by a 'termitaria zone' of grasslands.