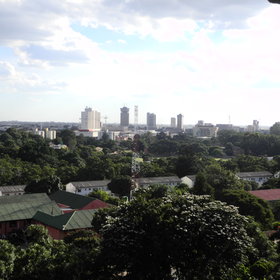 Zambia's capital city, Lusaka, covers 70km² and has 1.4 million inhabitants…
Latest Lusaka area trip reviews
Good overnight at latitude 15
11-Mar to 23-Mar 20
Excellent

One night only
8-Mar to 20-Mar 20
Good

Latitude 15 review
27-Dec to 5-Jan 20
Excellent

Pioneer Camp review
14-Nov to 25-Nov 19
Good

really lovely start to Zambia adventure
23-Sep to 6-Oct 19
Excellent

Lusaka area
Located south of Zambia's 'Copperbelt' towards the Zimbabwe border, the country's capital, Lusaka, is its largest city by a wide margin. Tree-lined boulevards lend a feeling of space in many parts, and a spacious 'government area' is particularly open and pleasant. However Lusaka's rapidly increasing population, an often-congested road system, and large temporary markets all give many parts of the city a busy, bustling feeling.
That said, Lusaka's noise and commotion is seldom worse than any other city of its size, and it usually makes a pleasant stopover, and a good place to meet local Zambians.
Cairo Road and Central Market contain numerous smaller shops, where you can wander around and experience a more authentic side of Zambian culture. While modern shopping malls are springing up over Lusaka to cater to its more affluent residents, these tend to offer a more relaxing, if less interesting, shopping experience.
Lusaka is rarely a priority for people visiting Zambia, and is most often used as a springboard to reach the more remote areas of the country. However, the embassies, the efficient banking and clear communication make it a useful city; and several upmarket hotels, a range of ethnic cuisines and a cross-section of Zambian people living and working in the city make Lusaka an interesting and enjoyable capital city.
What to see and do in Lusaka
Many of our travellers who stay in Lusaka do so just for one night, usually between flight connections. However, if you do stay longer then there are a handful of interesting things to do and places to see.
Entertainment
Most of our travellers staying in Lusaka will opt to dine in their hotel's own restaurant – all of which offer reasonable food, though few will win any culinary awards. However, Lusaka also offers some relaxed and reliable restaurants, which can be more interesting places to dine, and perhaps more lively places to chat to local Zambians and expats.
Shopping
Modern malls, including Manda Hill and the Arcades complex, have revolutionised shopping in Lusaka. Once the focus was the bustling, cramped private shops of Cairo Road – where shopping meant a search amongst dingy shelves. Now visitors and Zambia's more affluent residents shop in spacious malls, amongst large supermarkets, mobile phone outlets and high-end South African chains.
However, many of Lusaka's traditional markets and bazaars still exist and are worth a visit to pick up some more unique souvenirs, and also provide an authentic Zambian shopping experience even if you don't buy anything.
Lusaka: Museums and Culture
Kabwata Cultural Centre
is made up of 43 rondavels, which were 'temporary' housing for Lusaka's black labour force during the 1930s and 40s. Originally numbering in the hundreds most of theses huts were demolished by the government in the 1970s, but the few that remained were converted into the Cultural centre to help preserve Lusaka's heritage. These huts are now inhabited by artists from all over Zambia creating carvings, jewellery, and other crafts, making this one of Lusaka's best spots for buying hand-made curios and souvenirs.
The
National Museum
is dedicated to showcasing Zambia's history and culture with sections devoted to archaeology, ethnography, and political and social history. The museum was only opened in 1996 after being converted from an incomplete government building, and while it does contain a few interesting exhibits it retains the feeling that work is still in progress.
Henry Tayali Visual Arts Centre
focuses on contemporary Zambian art exhibitions. Items are available for purchase after some negotiation with the artists.
Nomwande Art Gallery
displays paintings and sculptures from more prominent Zambian artists.
Lusaka City and Township Tours
can be arranged through a tour company that we know well, or through your hotel in Lusaka. These can provide an interesting overview of Lusaka's key tourism attractions, whilst experiencing various aspects of Zambian daily life. It is also possible incorporate visits to traditional healers and local breweries.
Excursions Outside Lusaka
Kalimba Reptile Park
is a good place to get a safe look at some of Zambia's more dangerous venomous snakes and rare reptiles such as the African slender nosed crocodile. The park also has fishing ponds, a children's playground and serves crocodile burgers made from farmed animals.
Munda Wanga Wildlife Park & Sanctuary
contains a selection of Zambia's flora and fauna in specialist open enclosures that recreate the animal's natural environment. The park has a heavy emphasis on conservation and environmental sustainability.
Lusaka National Park
is a new national park being constructed approximately 15km from Lusaka. Infrastructure in the park has been under development for the past few years and it is uncertain when the park will open.