Where to see Wildebeest in Zimbabwe
Wildebeest are a group of antelope, although its superficially bovine appearance sometimes sees them mistaken for buffalo. Known for their spectacular migrations, this these resilient beasts are one of Africa's most successful herbivores.
---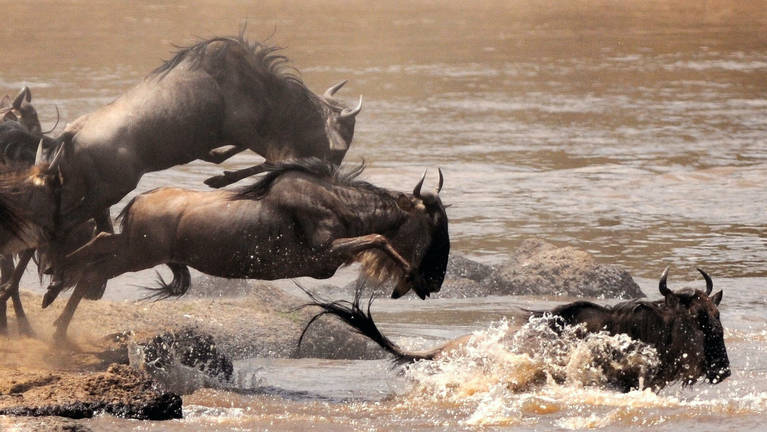 Quick facts about Wildebeest
| | | | |
| --- | --- | --- | --- |
| Scientific name: | Connochaetes sp. | Habitat: | Open savannah & grasslands |
| IUCN status: | Least concern | Adult weight: | 250–290kg |
The lugubrious-looking blue wildebeest is the better known of two wildebeest species, the other being South Africa's rare black wildebeest (Connochaetes gnou).

A large, robust antelope of the hartebeest (Alcelaphinae) tribe, it is identified by its dark grey/brown colouration and front-heavy profile, embellished with handlebar horns, black beard and luxuriant tail. Wildebeest use their broad muzzles to crop short grass and often feed alongside zebra and other grazers.

Family groups and bachelor herds may coalesce in gatherings many thousands strong when migrating in search of fresh grazing. All females give birth at the start of the rainy season – the explosion of youngsters overwhelming the many predators, such as lion and hyena, lying in wait.
---
2.5 mya
When wildebeest evolved
33%
Proportion of day spent grazing (Serengeti rainy season)
The top camps for seeing wildebeest in Zimbabwe
Based on 84 reports by our travellers since May 2018, visitors at these camps in Zimbabwe have the best chances of sighting wildebeest.
---
Where to see wildebeest in Africa
Wildebeest inhabit short-grass plains and bushy savannah in eastern and southern Africa. You'll find them in numerous reserves, from Kenya to South Africa, but the greatest spectacle is their annual migration across the Serengeti.
---
Top tips for viewing wildebeest
The Serengeti's celebrated 'Great Migration' involves an annual clockwise cycle of up to 1.5 million blue wildebeest, alongside zebra and various antelope, following seasonal rainfall towards optimum conditions for feeding and calving. To catch this spectacle, and perhaps witness the drama of a river crossing, take advice when planning your safari.

Large herds also roam Zambia's Liuwa Plain and Tanzania's Tarangire, although the huge migrations across Botswana's Kalahari are no more, courtesy of veterinary cordon fences. Most other savanna reserves support smaller but healthy populations, provided permanent water is available. Check out Zambia's Luangwa Valley for the shy Cookson's wildebeest, a local subspecies. Watch rival male wildebeest contest a territorial skirmish and you'll soon see these animals as more than just predator bait.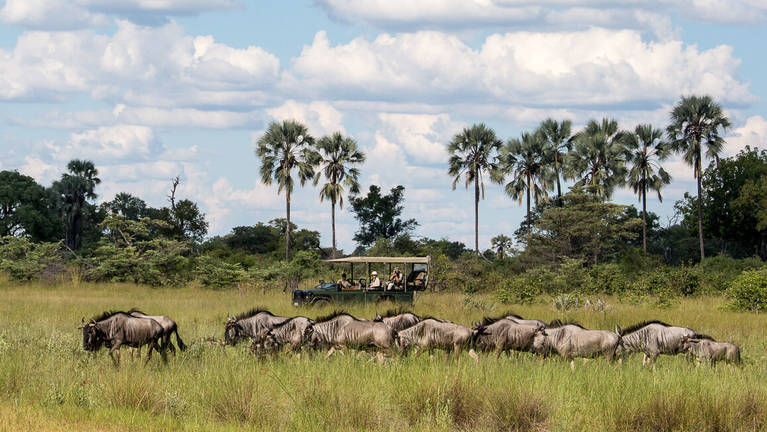 Our best Zimbabwe holidays for wildebeest sightings
Based on our travellers' reports, these ideas for Zimbabwe safaris are likely to give the best wildebeest sightings
---
More information about wildebeest in our other destinations
Click here for detailed information about wildebeest in other countries, including the places for sighting wildebeest.
---