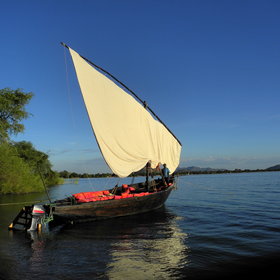 Malawi is dominated by its spectacular lake...
Malawi general information
How's the food in Malawi? Do I need a visa for Malawi? What's Malawi's currency? These and other important travel questions occur, when going on a holiday to Malawi for the first time; below we've answered the most frequently asked questions.
Know before you go
As you plan your trip, and before you travel, we recommend that you check the latest Foreign Office advice on the places that you're going to - regardless of where you are travelling to, or how you are travelling. See FCO's
Malawi advice here
, or its
info on other countries here
.
We urge you to do this, as we recommend that all our travellers keep themselves up to date with the current foreign office advice on their destination countries.
Time in Malawi
Malawi is two hours in the advance of Greenwich Mean Time (GMT+2). As Malawi doesn't operate daylight saving time, there's no time difference between the winter and summer months.
Currency in Malawi
Malawi's currency is the Malawian kwacha (MWK). At time of writing (Aug 09) £1 = MKw238.83, although camps often charge in US$ (US$1 = MKw144.88). You can also check with
www.oanda.com
for the latest exchange rates. Most lodges accept travellers' cheques; some also take credit cards.
Malawi's International Dialling Code
Malawi's International Dialling Code is 00265. Calling from Malawi, you dial the relevant country code (e.g. 001 for North America, 0044 for Great Britain), followed by the area code and local number. At the time of writing (Aug 09), calls from Malawi to UK landlines with
Malawi Telecommunications Limited
cost between MKw0.80 and MKw2.00 per minute, depending on the time of day (USA: between MKw0.80 and Mkw1.20 per minute).
Food in Malawi
The standard of food in Malawi's lodges and restaurants is generally good, as is the local beer. Imported South African beers and wine are excellent.
Local specialities include
chambo
(Tilapia fish, fresh from Lake Malawi),
Nthochi
(banana bread) and
Mbatata
(cookies made from sweet potato and cinnamon). White maize – served with vegetables, fish or meat – is a staple; poultry and dairy products, as well as tropical fruits are plentiful and often used.
Health in Malawi
Several vaccines are sensible for Malawi: typhoid, polio, tetanus and possibly yellow fever. Malaria is common, so you should make sure you take anti-malarials. Bilharzia is prevalent in some areas of the lake, and you should be aware of the risks that this can pose before you travel. Always check the latest recommendations with your GP or travel clinic; the
Scottish NHS
also provides useful travel information on Malawi.
HIV infection rates are high; AIDS is widespread in Malawi. This isn't generally an issue for travellers, but they should be aware of the health situation, and take the same sensible safety measures to avoid infection which are wise in most countries. We understand that blood supplies used by Malawi's private hospitals have been carefully screened for numerous years.
Language in Malawi
In Malawi, English is one of the official languages, and spoken by most people; Malawi's second official language is Chicewa.
Visas for Malawi
At the time of writing (June 2018)), most nationalities can buy a visa for Malawi on arrival at a cost of U$75 per person. Ask us for guidance and check with your nearest Malawi Embassy or High Commission for the latest detail.
Weather and climate in Malawi
Malawi's weather pattern is similar to the climate in Zambia – a mix of wet and dry seasons. Read more about the
weather and climate in Malawi
here…