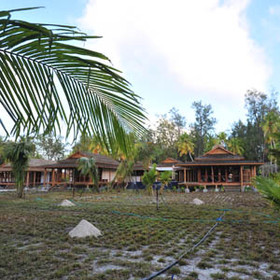 Since the end of 2008, Desroches Island Resort features 28 new four-bedroom villas.
Villa
At the end of 2008, Desroches Island Resort opened 28 four-bedroomed villas along the superb Madame Zabre beach, on the island's north coast. They are located away (5min cycle) from the main resort facilities, though they share these, including the restaurant, with all other guests.
Aimed at large families and groups of friends, the villas are extremely large and have been carefully constructed using casuarina timber for the interiors and stylish modern fixtures and fittings. Bedrooms are spacious and feature tasteful built-in furniture and king-size beds, whilst all of the villas have a well-equipped modern kitchen (washing machine, tumble dryer, dishwasher and fridge-freezer), alongside their broad, U-shaped terrace and inviting, indigo blue infinity pool.
Though all similar in style, these villas on Desroches Island do vary in size and capacity, and are broken into the following categories:
- The
25 Beach Front Villas
each have three en-suite, king-size bedrooms with a bath as well and an indoor and an outdoor shower. There is a fourth bedroom, smaller in size, which could be billed as a 'nanny room' for families.
- There are
2 Deluxe Beach Front Villas
which are essentially the same as the Beach Front Villas but feature 4 en-suite, king-size bedrooms.
- The
Presidential Beach Front Villa
is again similar to the Deluxe Beach Front Villas, but boasts a more linear construction offering a vast 100m of uninterrupted beach frontage. There is only one Presidential Villa.
Modern conveniences like air-conditioning, satellite TV, hairdryers and a stocked mini-bar are standard. Meals can also be served in-villa at a supplementary charge.
For all of the villas' positives though, it is hard to escape the observation that in spite of the large size of Desroches Island, the resort's new villas have been sited extremely close together. This does have a negative impact on both privacy and a sense of island isolation.
Junior Suite | Villa |