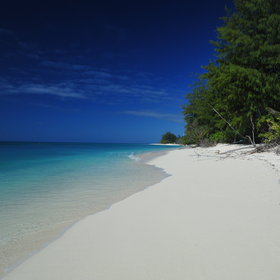 Justifiably, Seychelles is famous for its spectacular beaches.
Seychelles background and facts
Know before you go
As you plan your trip, and before you travel, we recommend that you check the latest Foreign Office advice on the places that you're going to - regardless of where you are travelling to, or how you are travelling. See FCO's
Seychelles advice here
, or its
info on other countries here
.
We urge you to do this, as we recommend that all our travellers keep themselves up to date with the current foreign office advice on their destination countries.
Setting the scene for a holiday in Seychelles
Travellers on holidays in the Seychelles don't always realise, but the islands fall into two distinct groups: the tall, granitic Inner Islands found on the relatively shallow Seychelles' plateau, and the low-lying, coralline cays, reef islets and atolls of the Outer Islands. The distance from Seychelles International Airport on Mahé to the Outer Islands' atolls ranges from 230 to 1,150 kilometres; the sheer distance making the vast majority of them inaccessible to all but Mother Nature.
Almost all Seychellois live on the principal islands of Mahé, Praslin and La Digue, making these Inner Islands the centre of everyday cultural and economic activity, as well as a great holiday destination. However, with a resident population of only 82,000, the smallest of any sovereign state in Africa, there are plenty of spectacularly beautiful, wholly untouched environments to explore, both on land and in water. Steep, forested mountains rise from golden sands and turquoise waters, whilst coral reefs teem with multi-coloured marine life and gargantuan corals; all are alluring prospects for a great Seychelles holiday.
A brief history of the Seychelles
Unsurprisingly given its breathtaking natural beauty and mid-ocean location, battle for control of Seychelles has been fiercely contested over the years. Named, in 1756, after Jean Moreau de Séchelles, Louis XV's Minister of Finance, this uninhabited archipelago had served as a transit point for Arab, Portuguese and British traders for many centuries before.
It came under British control from French in 1812, was granted independence as a Commonwealth republic in 1976, and following a coup d'etat in 1977 became a socialist one-party state until, in 1993, multiparty politics prevailed. With no indigenous population but a stream of interested parties, the current Seychellois (people of the Seychelles) are composed of immigrants, mostly of French, African, Indian and Chinese descent. In line with historic influences, French and English are official languages, along with a French-based Creole.
A few facts about the Seychelles
Seychelles Time Zone:
Seychelles is 4 hours ahead of GMT, 3 hours ahead of British Summer time and 2 hours ahead of European summer time. New York is 9 hours behind the Seychelles and San Francisco 12 hours behind.
Seychelles Currency:
The local currency is the Seychelles Rupee (SCR) which is divided into 100 cents. Banks are generally open Monday to Saturday and all process travellers' cheques and foreign exchange; ATMs are available at major banks and Mahé airport. For the latest exchange rate, we suggest you use a
currency converter
. (Type in codes 'GBP' for British Pounds or USD for US dollars, and the code for the Seychelles Rupee, which is 'SCR'.)
Seychelles Visas:
Visas are not required for British passport holders, though passports must have a minimum of six months remaining validity. An onward/return ticket and proof of sufficient funds are also required.
Health in the Seychelles:
No vaccinations currently required to enter Seychelles unless travellers are from or have passed through a yellow fever area within 6 days preceding arrival. There is currently no malaria in the Seychelles, and the authorities work hard to prevent outbreaks of other mosquito-borne diseases. Always check the latest recommendations with your doctor before you travel.
Seychelles Language:
There are three official languages in Seychelles: Creole (a French-based dialect), English and French.
Seychelles Food:
Local Creole cuisine is a fusion of French, Indian and Oriental influences, though lodges will usually cast a global culinary net. Fresh seafood and exotic fruits and spices are particularly recommended.
Seychelles Climate:
See our page on the
for our comments on the best time to visit these islands.