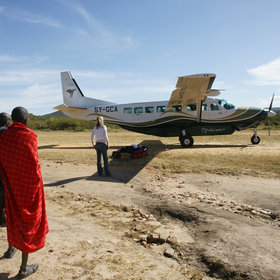 Expert Africa's Kenya safaris are based on local flights to areas like the Maasai Mara…
Lesbian, Gay, Bisexual and Transgender (LGBT) travel to Kenya
Considering Kenya's long-established safari industry, its dynamic digital economy and its flourishing cultural scene, it is perhaps surprising that same-sex sexual relations are illegal in Kenya. The law against homosexuality was in fact inherited from Britain when Kenya's independence was returned to it in 1963.
Unfortunately, unlike many countries in the last five decades, Kenya has not yet updated its laws governing sexual relationships. Non-straight sexual identities (lesbian, gay, bisexual or transgender) are still widely considered to be a taboo subject, and many Kenyans take the attitude, often reinforced by the Kenyan press, that being anything but heterosexual is 'un-African'. This is despite the fact that variations in gender identities and people's sexual preferences appear to be as widespread in Kenya as in any other culture.
As a visitor, your sexual preferences and gender identity are, of course, your private business. If you don't identify as a gender-binary, heterosexual person, that should not be of any interest to anybody. It is only if your behaviour is deemed unacceptable that you might face reproaches, which could also apply to heterosexual couples behaving inappropriately.
Gay travellers in Kenya
While the law and private attitudes may not be supportive, if you are a same-sex couple and avoid public displays of affection, in our experience at Expert Africa you should have no problems at all. We have never encountered any difficulties when organizing the itineraries of same-sex couples and we are not aware of any legal cases arising that have involved same-sex tourist couples.
Safari camps, lodges and hotels expect to be informed, at the same time as we advise them about dietary preferences, whether guests of the same sex booked in the same room would prefer a double bed or twin beds. We have always found the prevailing attitude in the safari sector in Kenya to be one of tacit acceptance.
While Kenya is not a shining light for LGBT rights – or many other human rights for that matter – we feel increasingly encouraged, rather than disheartened, about progress in this area. Despite the legal background, it doesn't stop gay and lesbian Kenyans coming out, and going out. Nairobi, in particular is increasingly tolerant, with LGBT activists challenging the law and prevailing attitudes in traditional media and online, as well as on the street.
Whatever your background, we hope you'll find travel in Kenya to be a rewarding, life-affirming experience. We will nevertheless understand if you need further reassurance, so if you're planning to travel with Expert Africa, please do feel free to call us to discuss any concerns.
Further sources of advice
A few of the most obvious sources of advice for LGBT Travellers to Kenya are: