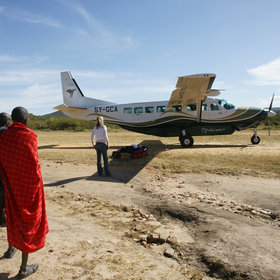 Expert Africa's Kenya safaris are based on local flights to areas like the Maasai Mara…
Tipping in Kenya
Safari driver-guides earn reasonable salaries by Kenyan standards, but
tips from clients
still make up a proportion of their income, sometimes accounting for a large part of their earnings. How to tip, and how much to give, not just to driver-guides but to other safari camp staff and people working in the tourism industry in general, can feel like a social etiquette minefield.
Since tips are discretionary, and supposed to be supplementary income, not someone's main source of income, our view at
Expert Africa
is that ideally you should feel comfortable giving whatever you like in whatever manner you prefer: we would rather see staff salaries higher, and tips lower, transferring slightly more of the onus to camp owners. There is, however, a relatively established tipping culture in the safari industry in Kenya and we hope the following notes of guidance help if you're simply hoping to do the right thing and not offend anyone.
Tipping while on safari
: we suggest you budget on tipping about US$20 or Ksh2,000 per room or tent per day, always
at the end of your stay
in the lodge or camp. If you're a solo traveller, you could certainly tip less – Ksh1000 would often be fine. If you're a family sharing one room or tent, you might want to increase the figure, while if you have children or teens in a separate tent, you wouldn't necessarily want to double it. Half of this daily sum should go to your driver/guide and half to the back-of-house camp or lodge team, by leaving it in the tip box or sometimes in an envelope given to the manager. Driver-guides are not included in the tip box share, which is why you tip them separately, and this is generally done when you say goodbye to them. Sometimes a spotter or trainee guide will also be part of your 'crew' at the front of the vehicle when out on game drives. Depending on their contribution, you might give them a separate tip, or suggest to the main driver-guide that he or she should share some of his/her tip with that person.
If you are at all unsure about any aspects of this protocol, it's common and perfectly acceptable to have a quiet word with the manager at some point. The manager will be on a significantly higher salary than any of the staff so you don't need to worry about tipping him or her.
Some camps make suggestions of how much to give in their room/tent briefing notes. We're not keen on this practice, as it suggests a formality to tipping which undermines the responsibility of the owner to pay staff properly. If these figures seem high, then we would encourage you to stick to your guns and give what you think is reasonable rather than subsidise the payroll costs.
Tipping in coast and city hotels
tends to be expected, and Ksh100 or Ksh200 would not be out of place on arrival for seeing you to your room with your bags. During the course of your stay, however, it isn't necessary to tip waiting and room staff constantly. Instead, plan to tip everyone in one go when you check out. Most hotels have a gratuities box in reception, often a wooden chest bolted to the wall with "Staff Tips" painted prominently on it, where you can leave a single tip for all the staff – including room staff and back-of-house staff – when you leave. Roughly Ksh1,000 to Ksh2,000 ($10–$20) per room per day is about right, depending on how many people are in the room. Again, it's fine to speak to the manager about this.
Tipping in restaurants and bars
isn't customary everywhere in Kenya, but in Nairobi and on the coast, where wealthy Kenyans and overseas visitors are the usual guests, a tipping culture has become well established. Ten percent of the bill for your waiter – or better still if you can arrange it, to be shared between
all
the waiting staff – would be appropriate.