Gishwati Lodge
Gishwati Lodge looks set to be an extremely exciting addition to Rwanda's tourist industry. Situated in the newly formed Gishwati-Mukura National Park, a good proportion of the profits made from this camp will go towards conservation of the area and its wildlife. The lodge was originally planned for an opening in 2018, but we understand that talks are still in progress with the Rwandan Development Board to finalise plans, and that construction has not yet commenced. We will update our information accordingly when we have news on this development.
Continue reading our full report on Gishwati Lodge
Our view of Gishwati Lodge
The Gishwati-Mukura National Park looks set to be a very interesting area, and we're very excited that this lodge will open up the possibility for travellers to visit. Ask us for the latest as we monitor the progress of this new lodge.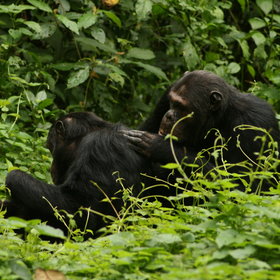 Gishwati NP, to the west of Rwanda, has a smaller population of habituated chimpanzees.