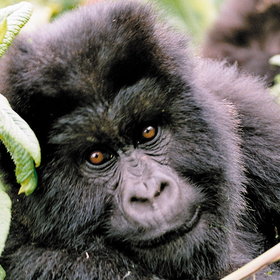 Take a look into the eyes of Rwanda.
Lesbian, Gay, Bisexual and Transgender (LGBT) travel to Rwanda
We occasionally have travellers asking "What's the situation like in Rwanda for LGBT travel?", so we have put together the following advice.
We've sent many people to Rwanda since 2004, including LGBT travellers, and in our experience, travel here is generally uneventful.
As a visitor to Rwanda, your sexual preferences and identity are your private business, and are generally of no interest to others. We have yet to hear of any issues raised or problems encountered as a result of a visitor's sexuality.
This reinforces our view that Rwanda is friendly and welcoming to all tourists, regardless of their sexual orientation.
The legal and political framework concerning LGBT issues in Rwanda
While male homosexuality was common in the pre-colonial Kingdom of Rwanda, dating from the 15th century, in the colonial years leading up to independence in 1962, and then following the 1994 genocide, acceptance waned.
The situation for LGBT citizens became particularly fraught in 2009 when the Rwandan government held a debate on whether or not to criminalise homosexuality. No law was passed, however, and although same-sex marriage remains illegal, there are no laws against homosexual behaviour. Since then, Rwanda has pushed ahead to progress human rights for its LGBT citizens.
In 2011, the Rwanda government signed the UN statement condemning violence against LGBT people, joining a further nine African countries in supporting LGBT rights. Then, in 2016, President Paul Kagame delivered an outspoken address stating that living as an LGBT citizen in Rwanda "…hasn't been our problem. And we don't intend to make it our problem".
Attitudes towards LGBT travellers in Rwanda
While Rwanda's views on LGBT travel are open, and homosexuality is not illegal, the topic has for many years been widely considered taboo, particularly in more conservative, rural areas. Though tolerance has increased in urban areas, cases of harassment and abuse against openly gay Rwandans, albeit not widespread, have been reported, again mostly in smaller, more rural villages – though a major LGBT rights campaigner was arrested at Kigali airport in 2017 under what turned out to be a false accusation, seen by many as harassment due to her sexuality. As such, many gay Rwandans have hidden their sexuality for fear of reprisal.
Nevertheless, as the only country in the region without anti-homosexuality laws, Rwanda is becoming something of a haven for LGBT citizens alienated from from neighbouring countries, notably Uganda, and Kigali especially has a growing LGBT population. Similarly,
LGBT travel is becoming increasingly accepted, and we are not aware of any problems experienced by our travellers in Rwanda has as a result of their sexuality.
Camps and lodges throughout the country have been dealing for years with a wide range of guests, from differing backgrounds and of varying nationality, race and sexual orientation, and we haven't heard of a lodge that isn't tolerant of any of these.
That said, openly amorous behaviour, for both hetero- and homosexual couples, can cause offence, especially in rural areas, so we'd still advise all our travellers to be cautious, regardless of sexual orientation. In general, we'd suggest that you stick to a "don't ask, don't tell" approach while travelling.
Further advice for LGBT travellers to Rwanda
If you have any worries or concerns regarding your travels to Rwanda, please do call us. Alternatively, you may find one or more of the following helpful:
The UK Foreign & Commonwealth Office (FCO) offers advice for LGBT travel on its website, and the Rwanda-specific page lists any current issues on local laws and customs.


The ILGA (International Lesbian, Gay, Bisexual, Trans and Intersex Association) has some useful summary maps, alongside information on the laws of specific countries around the world.


The Wikipedia entry on LGBT rights in Africa is extensive, with a good country-by-country summary table.