Gerenuk in Kenya
With its small head, prominent ears and extremely elongated neck, the gerenuk (from the Somali garanuug, meaning giraffe-like neck) is a once-seen-never-forgotten antelope. The drier parts of Kenya are the heart of its range.
---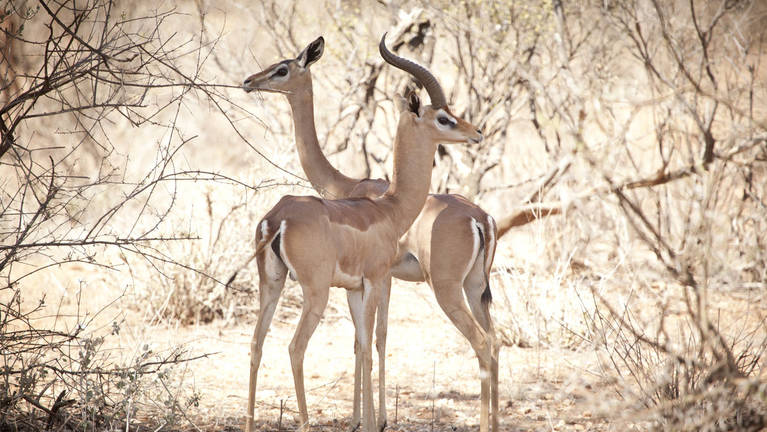 Quick facts about Gerenuk
| | | | |
| --- | --- | --- | --- |
| Scientific name: | Litocranius walleri | Habitat: | Flat, dry thornbush |
| IUCN status: | Near Threatened | Adult weight: | 28–52kg |
Famous in Kenya as one of the so-called Samburu Five, gerenuks are found not only in the Samburu National Reserve, but in Meru, Tsavo East, Tsavo West and Amboseli national parks, as well as in some of the Laikipia conservancies.

As dry-country specialists, they obtain most of their water from leaves, shoots, flowers, fruits and buds. Their population density can actually increase with distance from permanent water, as few other species compete with them in arid areas.

Gerenuks breed all year, although more fawns are born in the rainy season. The females are extremely caring mothers, cleaning their fawns carefully after birth, and communicating with them in soft, bleating tones.
Kenya's top camps for seeing gerenuks
Based on 80 reports since May 2018, the camps below have the best chance of seeing gerenuks. Simply follow the key below.
---
Where to see gerenuks in Kenya
The gerenuk's range encompasses a large swathe of northern and eastern Kenya at lower altitudes east of the Rift Valley and, despite their Near Threatened IUCN status, they are not difficult to find.
---
Top tips for viewing gerenuks in Kenya
Gerenuks are diurnal and not particularly shy: small groups can be seen on game drives or walks in all the regions they inhabit. They are perhaps most easily seen in the Samburu reserve region during a stay at Sasaab, Saruni Samburu or Elephant Bedroom camps, where the hot, arid thornbush of the reserve and its neighbouring conservancies provides the perfect territory.

Meru National Park and the hotter and lower parts of Laikipia also have small populations. You have a good chance of seeing gerenuks when driving across the empty horizons of Tsavo East National Park and they're also often seen in Tsavo West and Amboseli national parks.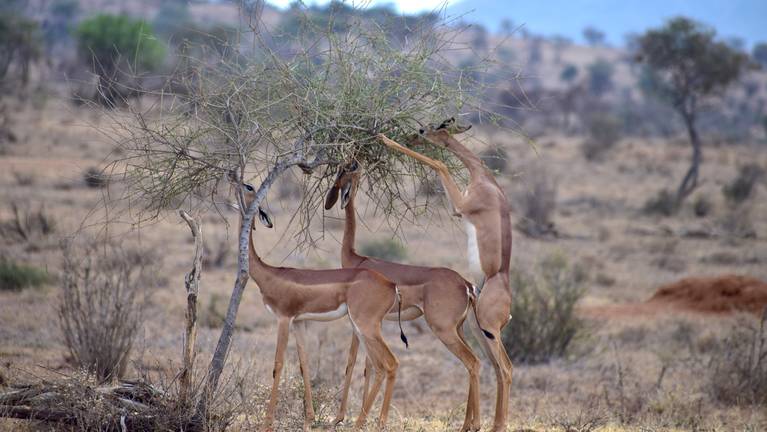 Holiday ideas to see gerenuks in Kenya
These trip ideas include places that will give you a chance of seeing gerenuks in Kenya
---
Our top destinations for gerenuks
Read tips for spotting gerenuks in these countries and the best camps and lodges for sightings
---