Where to see Mountain Gorilla in Rwanda
The mountain gorilla is arguably the world's most impressive primate. This endangered giant inhabits a handful of locations in Africa's equatorial cloud forests, where guided treks offers a uniquely intense wildlife experience.
---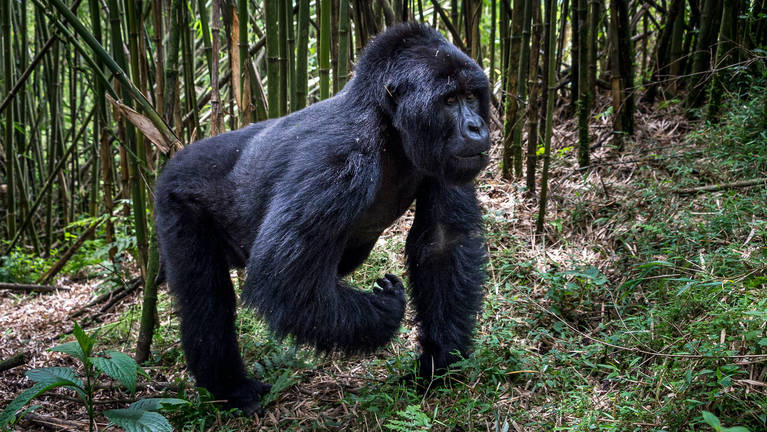 Quick facts about Mountain Gorilla
| | | | |
| --- | --- | --- | --- |
| Scientific name: | Gorilla beringei beringei | Habitat: | Montane cloud forest |
| IUCN status: | Endangered | Adult weight: | 100–190kg |
Gorillas are the world's largest primates. The mountain gorilla is a thick-furred, high-altitude subspecies of the eastern gorilla, one of Africa's two species. Males are larger than females, with a larger, more domed head (the sagittal crest) and, in mature individuals, a saddle of silver-grey fur across the back.

A dominant male, or silverback, presides over a troop of 5–30 females and young, defending them from threats and rivals, and directing their daily movements around the densely forested mountainsides.

Much more terrestrial than chimpanzees, gorillas are also more strictly herbivorous, using powerful jaws to munch through a diet of wild celery and other plants. Infants are not fully weaned until the age of six.
---
2.7m:
Record arm-span of male
±1,050
Total wild population (2018)
2,200–4,300m
Altitudinal range
25
Recognised vocalisations
The top camps for seeing mountain gorilla in Rwanda
Based on 39 reports by our travellers since Jun 2018, visitors at these camps in Rwanda have the best chances of sighting mountain gorilla.
---
Where to see mountain gorillas in Africa
To see a family of mountain gorillas, you need to visit a habituated troop on a guided trek. Strict protocols ensure that you optimise your viewing with minimal impact on these highly endangered animals.
---
Top tips for viewing mountain gorillas
Mountain gorillas occur in two separate, genetically distinct, populations: one in the Virunga mountains, straddling Rwanda, DRC and southwest Uganda; the other, in Uganda's Bwindi's Impenetrable Forest. Gorilla trekking is easiest and most secure in the Volcanoes National Park in Rwanda, where the visitor experience is well developed.

The movements of the various troops are monitored continuously by park rangers, and finding them can involve either a relatively short walk or a long, steep, scramble along muddy trails, depending upon the apes' location. Once you find your gorillas, your guide will direct you just to sit quietly and observe. Often little happens, but the experience will undoubtedly be one of the most memorable of your life.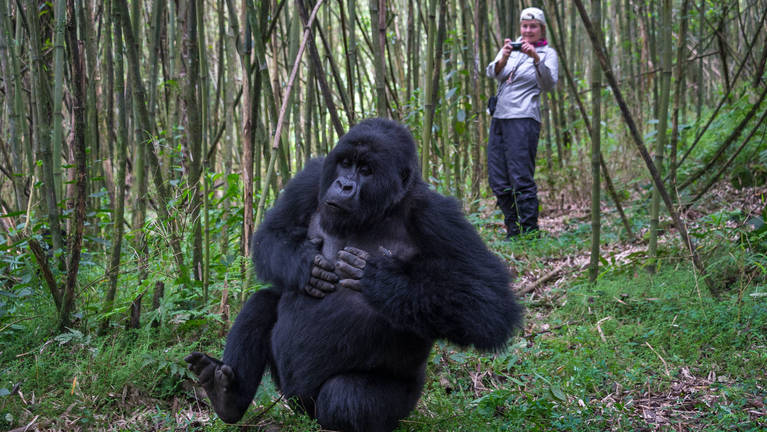 Our best Rwanda holidays for mountain gorilla sightings
Based on our travellers' reports, these ideas for Rwanda safaris are likely to give the best mountain gorilla sightings
---
More information about mountain gorilla in our other destinations
Click here for detailed information about mountain gorilla in other countries, including the places for sighting mountain gorilla.
---