Travel reviews by Mr & Mrs S from Ilkley
Our November 2012 trip - unforgettable
Tanzania between 17 Nov 2012 and 27 Nov 2012
"I'm not sure how much information you want here - so my apologies if you get more than you bargained for! (These reports written by Lyn, but with some input from Phil too!) I keep thinking of things to mention in addition to those already written, but some may of course not be relevant, and my apologies if I repeat myself. I kept a diary and also had a notebook for daily 'spottings'.

Overall, we had a wonderful holiday, a bit tiring and hectic at times (we are in our late sixties), so it was lovely to have time to relax at Sayari. I would definitely recommend a longer stay somewhere during a safari trip.

We had done our homework as I like to find out as much as possible about where we are going, so knew a fair bit about our destinations, but always guided and helped by Elizabeth Wollen. For example, I had initially put Tarangire on our list but Liz suggested Manyara park would be a better destination at that time of year. Your excellent brochure and website helped a lot . Also the Bradt Northern Tanzania guide by Philip Briggs. (I know you sent us a copy later, which will be nice to keep, as the other one was getting a bit dog-eared!) The Bradt guides generally are excellent.

Thank you first of all for sorting out the problems caused by KLM cancelling our flight out to Amsterdam. These things happen, I know, but it did make a long, tiring and frustrating day easier, once we knew everything was sorted out for us in Nairobi and Tanzania.

Overall we found the food a bit disappointing, even though it must be difficult getting supplies in the more remote areas. I seem to remember the food in Botswana being much better! Sayari and Hatari were a bit better, also Giraffe Manor. Generally the meat was overcooked and tough. Starters and puddings were better than the main courses - too much mash!

I know you didn't cover Giraffe Manor/Kenya when we booked with you - thankfully that was arranged by friends in Nairobi and they were able to join us for dinner there on our second night, but now you do! Giraffe Manor is a lovely old building, and a totally unique experience in all. As you can get up close and personal with the giraffes there, a trip to the nearby Giraffe Centre is really not necessary. We did go, but didn't stay long. It was all a bit too commercial.

However, the trip to the elephant sanctuary is most definitely recommended. Its just a short drive from Giraffe Manor. Visiting is limited to just an hour or so each day (11-12am), to watch the elephants being fed from their hugh milk bottles, tubs of water, and a few small branches - mostly used for playing! The babies come in first - about 15 of them - each with their own keeper, some only a few months old. Then they leave and the older ones come in - otherwise they would get too boisterous with the young ones. A talk was given while the elephants were in the compound - interesting and informative - telling us about each elephant, and how they came to be orphaned. Back at Giraffe Manor we relaxed on a squashy sofa in the lounge, light lunch was served outside on the terrace. My namesake - Lynn the giraffe - turned up for some lunchtime nibbles!

The Giraffe Centre is a 5-minute walk, but as I said before, we didn't stay long. We were joined by our friends later for a good dinner, also served outside on the terrace. Our room here was very spacious, more country house than hotel and had a bath in the bathroom (always a bonus for us!).

An early start next morning to get us to Nairobi airport (organised chaos!). Lots of security - even a security queue to get into the airport. Flight 1/2hr late leaving, but only a 40 minute flight to Kilimanjaro...more security checks/paperwork. A man at the Health Office was not happy with our Yellow Fever exemption certificates, but eventually after some persuasion from a colleague we could continue on our way.

We were met here by our Asilia guide, Alfred (he was referred to several times by friends and colleagues as 'papa' Alfred!) who was brilliant. Knowledgeable, friendly, polite, humourous, knew about positioning for the best photos, patient - what more could we ask for!) The vehicle was a Toyota Landcruiser - they usually are, but configured differently. This one was a closed vehicle with a lift-off roof panel for game viewing. Well equipped with all a safari-tourist needs.

As we only had one night/day at Kirurumu/Lake Manyara, Alfred drove us straight to the park (about a 3hr drive). It was good to be driven through the northern Tanzanian towns & countryside - you get more of a feel for the country than just flying everywhere. Alfred, as always, telling us things of interest along the way. We had a late, and delicious picnic lunch, at a shady picnic spot just inside the park. Tablecloth on the table (wooden tables and benches are there already). Rest room. This area at the foot of the escarpment was a permanently green forested area, fed by underwater streams year round. Baboons and monkeys.

We were only able to see the northern area of the park, but it is very pleasant, with varied scenery. Lush forest to open grassland, reasonably green after light rain. No off-road driving so we were a long way from the water - hippo, flamingo in the distance.. The park closes at 6. Back onto a tarmac road to climb out of the park (view point), then a 6km dirt track to Kirurumu.

Canvas tents with bathroom at the back. Big thatched main building for restaurant and separate big roomy bar/lounge/terrace with stunning views over the park/lake. All pleasantly situated amongst the trees, with connecting paths and steps.

A leisurely morning - nice to relax a bit - before leaving after lunch with Alfred for our journey on to Ngorongoro Crater and Lemala Ngorongoro camp. Alfred suggested we stop at the Tanzanite shop - we agreed, although didn't know quite what to expect. Tanzanite is beautiful but not cheap. The shop was at the back of a big African craft and gift shop. There was a bit of pressure to buy - we didn't - but it was not excessive. Maybe there was something in it for Alfred if we had bought something, I don't know, but he knew them there anyway!

Back on the road, and through interesting rolling rich farmland before eventually turning off the main road up to the Ngorongoro Park entrance. We were there for about 1/2hr while Alfred sorted the mound of paperwork needed to get us in. They do love their paperwork in Tanzania! Then up the road, climbing all the time till we got to the viewpoint looking over the crater - photo opportunity! wow! (As we went up, there were lots of vehicles coming down, rushing to get out before the park closed - presumably the 'day trippers' coming from further away).

Then its the drive along the long, twisty and dusty track to Lemala camp .. previously reported on. Small, rustic, friendly.

Left at 6 the next morning with Alfred - quick check in at the gate and then down into the crater for dawn. The first animals we saw were some lion walking along a ridge in the half-light. By the time we got down to the crater, we could watch the morning sun slowly light up the steep hill on the far side. Then plains animals by the hundreds and plenty of others too, and birdlife.

Yes, there are lots of other vehicles about - we knew there would be - but at times during the day Alfred managed to get to some distant parts of the park that the day trippers don't really have time to get to and were therefore much quieter. Again, no off-roading, but there are plenty of tracks in most areas. We had an excellent close-up view at the hippo pool. Watched 2 rhino slowly making their way through a herd of buffalo so we were just in the right spot when the rhinos walked across the road in front of us. We had our packed breakfast here, in the car, as we waited for the rhino.

On the far side of the crater - the drier side - Alfred found us a cheetah lying down in the shade of a bush, quite close. He reckoned if we waited long enough she would get too hot and have to get up & move to somewhere cooler. So we waited - a long time! - and yes, she did eventually move - further into the bush! But it didn't matter, we didn't mind waiting and it was a privilege to see her (the only one we saw on our trip). At times there were loads of other vehicles there but most didn't stay long. (see an animal, tick it off, and move on!)

Then on to the quiet Lerai forest area - and picnic lunch. Different animals here..incl elephant, waterbuck, bushbuck. A bit further on, just out of the forest near some reeds, a big pride of lions...12 in all. Watched another lioness walking from some distance away to join them. She had a big v-shaped scar on her shoulder from a previous battle somewhere. The final stop was by a pretty fresh water lake with water birds. A most enjoyable day. The crater may be busy, but well worth visiting. It has a lot to offer.

Another early start - Alfred waiting for us at 6am. Back onto a misty crater rim road at dawn...with a solitary male lion plodding along the other way, right beside us. 1 &1/2 hours to Manyara airstrip for our onward flight to Kogatende and the northern Serengeti. Said our goodbyes and grateful thanks to Alfred.

The plane went via Seronera and then Lobo, where we were stuck for about an hour. The flaps had stuck down on the plane and although it could fly (slowly), our pilot (Terry) could not take passengers. Fortunately there was another plane plus pilot there, so with a bit of re-arrangement we all moved on to that one & left for Kogatende. The other alternative would have been to wait for a replacement plane which would have been 1 1/2hrs. Rather hot there standing around waiting & loo facilities not good! But not a major problem.

Sayari: we were met at the airstrip by John, (who is the manager, together with his English wife, Clare). The airstrip is only about 20 minutes away, but he took us on a slight scenic detour along the beautiful Mara river...crocs! Welcomed at the camp with cold towels and a nice drink (every camp welcomes visitors this way, with either hot or cold towels/drinks). Open-sided vehicles good for viewing. Off-road driving too.

John and Clare are fairly new to this camp. It is an innovative design, "trying to be different" John said, and it certainly is. The main tent is an enormous canvas affair with enormous tent poles and lots of guy ropes. Wonderfully light and airy, and open at the front and back. This does mean that when it rains hard and its windy, the rain can reach well inside. John reckoned it could by 'high maintenance'. Separate dining tent. All very spacious. Not full when we were there, and one 'wing' had been closed. They had been busy over the migration period, but by the time we arrived the migration had moved on and it was quieter. Then they would be busy again over Christmas and New Year.

John said something interesting about the migration and how the camp (and presumably others) were marketed regarding this. (I don't know if he meant just Asilia marketing, or more generally) Plugging the migration as 'the' event to see. Whilst I am sure it must be stunning, we were not bothered at all that we would not see this and feel there is a lot more to a safari trip than massing wildebeest! It is a beautiful area anyway and surprisingly varied, with plenty to see apart from the migration. The wildlife is obviously not so concentrated as it is in the crater, and a bit more skittish, but we still saw a lot. So it is definitely worth going at quieter times of year - visitors will not be disappointed.

We heard noises in the night - grazing hippos around the tent! - Sayari is only 1km from the Mara river. We only ever had one other couple with us in our safari vehicle, and most of the time it was just Phil and I. Our excellent young guide 'JB' looked after us very well. Maybe not as good as Alfred (a good friend of his), but then Alfred was exceptional, also a bit older and wiser! JB was only 24.

It was good to have a longer stay here - 4 nights - and something else I would highly recommend, particularly for the older traveller! (One English/American family had spent all week there) It's nice to be able to unpack properly, take time to relax, get familiar with the area..again highly recommended. Communal dining (but not at lunchtime) meant dinner was usually a lively affair with lots of tales to tell of home & holiday.

We didn't go out on every game drive either - usually either a morning or an evening. Although on the final evening, Phil stayed at the camp (all on our own by now) and went for a swim, and I went off with JB. It was a beautiful evening too (the two previous evening drives had been shorter than planned - on the first one, we got absolutely soaked in a torrential rain storm - all part of the fun..the ponchos provided helped a bit! - and on the second we were just on the edge of the storm, but back at the camp a mile away it had been torrential again and very windy) ...so we saw quite a lot that last time, including a big family of elephants right next to the vehicle. Magical.

For our first daytime game drive, we left at 6.30 with a picnic bush breakfast on board. A chilly start but lovely and fresh. Gradually warmed up, but not really hot till be got back to camp at lunchtime (up to about 30 oC). Someone had seen cheetah the day before, so we had a look, but without success. Headed east and the terrain gradually changed from rocky outcrops to more open grassland with occasional gullies and patches of woodland. One gully was hiding a lioness and tiny cub. Other lionesses nearby. Rhino close by, distant elephant, plains animals, giraffes, eland. Stopped for our bush breakfast - on a little table pulled out from the side of the Landcruiser - a lovely spot of rolling grassland in front and trees behind and we could see for miles.

Another morning we headed north across the Mara river, a beautiful day. The evening before we had seen a leopard lying on some rocks near the camp, but it was too dark by then to take a good photo, so JB had another look for her but no luck! Across the river, the terrain opened out to mostly vast rolling grassland/savannah, with the odd small patch of woodland, and flat-topped acacia trees dotted about - typical East African scenery. |Masses of plains animals all jumbled up together. Lots to see and beautiful scenery. JB's favourite area he said, and it was obvious he loved it. We stopped for our bush breakfast by the white painted markers which mark the boundary with Kenya...half of the Landcruiser in Kenya and half in Tanzania! Saw four lionesses with three 2 1/2 month old cubs..aahh ! Elephant close up, more giraffe.
We were told this was cheetah country, but no luck for us that day - but plenty to see anyway.
A male lion sitting under a tree guarding 3 half-eaten carcasses - he curled a lip and growled at us, so we left him in peace.
Vultures were patiently waiting in the tree above him.
We saw various other birds, including a secretary bird and 2 handsome saddle-billed storks in a small pool.
Back at the Mara river, we stopped to get out at a viewpoint just above, and looked down on to a huge concentration of hippos - about 400, JB said, and some crocs at the edge on the rocks.
That evening, I went out for a final trip with JB. It had been a wonderful day.

This was our last day at Sayari, and as we were the only guests in the camp, we had been asked where we would like to have lunch. So we suggested eating in the main lounge area (as they thought we would rattle round in the dining room) - expecting to have something just served at thecoffee table, but when we got there, a table had been set up - complete with colourful Maasai cloth - at the edge of the lounge deck, looking out over grassland and trees - lovely - and we had our dinner there too.

This was the short rain period, so there had been enough rain to make things green, but the grass was not high, so still good for wildlife viewing. The mornings were usually clear and beautiful, with cloud building up later. Around on the horizon - you can see for miles - you could see storms building up - sometimes you got one, sometimes you didn't.

John and Clare were very good about sorting out our hot water problem. They gave it a 'boost' somehow (it is solar powered) and it was much better after that. John joined us at the dinner table and he and Phil spent the evening talking Safari Rally/rally drivers & cars/cricket! One evening we had another entertaining 'surprise' at dinner for a 50th birthday, and a wedding anniversary. Impromptu singing from the staff around the table with musical instruments made from all sorts!

The next day we left from Kogatende to fly to Arusha and Hatari Lodge.

I'd been taking photos on my little camera at the airstrip while we were waiting for our plane to arrive, and then left it behind on the seat of the Landcruiser. I didn't realise until we arrived at Hatari. Annelise contacted Sayari for us (John and Clare are friends of the owners). The vehicle was out on safari but John checked later and found it! There was an English couple staying at Sayari so John arranged for them to bring it back to England on their return and post it to me...so I was finally reunited with my camera, thanks to a lot of help and cooperation along the way!

Our Hatari guide, Ernest, met us at Arusha airport and we had an interesting 90 minute road trip to Arusha Park - (the usual delay at the park gate getting the entry paperwork sorted out - leaving is always easier! ) and Hatari.

Hatari: strange place, quite different. Somehow not quite what I expected, but then what is..inspite of all the homework! But we enjoyed it there, and again the area was quite different. We could see Kilimanjaro from there - usually with its head in the clouds, but we did get a knock one morning to tell us that Kili was clear, so Phil rushed out to take some photos! We arrived in time for a late lunch on the lovely terrace. Buildings nicely laid out, almost in a proper garden, with a walled veg.plot at the side. (see previous comments for Hatari)

After our lunch and settling in to our room, we went out with Ernest - a Mercedes this time, but open-sided and also with the windscreen folded down for our first trip into the park, lasting about 2 hours. Rough winding gravelly roads, quite wooded scenery but with clearings every now and then, and viewpoints. Plenty of giraffe, some nearby, some way up a steep hillside, with just their heads and necks showin above the greenery...some standing in silhouette right at the top. Stopped at various viewpoints on the way. One beautiful freshwater lake looking like something in the Lake District! Then further on to an alkaline lake (Momella lakes), full of flamingos...hundreds of them in great pink and noisy drifts - constantly moving, some flying, some landing.

Only 5 of us for dinner that night, about 14 the next night.

For our second day, we left after breakfast with Ernest, heading up through the forest on a steep, rough road, well up the side of Mount Meru. A day of 'nature' he said, rather than animals. Ended up at a fabulous viewpoint, about 2,500 metres high (about 8,000 ft). The forest had thinned out a bit and there were plants familiar to us - living on the edge of Ilkley Moor - bracken and heather amongst less familiar things. A stunning panorama below us, with craggy Mt Meru behind, and Mt.Kilimanjaro in the distance, covered in cloud as usual.

We stopped on the way up and down by the (I think quite well known) huge fig tree which straddles the road - you drive through it - a safari vehicle just fits!. On the way down we stopped for our picnic lunch in a pretty grassy clearing in the forest, with a waterfall and stream as a backdrop - very peaceful - sitting on a rug on the grass.
We saw the fairly rare black and white colobus monkeys high in the trees, sunni (the smallest antelope) and red duiker glimpsed briefly in the trees, and dik dik. Before returning to Hatari, Ernest arranged an hour-long walk with an (armed) ranger at the edge of the forest. We had seen some giraffe nearby, so we followed him, scrambling about through the undergrowth - trying to be quiet. They knew we were there, but we kept quite still and they slowly walked by, with just a few bushes between us. We do like giraffe!

We had time for a leisurely breakfast the final morning - on the terrace. We had the monkeys thundering about on the roof earlier - who needs a wake-up call! We could see 17 giraffe from the terrace - heads and necks only - in the adjoining woodland. Bought a few items in the nice little shop and had a nice quiet morning. Lunch on the terrace too - we asked for the cabbage salad to be replaced by some of their delicious tomatoes - no problem! Said our goodbyes to Annelise and Sabine and headed off to Kilimanjaro airport with Ernest in the road-going (non-safari) vehicle.

Our flight to Dar es Salaam was due to leave at 3.50 - we thought. Once at the airport, it said 3.40 and it finally left at 3.20! Flying time about 1 hour. Hot in Dar es Salaam airport - it needs a new terminal building! Tired and tatty and no air-con. Lots of security checks. KLM desk not open and no cafe there, so had to go back out again through security, a Maasai 'warrior' carried our bags up the steps (no escalator) to a cafe there, where we sat for about 4 hours (as close to a fan as we could get!). The Sky news TV showed pictures of bad floods in England! Eventually, we retraced our steps back through security again so we could finally check in our bags with KLM. Still more security checks, including finger-printing and eye check! Then into the business lounge - big squashy sofas, and air conditioning - bliss! ...and eventually home and no problems in Amsterdam. Phil bought Dutch cheese and I bought tulips!

A great holiday & our thanks to Liz and all the Expert Africa team."
Arranged By Elizabeth Chapman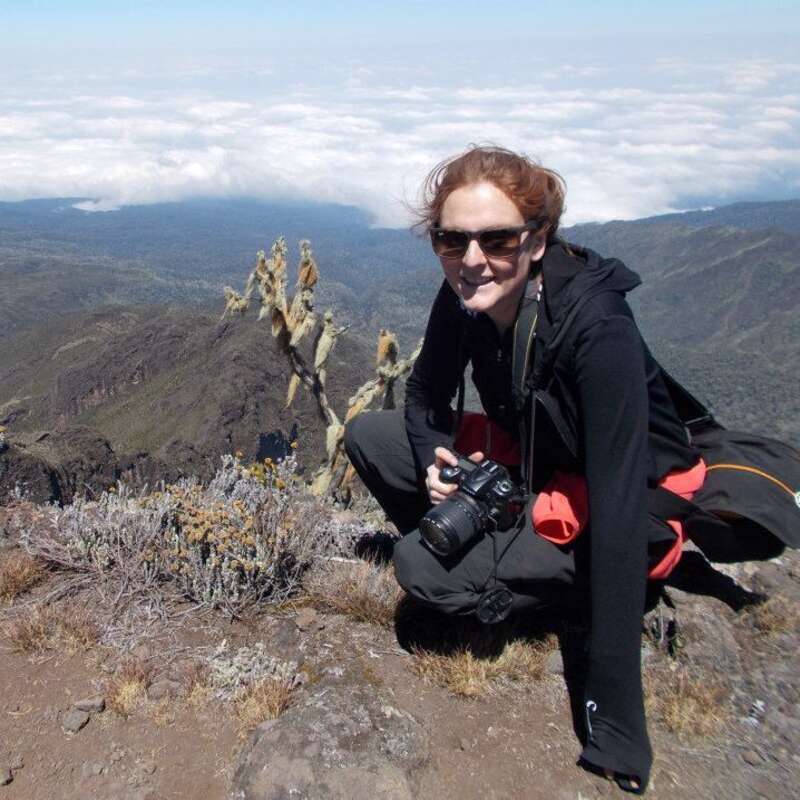 ---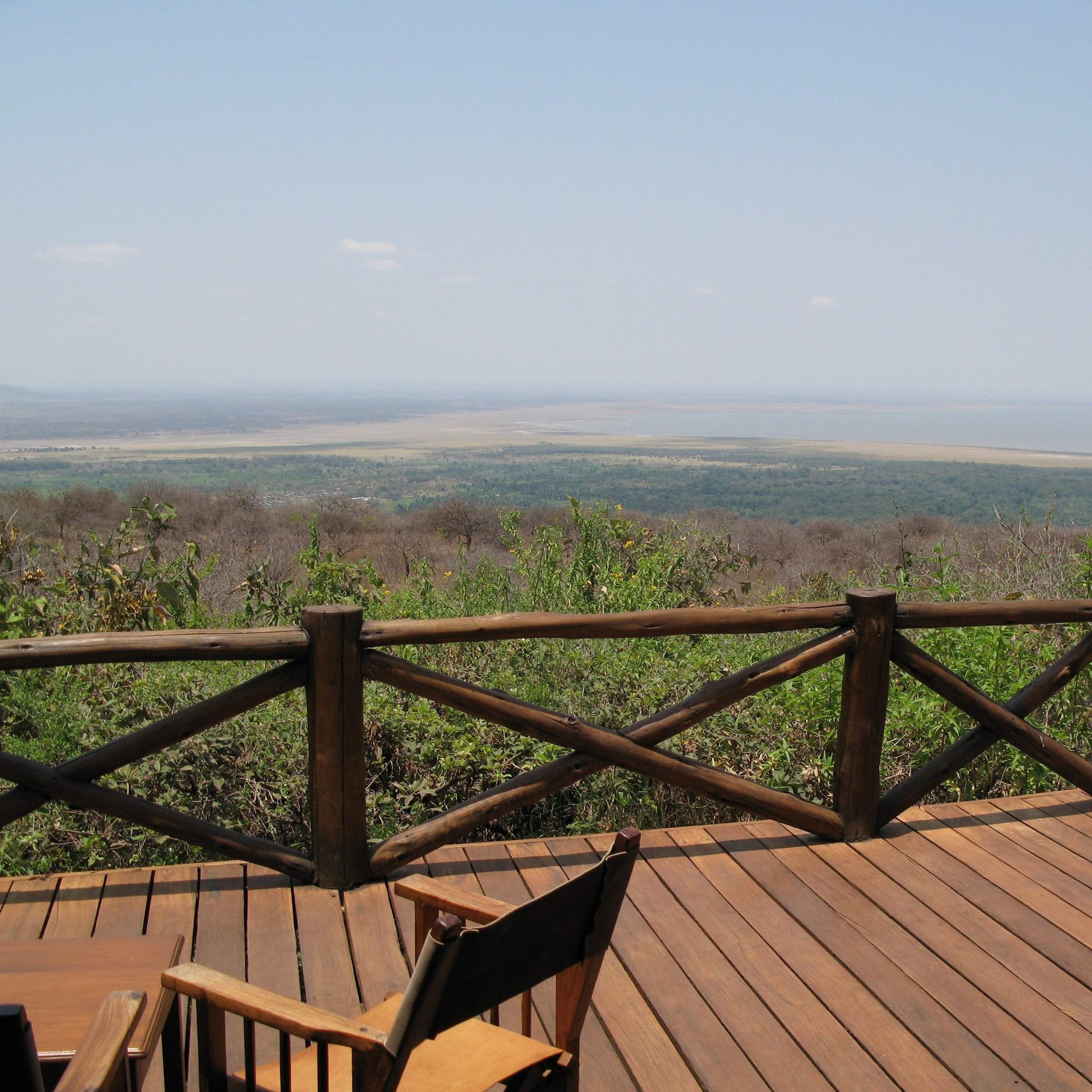 Kirurumu Manyara Lodge
"Kirurumu Manyara Lodge review"
2 nights
Arrived 17 Nov 2012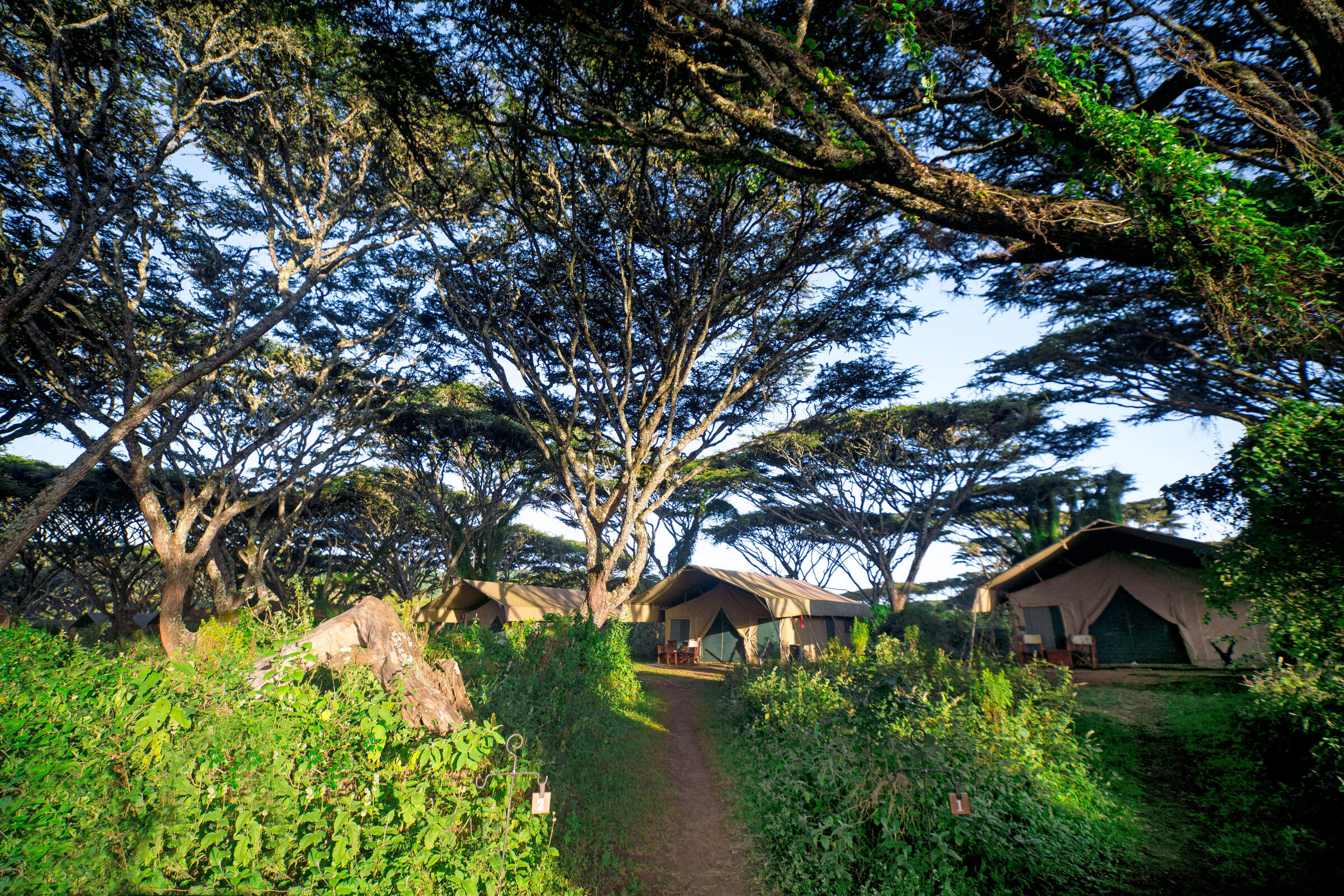 Lemala Ngorongoro
"Prime location at Lemala Ngorongoro"
2 nights
Arrived 19 Nov 2012

Sayari Camp
"Serene Sayari"
4 nights
Arrived 21 Nov 2012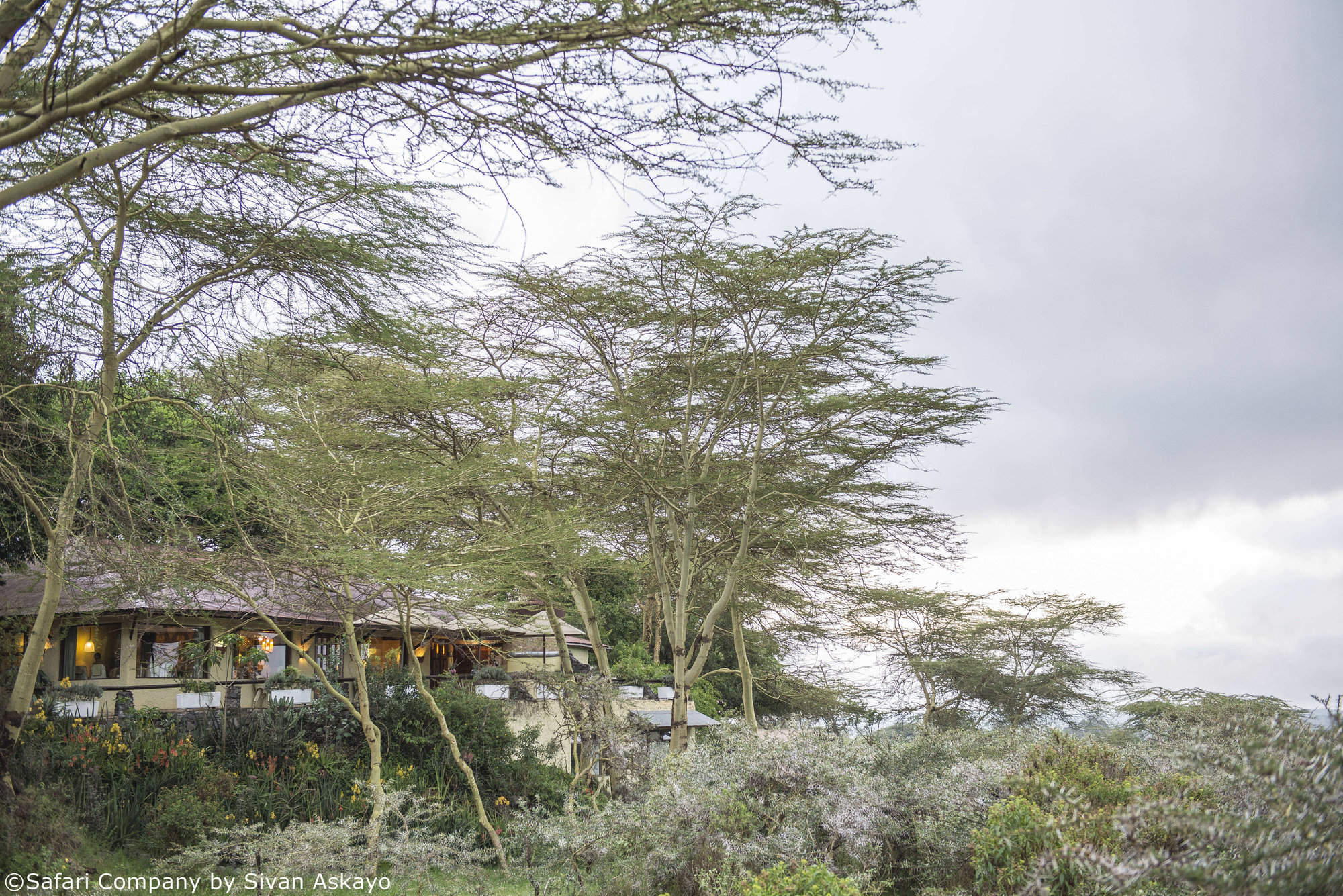 Hatari Lodge
"Hatari Lodge review"
2 nights
Arrived 25 Nov 2012