Where to see Brown Hyena in South Africa
This largely solitary scavenger is one of the more elusive and little-known of Africa's carnivores. Shaggier than its spotted cousin, it occurs only in the arid southwest of the continent.
---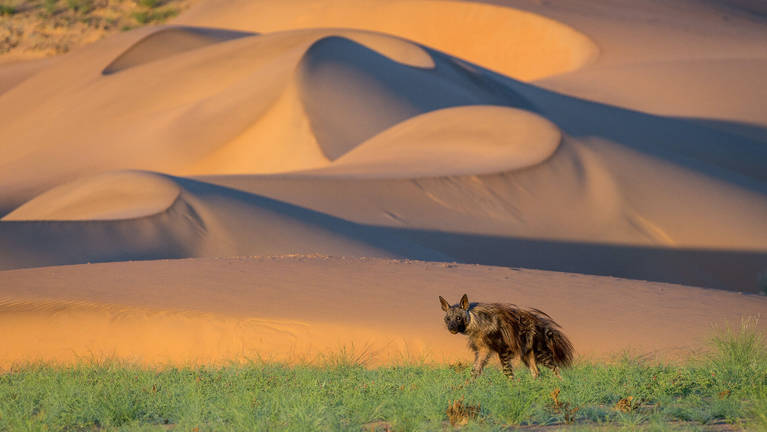 Quick facts about Brown Hyena
| | | | |
| --- | --- | --- | --- |
| Scientific name: | Parahyaena brunnea | Habitat: | Semi-desert & savannah |
| IUCN status: | Near Threatened | Adult weight: | 37–43kg |
The brown hyena is a highly resourceful predator. Adapted to surviving in the arid Kalahari and Namib deserts, it scavenges on carcasses left by other predators but will also feed on insects, rodents, desert melons and – along the Namibian coast – abandoned seal pups.

Slightly smaller than the spotted hyena, you can distinguish a brown hyena by its pointed ears and shaggy brown coat, which it erects to intimidate other predators from their kills – even leopards.

Though generally seen alone, brown hyenas live in extended family clans, with all members cooperating to raise cubs. They are most active after dark, and cover great distances during their nightly foraging.
---
< 10,000
Estimated population
The top camps for seeing brown hyena in South Africa
Based on 6 reports by our travellers since Jun 2018, visitors at these camps in South Africa have the best chances of sighting brown hyena.
---
Where to see brown hyenas in Africa
The brown hyena is much harder to see than the spotted hyena, due both to its restricted range and retiring nature. You will need to visit the Kalahari, Namibia or northwest South Africa.
---
Top tips for viewing brown hyena
Brown hyenas are most numerous in the Central Kalahari Game Reserve (Botswana), the Kgalagadi Transfrontier Park (Botswana/South Africa) and the coastal and northern desert regions of Namibia. You may also see them in northern South Africa, notably in the Madikwe and Pilanesberg reserves. In general, brown hyenas avoid areas with high populations of lion or spotted hyena.

Wherever they occur, however, these shy animals take some finding. They are largely nocturnal and much less vocal than spotted hyenas. They also tend to forage alone.

The best sightings often come at a known den, at dawn or dusk, where the animals have become habituated to human observers. It's always worth asking your guide.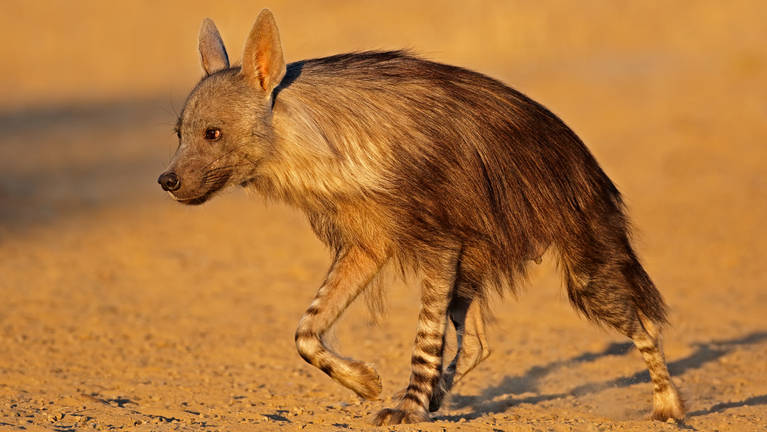 Our best South Africa holidays for brown hyena sightings
Based on our travellers' reports, these ideas for South Africa safaris are likely to give the best brown hyena sightings
---
More information about brown hyena in our other destinations
Click here for detailed information about brown hyena in other countries, including the places for sighting brown hyena.
---