Rhino River Camp: Information from the owner
General information
About this information
All the information on this page is supplied to us directly from the lodge owner and reflects their view, not ours.
For Expert Africa's view, see our own full report on Rhino River Camp, which contains our own observations and views.
---
Last updated by Owner

6 Mar 2023


















































Facilities at Rhino River Camp
Property facilities

Bar, Pool, Restaurant, Spa

Room facilities

En-Suite, Outside Shower, Shower, Tea / Coffee, Verandah

Activities on site

Fishing, Game Drives, Game Viewing, Game Walks

Nearby activities

Boat Cruises, Fishing, Game Drives, General Sightseeing, Historical Tours, Mountain Biking

Languages

English, Swahili
Room types at Rhino River Camp









Family Unit
The family unit - Suite is 100 sq.mts (330 sq.feet) and has a master bedroom, a sitting room that doubles up as a second bedroom for kids, two bathrooms and an ample balcony.
It is along the river and surrounded by huge raffia palms.
The second family unit comprises of 2 adjacent tents with a joined Veranda and the second tent is smaller than the main tent and can accommodate up to 3 kids. The main tent of this unit can be occupied as a double tent.










Riverside Tents
The upmarket and uniquely designed canvas tents of the camp are built on wooden decks suspended among the trees of the pristine forest edging the seasonal Kindani river. The rooms are large, and set on decks at different levels blending with the tree canopy.
The Camp also has 2 Forest tents that are located inside the lush forest away from the sounds of the seasonal river Kindani's running waters.
Activities at Rhino River Camp


Bush Meals & Walks
Ask us to arrange for a bush breakfast or a bush lunch. This will allow you to spend more time on your game drive not to mention the thrill and the pleasure of having a meal into the wilderness of Africa.
In our privately owned compound we have carved a few paths which will allow you to walk comfortably around our pristine environment on foot.
The paths are specially selected to bring you along places where you are most likely to see unusual birds, and many other small creatures around camp.
You can also leave the confines of the lodge and visit on foot the nearby farms, villages or simply the countryside.
Fishing
Enjoy a morning of casting your line in one of the many rivers of Meru National Park. Request for a fishing rod from the camp






Game Drives
Meru National Park is home to an extraordinary array of wildlife.
Our four-wheel drive vehicles and professional guides are at your disposal to explore the bush at your pace, and to enjoy a vivid, personal connection with some of the magnificent creatures that call this area home. Seen in their natural habitat, far from the minibus crowds, the animals of Meru afford the visitor a wonderful experience of African wilderness and raw, unspoilt nature, complemented by the beautiful landscapes visible at every turn.
You are likely to see rhino, lion, cheetah, elephant, buffaloes, reticulated giraffes, and many more. Not to mention birdlife which in Meru is peculiarly diverse.
Our guides are all members of the Kenya Professional Safari Guides Association.

Massages
After a busy day of adventure in the bush, why not relax completely with a massage or treatment from our skilled masseuse?
A break at Rhino River Camp is a break away from the stresses, deadlines and worries of a busy life back home, so take this opportunity to indulge yourself in the beautiful surroundings of Meru.(Extra Cost)
Sundowners
Sundowners are the ideal way to end your day. Enjoy a drink with a view from the small crater "Kilimajero" which is at a short distance from Rhino River Camp.
The setting sun on the Nyambeni Hills will add to your enjoyment. Or ask us to arrange for a sundowner in one of the spots we have selected into the Park.
Other lodges in Meru National Park
Alternative places to stay in this same area.
---

Offbeat Meru
Offbeat Meru is a low-footprint riverside bush camp, with six guest tents and a swimming pool in a quiet area just outside Meru National Park.
---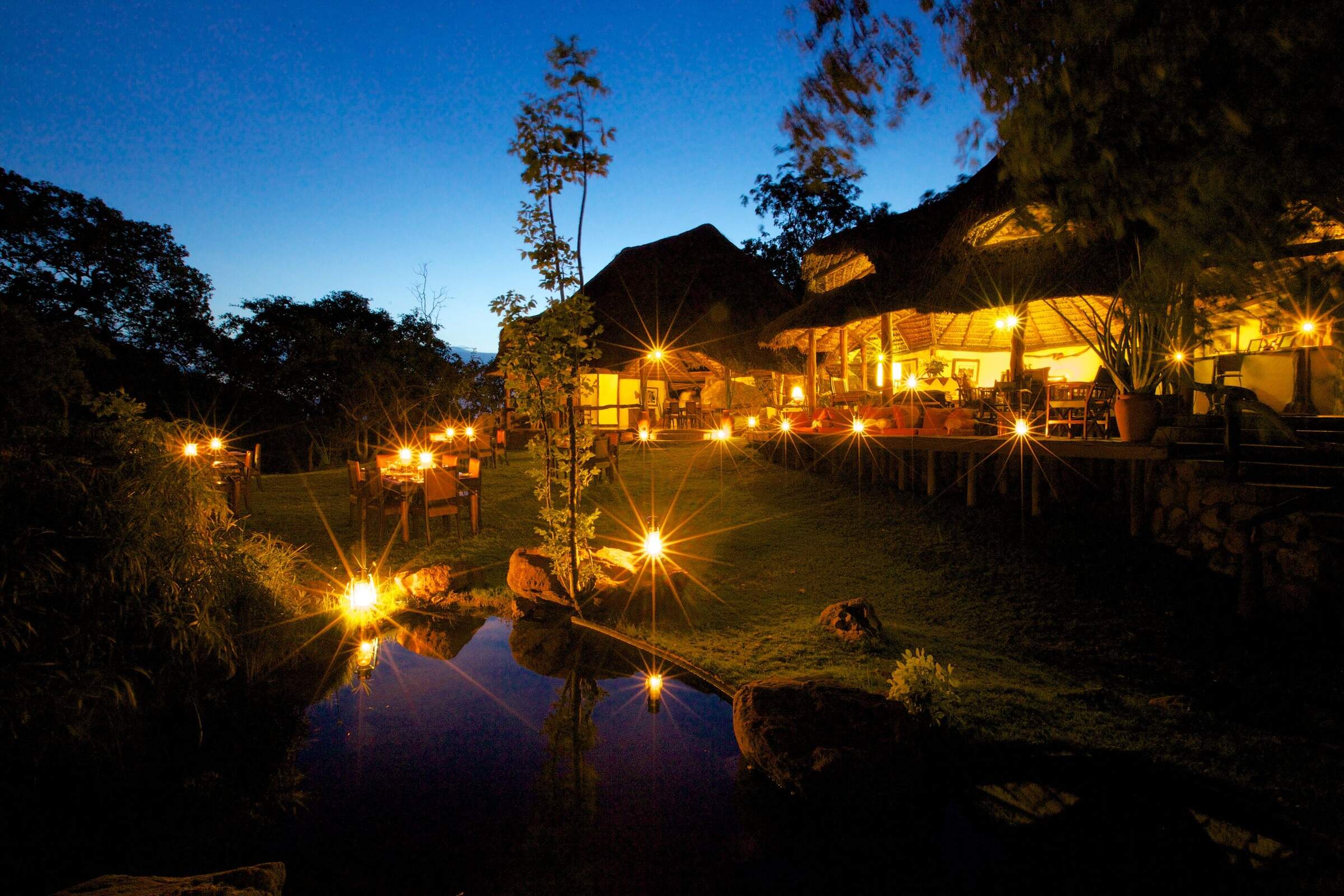 Elsa's Kopje
Elsa's Kopje is the most luxurious option in Meru National Park, with unique rooms built around the natural hilltop environment, and stunning vistas in every direction
---