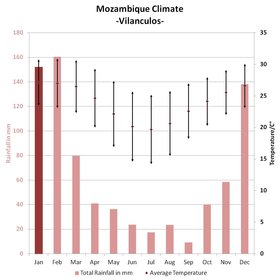 January: the wet season. Rain and humidity levels are very high.
Weather & climate
We're often asked
"When is the best time to go to Mozambique?"
, and the answer is sometimes complex. It depends on many things including your interests, exactly where you want to visit and why you're going. One person's best time can be another's worst!
However, often a concern about the weather underlies the question of 'the best time to go'.
So below is a broad guide to the climate of Mozambique. Please remember that this comes from records and our experience, not from a crystal ball. Weather patterns across Africa are becoming increasingly unpredictable, probably due to global warming; we're seeing downpours in the middle of deserts and damaging droughts when rains should be falling.
The Mozambique coastline stretches for almost 2,000km, covering latitudes from about 11° to 27° South, and has a tropical ocean current running north to south along its length for the whole year.
Despite this range of latitudes, the whole country broadly follows a southern African weather pattern, with the rains falling largely between
December
and
March
.
This does vary a little between the north and south of the country, with the rains lasting a few weeks longer in the north than the south, but the pattern is the same. Humidity can be uncomfortably high during this period.
Most of Mozambique's rain arrives on moist southeast trade winds, but glance at a map to see that it lies in the rainshadow of Madagascar. This gives Mozambique a relatively low annual rainfall – and a great deal of protection from the tropical storms and the occasional cyclone which head towards it during this period.
By around
April
or
May
the rains subside, the sun comes out and the humidity drops – better weather spreads gradually from the south to the north.
June
to
October
is the dry season, with often perfect tropical weather: clear skies, plenty of sun and almost no rain. This is the best time for most people to visit Mozambique. Although still tropical,
June
,
July
and
August
are Mozambique's coolest months; you'll need a light duvet at night, even though the temperature reaches over 30°C by day. During
September
and
October
it remains dry as daytime temperatures climb, though it cools down a lot at night.
November
is a less predictable month of transition. Sometimes the rains start, although many days remain sunny and hot. The rains generally start earlier in the north of the country.
Weather in other African countries
For comparison, see similar climate charts and information for our other African destinations:
►
Botswana climate
– Similar weather pattern to that shown, but with a more clearly defined wet and dry seasons.
►
Congo climate
– Very different from Mozambique's climate.
►
Kenya climate
– Different from Mozambique's climate, dry season from December to March and lower temperatures.
►
Malawi climate
– Very similar weather pattern, but a more clearly defined seasons.
►
Namibia climate
– Much drier than Mozambique, and more clearly defined wet and dry seasons.
►
Rwanda climate
– Very different from Mozambique's climate.
►
Seychelles climate
– Completely different from Mozambique's climate.
►
Cape of South Africa climate
– Almost completely 'opposite' weather pattern to Mozambique's.
►
Tanzania climate
–Different weather pattern to Southern Mozambique, shown here.
►
Zambia climate
– Slightly different to Mozambique's weather pattern, with more clearly defined rains.
►
Zanzibar climate
– Slightly different weather pattern from Mozambique's climate.
►
Zimbabwe climate
– Similar pattern to Mozambique's weather, but with a shorter, clearer rainy season.