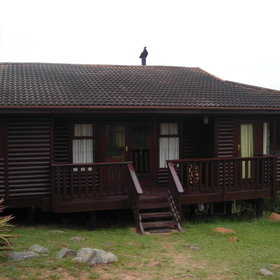 Kariega Main Lodge is located in the eastern part of Kariega Game Reserve.
Kariega Main Lodge: Our full report
Rooms
21 wooden chalets
Traveller's rating

(80%) From
1 review
Children
Not recommended for children.
Open
All year
Kariega Main Lodge is located in the eastern part of Kariega Game Reserve in South Africa's Eastern Cape, where the Kariega River meanders through gently rolling hillsides. It was the first lodge to be built in Kariega Private Reserve, is the most affordable accommodation here and would be the obvious choice for most small families with children considering a visit to this malaria-free area.

Kariega Main Lodge consists of 21 air-conditioned log chalets, lined up along the narrow road through the lodge. Each chalet has two separate bedrooms: a double and a twin – and each bedroom has a small en-suite bathroom. Between these is a living area, in which the focus is an old-style sofa and chairs, and a very welcome log-burner – for which kindling and logs are supplied. We loved lighting the fire, and having the warmth in the evenings. Even though the décor was dated, the layout of the bedrooms and lounge was ideal for a small family.

The bedrooms and central lounge look out through windows and glass doors onto a private deck, which has lovely views of the rolling countryside below. In addition, every second chalet has a private pool that can be requested with your booking (subject to availability).

The food here was variable: breakfasts were a good spread; dinners were mediocre and lunches were the low-point. (Read more below.)

The main areas of Kariega Main Lodge comprise a large restaurant, which can accommodate up to about 80 guests, a bar, an outside boma, a curio shop next to the restaurant and a communal swimming pool. There is also a wellness centre with a gym and two rooms for spa treatments. These facilities are all located in the middle of the road from which paths lead to each chalet. Our room, chalet 9, was luckily quite close to the main areas, whereas other travellers had a fairly long walk there.

Travelling with small children, we found the paths linking the chalets and the main areas very bumpy; part of ours was basically a streambed. This made it challenging to negotiate for a toddler, and a real issue with a buggy. This path wasn't lit at night – and we'd recommend a torch as essential for travellers to this camp. (We were thankful that we brought torches ourselves, but we think these should be provided for guests by the lodge.)

Right next to Kariega Main Lodge, a five-minute walk down the road, is Ukhozi Lodge, whose ten smart, thatched chalets have a more contemporary African feel to them and a private plunge pool and deck each.

As commented, the Kariega Reserve is divided north-south by a public road; the eastern side has no elephant or lion, the western side does have.

Possible activities from Kariega Main Lodge include guided walks, which are relatively safe, since there isn't a lot of dangerous game in this eastern section of the reserve. Travellers are allowed to explore the 'Blue Duiker Trail', which takes about an hour and leads around the neighbouring Ukhozi Lodge, without a guide.

We checked with the guide about dangerous game in this area, and he was confident that there wasn't any real risk. Further discussions brought up that there were, in fact, buffalo in this eastern part of the reserve – but there were not many. The guide asserted that walking around the camp at night was safe, as these buffalo never seemed to come through camp. We were left with the view that whilst the chances of an encounter with dangerous game here is low, it's not zero. So we can't recommend walking around this lodge except to travellers who are very confident in their ability to deal with big game encounters on their own.

In January 2017, we became aware that the guides leading walking safaris at Kariega are not equipped with firearms except when looking for white rhino. In general, we have concerns about walking safaris being conducted in areas where there are high densities of big, dangerous game. Hence we recommend that our travellers don't go on walking safaris here unless a guide who is both suitably qualified and suitably armed accompanies them.

It's also worthwhile to go fishing in the Kariega River, on boat cruises or for a picnic lunch on the nearby beaches of Kenton-on-Sea. If you'd like to do some sports, consider mountain-biking or exercising in the gym! For some relaxation, you might indulge into the lodge's spa.

On game drives there's a choice of driving around the smaller, eastern section of the reserve which has generally higher game densities, or the larger, western side which has the predators.

When we last visited we were guided by Kariega's chief guide who, in fairness, was probably more usually in a managerial role than hands-on. He seemed desperate to show us that the reserve had 'the big five', and made several long, non-stop dashes across the reserve to get us to a sighting – despite us expressing, on a number of occasions, that we would prefer him to take it slower, comment on just the animals which did appear – be they small or large. We asked clearly for him to do this, but only the most explicit demands were acceded. "I don't stop for monkeys" was the reluctant retort on one occasion.

By luck we had a private vehicle for the four of us: two adults and two young children. Our requests for him to "guide our three-year-old son, not us" made no difference to his guiding style. He guided the adults, and we had to translate his comments to our (wildlife-savvy) son. Hence we felt that these drives were very far from child-friendly. He showed us what he expected we wanted to see, but wasn't able to adapt to our, or our child's, interests.

We did see rhino, elephant and lion over a few days – although we were 'radioed in' to most of these sightings, as the reserve has a (understandably) limited number of these animals. We also had a sighting of several bushpig at dusk – a first for all of us – although even this was marred by the guide rushing off to get us to a sighting that he thought we would prefer.

Timing of the drives was fairly rigid, around meal times, night drives were very cold as blankets were too few and too thin, and – most curiously – when asked what drinks we wanted for sundowners, we were told that the lodge's policy was not to offer gin & tonics: the choice was wine, beer or soft drinks.

Our view
Main Lodge is a relatively affordable choice for a game reserve in the Eastern Cape, and markets itself as family-friendly. We enjoyed the high densities of game in the eastern section of Kariega Reserve, the layout of the cabins and especially the log-burner in our cabin! However, Main Lodge and its services, from the kitchen through to the guiding, were disappointing. Although it does accept children, but we don't regard it as 'family-friendly' in terms of safety, quality or flexibility. It's cheaper than somewhere like
Kwandwe's Ecca Lodge
– but in our view not nearly such good value.
Geographics
Location: Kariega Game Reserve, South Africa
Ideal length of stay: Two or three nights is probably the optimum stay here.
Directions: Kariega is about an hour and a half by car from Port Elizabeth Airport. Travel northeast on the N2 towards Grahamstown. Approximately 10km before the city, take the tarred turnoff of the R343 to the right and proceed for about 14km until you arrive at the gate to Kariega Main Lodge.
Accessible by: Self-drive
Food & drink
Usual board basis: Full Board
Food quality: During our most recent stay a Kariega Main Lodge, which was in May 2013, we found the food to be adequate but largely uninspiring.

For our first dinner at Kariega Main Lodge there was a warm plate area with 8 different dishes. We had the choice between a roasted pork joint which was being cut carvery-style, chicken drumsticks, green beans, roast potatoes, a lentil-vegetable-bake in a cheese sauce, poppadums and roti bread.

The presentation of the dishes was institutional: a large quantity of each item in a stainless steel dish with spoons. There was no children's menu and the lodge clearly struggled with the dietary requirements and preferences of an Indian group staying at the same time.

The next morning, breakfast before the morning game drive consisted of a rather Spartan single plate of muffins with the option of self-service tea and coffee.

Kariega Main Lodge serves two meals between its daily activities. First there was the best meal of the day: breakfast/brunch with scrambled or fried eggs with tomatoes, mushrooms, beans and sausages, as well as a choice of fruits and cereals, some croissants and jam on the table. This was a good spread, with cooked-to-order options.

Then in the early afternoon, around 2 or 3pm, lunch is available. On one occasion, the main course was spaghetti with chicken nuggets, with a dessert offering of some sweets and vanilla ice cream. Travellers who are used to high standards of modern food with plenty of fresh ingredients will find little here to appeal to them.

Our second dinner here was a braai (bar-b-que). Even if the seating outside was a little chaotic, the food was good. However, when we asked if the tomato sauce was spicy, we were told that they didn't know – and a staff member simply ducked her finger in the sauce, in front of us, and tried it to see.

We suspect that Kariega Main Lodge could save time, effort and money – and have happier travellers – by serving just one more relaxed and flexible brunch after the morning drive, instead of a separate second breakfast and lunch. Then travellers could suffice a few cakes and muffins before the second activity. Like all of these comments, we did put them to the general manager before we left.
Dining style: Individual Tables
Dining locations: Indoor and Outdoor Dining
Children
Attitude towards children: Kariega Main Lodge accepts children of all ages.
Property's age restrictions: None
Generally recommended for children: Although this area is malaria-free, during our last stay in May 2013 we were left very unimpressed with many aspects of the lodge, including some pretty fundamental Health & Safety questions. Thus we can't recommend it for families with children.
Notes: In the immediate vicinity of the lodge, there isn't much dangerous big game, however there is some.
Infrastructure
Power supply: Mains Electricity
Communications: There is an internet connection here, in the main area, which is free of charge for guests staying at Kariega Main Lodge.
Health & safety
Malarial protection recommended: No
Dangerous animals: High Risk
Extras
Disabled access: On Request
Money: You can leave valuables in the safes at the reception.
The information on this page is our report, of what we saw, felt and experienced personally on our visits.
See Info from the owner for the standard information written by the owner about this property.