Travel reviews by Ms N from San Francisco
Zambia and 1 other country between 19 Aug 2014 and 6 Sep 2014
"Expert Africa and Maruska created a wonderful first safari experience for me. I would totally use Expert Africa again and recommend them to others. She really listened to all my interests, priorities, concerns before making any recommendations. She would offer straw men ideas, explaining the rationale behind each selection and the benefits and drawbacks of that particular itinerary. She knows the camps and area very well such that she could answer even the most esoteric questions I would throw at her and demonstrated amazing levels of patience with my ever changing itinerary and indecisiveness. Even though Maruska was across the world from me, her responsiveness and availability by both email and phone made Expert Africa feel like a local agency.

Furthermore, when Maruska went on maternity leave, the transition was seemless and Megan did a great job of finalizing the outstanding details.

Following are some compare and contrast notes I took in case they are helpful. My notes were more thorough in Zambia though...

Atmosphere
Nkwali wins on warmth and community. Very good for a single traveller. Feels very homey. It has the best sunrises of the 3 Zambia lodges and probably Botswana too.The open veranda to the river and layout makes you feel like you are with the animal life vs looking at it from a distance. There are so many elephants etc that were constantly wandering within the lodge grounds in and around the rooms.
Puku wins on views. The ridge location just gives you a broader vantage point and that combined with the design of its common area is really quite striking. One wants to hang out on their deck in the swinging chairs or round chair all day long.
Puku feels the most appropriate for a honeymooning couple or family since it is more individual, they offer more flexibility with meals and the rooms are the most private.the ambiance is the most upscale from the way the staff interacts with guests to the room decor.
Lions camp has a striking architectural design which is as beautiful as the setting it is situated in. Hard to pin down the atmosphere. They do the communal thing like nkwali but it doesn't have the same vibe. Nkwali is really good at creating connections between disparate guests and guests with their guides that lions camp doesn't quite do. Nkwali had white foreigners tending to the guests but there was more of a camaraderie between them and the Zambian black staff. At lions camp, one senses more of a hierarchy with the white foreigners playing more of a central role in the stay and the local people relegated to the backdrop. Also the clientele was all over 60 and actually changed clothes for dinner.
In Botswana, Shinde was my least favorite. The rooms and walk to them just lacks any charm. It is also quite big.
Scenery wise, I liked the variation across the three sites.

Btw, Maruska's briefings were amazing? They all knew to take special care in the rooms for me with respect to bugs. They also all seemed to bear room preference in mind.

Animal life
Nkwali and puku pretty much focus on the same area so animal life is the same. Saw pretty much everything with an abundance of impala and elephants. Even saw several sightings of leopards and some wild dogs. Not sure it really made sense to do both but not sure which I would choose. I preferred nkwali for ambiance and my guide but preferred the room (fewer bugs) and food options at puku. It Is the puku room and common area that make it a difficult choice.
Lions camp-the access to lions is incredible. Lion sightings at the others were achieved but tougher and with more vehicles. Also the prides were much smaller and no males. My buffalo sighting was also great.
In Botswana, Lebala had by far the best animal life. Sandibe was hurt by having only one jeep out on drives so might not be fair to judge them. As far as wet camps go, based on talking to others, there might be better animal/bird life on the water at lodges other than Shinde. Also, they don't seem keen on night drives.

Staff
Puku ridge probably has the most memorable staff as they really kiss butt. Very attentive to detail, very accommodating, very friendly, very professional. It's like the 4 seasons staff on safari. I like the fact that everyone is Zambian and black including the main guest host/lodge manager. Evidence, the manager, disappointed on the drives portion but was bending over backwards otherwise.
Nkwali was very casual compared to the others perhaps in some ways too casual for the money being spent. The rooms were missing mammal and bird checklists and apparently they didn't have anymore. Interactions were professional but relaxed. All the staff was very warm and friendly...and skilled at fostering a sense of warmth and community within the camp.

Lions camp is more exacting than nkwali. As I said earlier, they try to create this communal thing but it doesn't entirely work like it does in nkwali. And it feels fake..at nkwali they seemed to remember everyone. Here, I asked them about a couple who I met at nkwali who was just at lions camp within the week before my arrival and they clearly had no recall.

Also I had an interaction that can sort of illustrate differences. I had washed my underwear and socks in the sink as I do at every camp to dry on deck during day. Lions camp has minerals in the water that corrie said would go away within a few minutes. I ran the water for at least 8 minutes and then started feeling bad about wasting so much water so I started to wash them. My white socks turned brown. As I washed, water wasn't getting any better and my clothes looked dirtier than when I started. Having been doing this everyday, I knew they would dry in a matter of hours. I went to Corrie and explained what happened and that I recognized it is 11 (I only arrived at camp at 1030) and they pick up laundry first thing but would there be any way I could give these items to the laundry since they are wet now. She was very resistant.. Reinforced that the water clears up after a few minutes (which i rarely experienced) and that I should just leave it in the laundry basket for the next day. I pushed and she finally acquiesced but said they wouldn't be returned until the next afternoon (clothes picked up in am are returned at night turndown). I said that would be great although both are super quick drying and had been drying in a matter of hours the whole time I was in Zambia. She again said they would need til next afternoon due to drying time. Surprise surprise they were both in my room at night turndown. A better approach would have been to say she would see what she could do but no guarantees before next day since she needs to check with the laundry folks but she will do her best. Just showed her lack of experience. Puku would have said..sure thing. Nkwali's will would have probably said what I just suggested. In fact, I washed my gym pants at nkwali and then couldn't find a good place to hang them outside on my veranda. I mentioned it to will and he offered to grab them and put them on their line for me. Just more accommodating.

In Botswana, the staff at Sandibe was excellent. Like Puku ridge, very attentive to detail. Lebala's manager seemed a bit short staffed but they were all very interested in me having a good trip. Shinde's camp managers and my guides were also very guest oriented.

Guides
Fred at nkwali made for a great 1st experience. He is very jovial and outgoing. He tells you there is an impala as though it is the first time he has seen one and then turns off the jeep to give you time to appreciate it. Never felt rushed. He was great about checking with us on what we wanted to do (stay, move on, look for x or y). Seems like the drives were the longest by at least 30 minutes at nkwali. Night drives went for nearly 4 hours and morning drives went for 5 I think. Btw my first drive was solo. Most other drives had 3 of us; a few drives had 5 of us.

It was tough for puku to follow on the heels of Fred. First Fred and I really bonded and I bonded with the others I was on drives with too and secondly I wasn't feeling well. But puku had some issues. First day, I was ready to go for my drive and no one came for me. 30 min after I should have left (I wasn't anxious bc I was enjoying the view from the swing and on wifi), evidence came over to me to apologize, explain the situation and tell me about the work around he was coordinating. Essentially there was no vehicle for me. Ultimately I was picked up maybe 90 minutes late by a driver from their sister lodge. His name was Elijah. I toured with a guest from that lodge. It was his first drive. Elijah didn't seem to stop for much or really engage much with us. I pointed things out to the other guest and encouraged Elijah to stop at points. The drive seemed like a waste of time in the end, particularly since I wasn't feeling well. The next day I went with Elias for both drives. He was punctual and very good about soliciting input and finding me sightings. It was a solo drive both times. Elias was supposed to be my driver the next morning for my game drive/transfer but he didn't show up for me. I waited maybe 10 minutes to find out from evidence that he needed to send Elias with guests who wanted to see the lions (I saw the night before) and so Elijah was going to take me. He told me I would get to lions camp around noon and that it would be part drive/part transfer. It seemed all transfer except for our fortunate coincidence of passing a pack of hyenas feeding on a baby elephant along the way.

Hendrix of lions camp was good and hard working. Tried hard to accommodate the serious photographers with their huge cameras and also people like me who needed to be closer. there were 3 or 5 of us assigned to the jeep depending on the drive but I had a private drive the first morning bc the couple wanted to chill at lodge.


Rooms
Nkwali: love how it is totally open to the river and the idea of the open shower. Like the rural camp feel. Bed was good, hot water and pressure in shower were also good. My only issue with nkwali is that the setting and architecture means more bugs and creatures in the room. Filled me with anxiety each night.

Puku: huge room with amazing views of the vast plains. Bed was good as was the hot water and pressure in shower. The outdoor shower was the best of the three bc there were fewer bug encounters (actually none) and it has a completely unobstructed view to the animal life/view. Little touches like a multi outlet extension cord, slippers, shower cap in the room were appreciated. Veranda was the most inviting of the 3 rooms (and Botswana too).

Lions camp: I got the honeymoon suite which has two sides of views vs one I think. Warmer feel than puku with the use of wood and bright colors. Bed and hot water/pressure of shower also good. Water comes out of faucets brown at first and depending on the day/hour can take more or less time to clear up. Outdoor shower is a little better than nkwali, as there is some view but it is pretty obstructed bc of how the thatched roof comes down in that corner. There is also no shelf on which to put one's soap, shampoo etc...and there is no shampoo, body wash etc in the outside shower. Lots of ants around the room but no real bug encounters otherwise. The view is very good although I think maybe a little less animal life than the others?? Although I saw a lion stroll through when I went to bed on one of my nights!

Shinde had a great shower but room and view were nothing memorable.

Lebala has a lot of huge bees near the rooms which can be intimidating when showering. Also it was tough to get water temperature right. Room was amazing though. Probably #2 after Puku.

Food
I can't fully assess the food and drink, as I didn't fully eat bc of my not feeling well. I did eat a bit in each place though. All had good food. Nkwali was the most basic of the 3 in Zambia. Puku was the only one of the 3 to offer hot breakfast beyond the oatmeal and toast option. Puku was also the only one who gave a choice for the starter, main and desert. Puku also had someone at the bar all the time so one could have drinks during off times like siesta if they wanted. Lions camp may have too but I am not sure.

Overall, I think Botswana may actually serve less food than Zambia which isn't necessarily bad:-)

Sandibe had the best food, by far, in Botswana. Shinde was also very good. Lebala's food was good but perhaps a bit less gourmet than the other 2 lodges.

Other
Not sure I get the booking of puku and nkwali since they have 95% overlap in territory. I would send someone to one or the other.
I wanted to do a walking safari but it seemed like I would have almost had to tell them beforehand. Bc puku was in same region as nkwali, I mentioned maybe wanting to do a walking safari next day to a random guide and he intimated that there probably wasn't a guide available for that day.

Hope the above helps. Sorry for any weird typos. Doing this on iPad while I still travel."
Arranged By Maruska AdyeRowe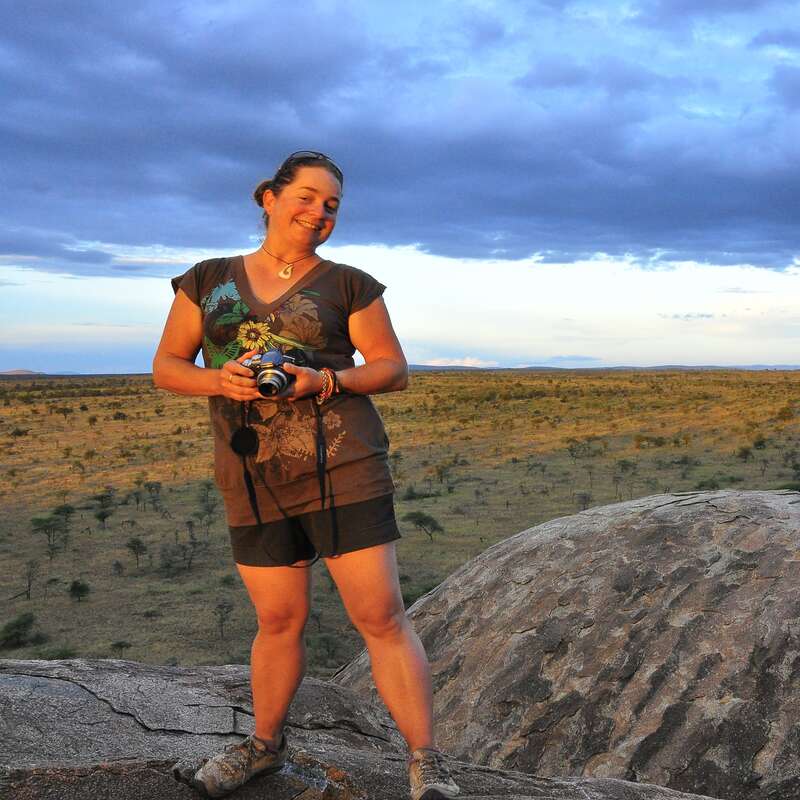 ---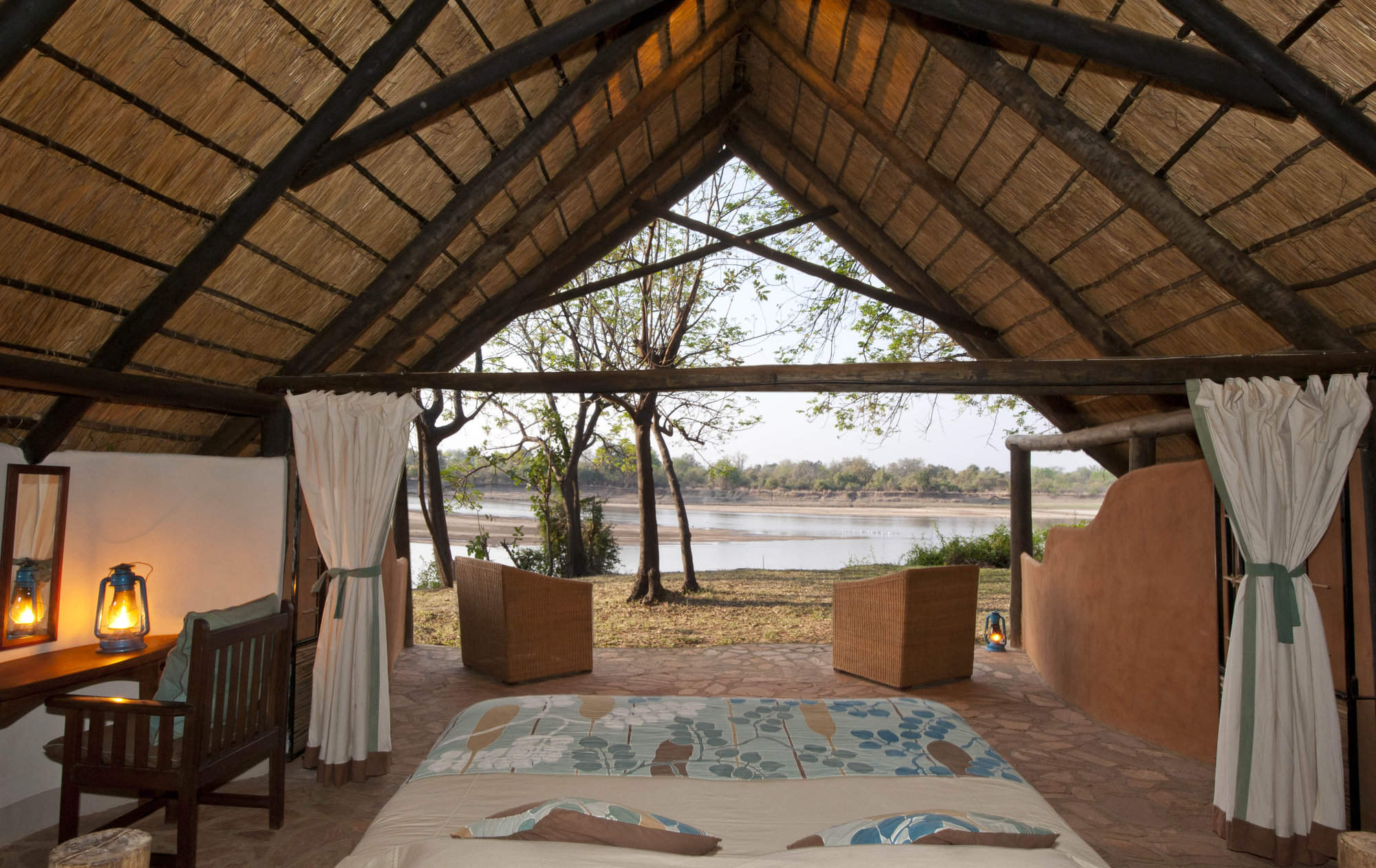 Nkwali
"Warm, communal feel with abundant wildlife"
3 nights
Arrived 19 Aug 2014

Puku Ridge
"5 star look and feel"
2 nights
Arrived 22 Aug 2014

Lion Camp
"The place to go for lions"
2 nights
Arrived 24 Aug 2014

Sandibe Mobile Camp
"Really enjoyed the temp tent setup"
3 nights
Arrived 29 Aug 2014
Lodge not featured by Expert Africa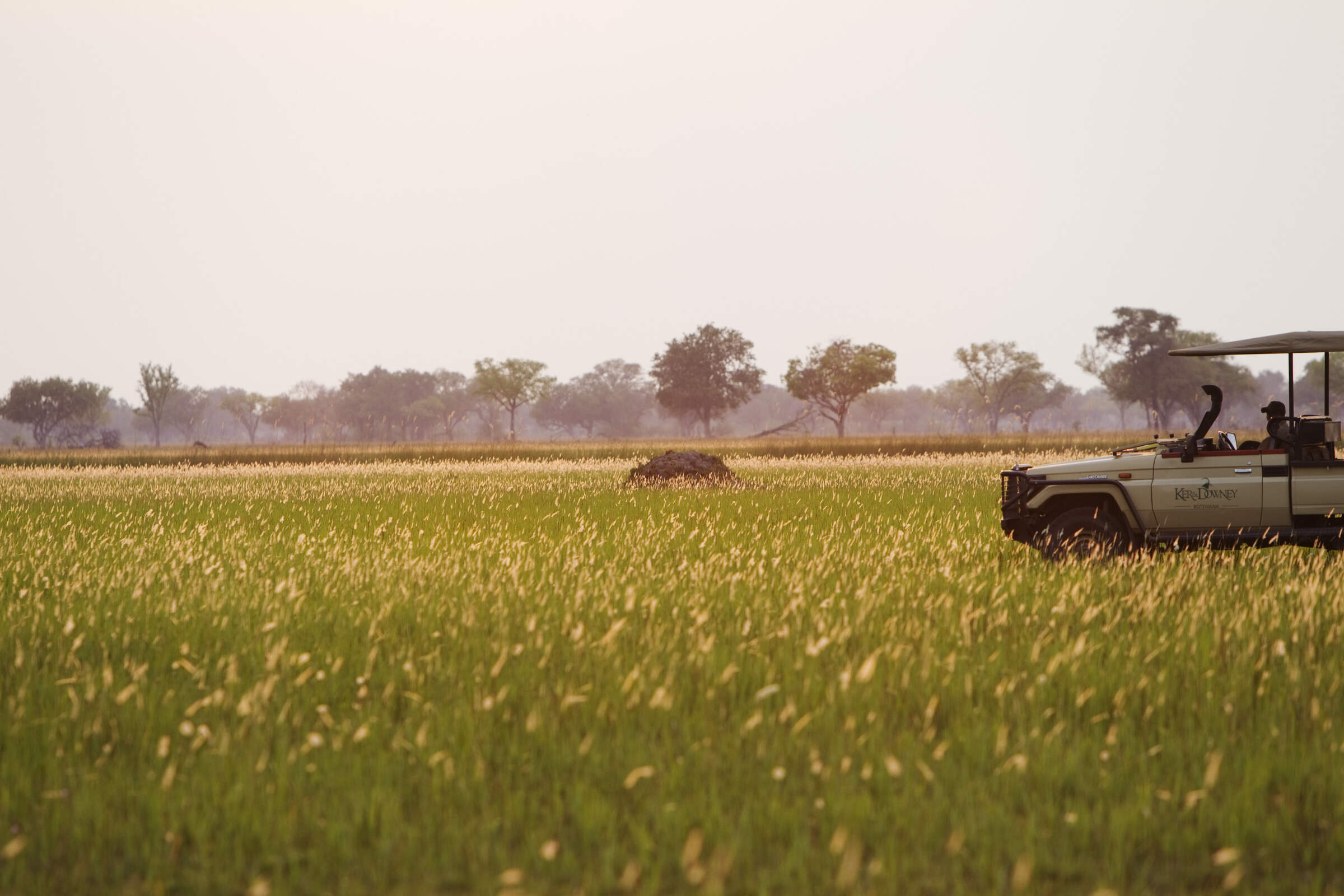 Shinde Camp
"Pleasant staff and wooded feel"
2 nights
Arrived 1 Sep 2014

Lebala Camp
"Locally managed, relaxed, great wildlife"
3 nights
Arrived 3 Sep 2014