Travel reviews by Mr & Mrs M from Chiswick
Amazing country, excellent holiday
Namibia between 27 Mar 2017 and 12 Apr 2017
"We had long wanted to visit Namibia, and it exceeded all our expectations. The tourism offer is really strong and the people we met at all our destinations were friendly and charming, as well as the people we encountered in the wider community. It rivals Costa Rica as one of the friendliest countries we have ever visited. The wildlife (we are close to safari novices) was all that we hoped for, and our three children (aged 13, 9 and 3) really enjoyed their encounters too, and exploring the camps we stayed at. Our children are well travelled and survived the long drives largely - but not always - in good humour. We met other families with younger children who also seemed to be coping, and frankly Namibia is only going to attract those families who have already travelled fairly widely anyway.
Expert Africa organised a great itinerary for us in the time available (we booked with only 2 months to go and should have booked earlier), and we met a safari travel industry consultant whilst in Namibia who only had words of praise for the company, and in particular its commercial independence compared with many operators, who are often incentivised to recommend some destinations over others. This was very good to hear, as the travel industry is opaque and it is often impossible for clients to tell which agency has incentives with which locations, and therefore may be making recommendations more in their own interest than in those of the client. The level of detailed information provided on the Expert Africa website is also extremely helpful in terms of making choices.
We would recommend Namibia to anyone who will listen. For those who are widely travelled, this is a destination that will surprise and delight, especially if you love wide open, remote and stunning deserts and mountains, and don't mind driving 4-6 hours each time you relocate. (If you don't have time for such journeys you better fly but you will miss out on the sense of vastness that driving provides.)
Next time we would want to explore up into the far north west to see the Skeleton Coast sand dunes in all their glory.
Finally, we mislaid a couple of items during the trip and the London team were helpful in contacting camps to see if our possessions could be relocated. In the end the camps themselves located them and we hope our missing items will arrive shortly!"
Arranged By Tom Morris

---

Okonjima Plains Camp
"Wonderful place to see wild cats"
2 nights
Arrived 27 Mar 2017
Feedback response
---
Following these comments we felt that we should elaborate a little on some of the questions raised by these travellers. It is a sad fact that leopard kill cheetah. The leopard found on the reserve are simply a wild population that was fenced in when it was closed off and ultimately the terrain here is better suited to the leopard. However, the reserve continues to expand and is hoping to clear much of the bush to create a more cheetah friendly ecosystem.

Okonjima does a great job rescuing and rehabilitating and releasing cheetah in their reserve, researching and studying the animals along the way. They are learning a lot about them in the process. Unfortunately they are often unable to release them into areas outside their reserve due to the problems caused by human wildlife conflict, it is neither fair nor sustainable to release an animal into areas where they are likely to be killed by humans. This is the same problem faces by other carnivore rehab programmes across Africa.

We believe the work the African foundation does here is well founded and worthwhile and we hope that most of our travellers agree. We are sorry if there was some misinformation/miscommunication given to these travellers and have been assured by the Okonjima team that the guides will be better informed going forward.

Mushara Bush Camp
"Comfortable stopover just outside Etosha"
2 nights
Arrived 29 Mar 2017

Anderssons Camp, Namibia (this camp has since closed)
"Exceptional camp close to Etosha, loved it"
3 nights
Arrived 31 Mar 2017
Lodge not featured by Expert Africa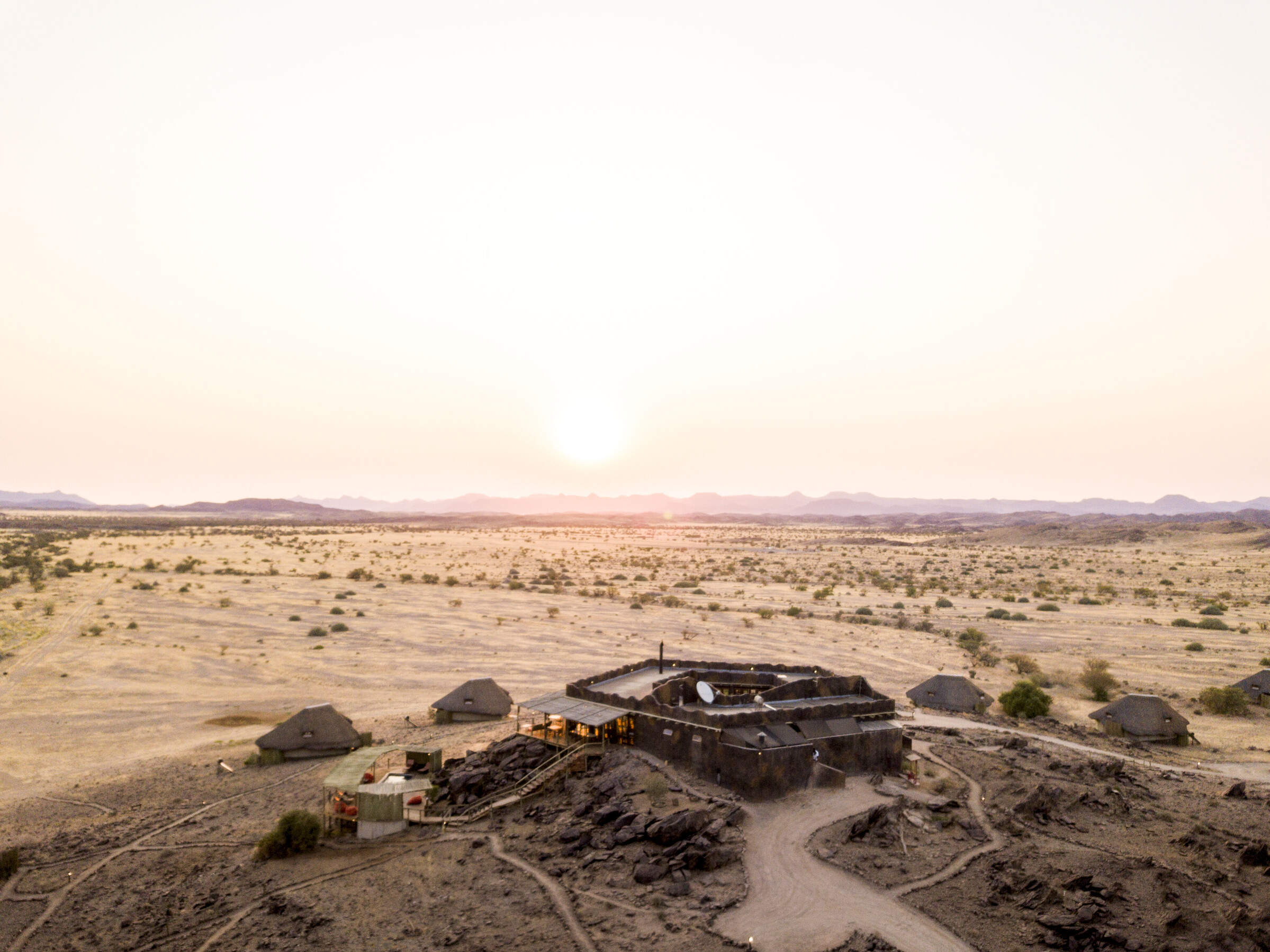 Doro Nawas
"What an amazing location"
2 nights
Arrived 3 Apr 2017

Strand Hotel
"An oasis of comfort - but lacking local feel"
3 nights
Arrived 5 Apr 2017

Namib Outpost
"Desert Homestead Outpost review"
2 nights
Arrived 8 Apr 2017

Bagatelle Kalahari Game Ranch
"Bit of a 'filler' in our itinerary "
2 nights
Arrived 10 Apr 2017
Feedback response
---
Following these comments we felt we should mention that as noted on our website the Kalahari Desert is not a true desert: it receives more rain than a true desert should and is therefore classed as a fossil desert. The dunes here are very different from those of the Namib and are usually greener and less stark.