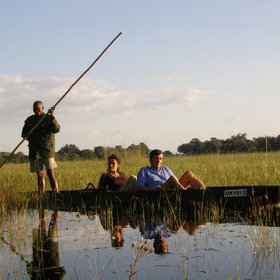 Gliding around in a mokoro – this must be Botswana.
How to safari in Botswana
In the days before organised camps and lodges, the traditional Botswana safari was a mobile safari – enthusiasts driven around by a professional guide, the camp's equipment travelling with them. Although such trips are still possible, more recently travellers to Botswana can also explore a combination of environments on a tailor-made fly-in safari or even on a self-drive holiday.
Fly-in safaris to Botswana
In recent years, with increased travel by light aircraft, most travellers visit Botswana on a
fly-in safari
. Flight transfers between camps are quick and easy, typically taking only 30 to 90 minutes from tent to tent. Thus visitors minimise their travelling time, and maximise their time on safari. Using short flights you can hop between different environments in minutes, swiftly covering large distances across difficult terrain – and come to appreciate Botswana's remarkable geography in the process.
An itinerary can be tailor-made and may include a selection of two to four safari camps that fit your requirements. See a typical
fly-in safari
, or a full list of
ideas for Botswana Safaris
.
Self-drive holidays in Botswana
Many of the roads into Botswana's wildlife areas are sandy and remote. Combined with the lack of accurate maps and little or no backup in the event of a problem, means visiting large parts of Botswana becomes an expedition rather than a relaxing holiday. Having said that, the main trunk roads through the country are easily driven by visitors who prefer a more independent style of holiday, and areas such as the
Okavango Panhandle
,
Nxai Pan
and
Chobe Riverfront
can combine with
Namibia's Caprivi Strip
for a great self drive safari.
Guided safaris around Botswana
Mobile safaris remain an enjoyable and popular way to travel around Botswana. Safari itineraries and accommodation styles vary, but all the trips we offer have staff to do the work, spacious tents – often with private facilities, and fine cuisine.
Small-group guided safaris
are a great way to travel around with a knowledgeable guide and other like-minded travellers. Groups vary in size from six to twelve passengers travelling in an open-sided 4WD safari vehicle. Our
Wild about Africa
programme has a great selection of these safaris to Botswana; spending time in both private and public reserves. (
See examples of comfortable camping and luxury tented small-group safaris to Botswana…
)
Private guided safaris
are the ultimate in small-group safaris: they're organised just for you and your family or friends. Choose between comfortable and luxury camping options and build your own itinerary. Because each safari camp is private and the guide is at your disposal you set the activity schedule, doing as little or as much as you like each day. Again, you'll find the widest choice under the banner of our
Wild about Africa
programme. (
See examples of private guided safaris to Botswana…
)