I take great delight in Namibia's generous vastness & staggering beauty!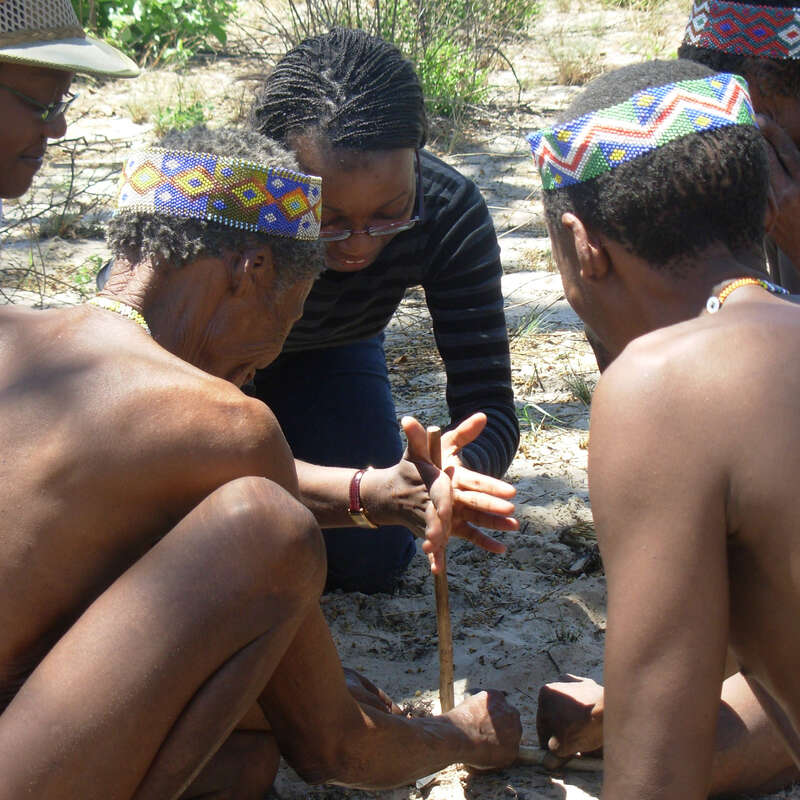 Specialist countries
Sabina is in Namibia and usually available:
Namibia time
: 08:30-17:00 Mon-Fri, and occasional Saturdays.
See our
office hours and locations
.
More about Sabina...
Born and raised in Namibia, I spent my childhood in Oranjemund – a 'closed town' in the Namib Desert's restricted Diamond area – the Sperrgebiet. I discovered my love for nature and the outdoors while attending holiday camp, with sleep-outs in Richtersvelt and swimming in the Orange River.
I joined The Namib Travel Shop, a Windhoek-based travel company which later became Wilderness Safaris Namibia. It was during my time here that I started traveling all over the country, visiting many of the areas and gaining a newfound appreciation for it. I still recall my first visit to Damaraland and the feeling of wonder at the expanse of space, uninterrupted views, astonishing beauty, the absolute silence and changing scenery. It is to this day my favorite area in Namibia and also where I later met my safari guide husband.
While at Wilderness Safaris I worked closely with the Expert Africa team for a number of years and was offered the opportunity to move to the UK to join the Expert Africa team in their London office. Although most of my holidays were regular visits home to visit family, I did manage to fit in some travels to France, Greece, Spain (Barcelona) and Scotland (Edinburgh), as well as around the UK – it was unreal experiencing places and sites that I had only read about.
After nearly 11 years working for Expert Africa in our London office, which I absolutely loved, Namibia was drawing me back. I returned almost four years ago and I feel very blessed to be doing what I enjoy, working for Expert Africa remotely out of our Windhoek office while creating adventures that make people fall in love with my home.
Sabina's most recent Africa trips
---

Namibia
My first visit to the far north of Etosha, first stop Onkoshi Camp. A pleasant surprise, a warm welcome, friendly service and dinner was good. Interesting layout like a beach resort but instead of sand and sea, faces out onto a giant grey pan. Next stop was Etosha King Nehale Camp, loved it! only 2kms from park entrance, lots of fun elements, grand decor, beautiful rooms, excellent Wifi throughout, extra touches, private plunge pool, very friendly and happy staff, great service, very good food.

Namibia
Hakusembe River Lodge, a little oasis with beautiful lawns, tall shady trees and bursts of bright flowers - set on the banks of the Okavango River. We joined the afternoon boat cruise which was great fun, saw birds and some crocs. The next morning we visited the Mbunza Living Museum which offered great insight into their culture, treated to wonderful dancing and singing, which I loved and joined in. Our third day we went into Rundu for the morning to look around - it was very busy and chaotic.
Sabina's previous Africa research
---
| Country | Arrived | Length of stay | Areas visited |
| --- | --- | --- | --- |
| Namibia | October 2019 | 0 nights | Windhoek |
| Namibia | October 2019 | 0 nights | Windhoek |
| Namibia | August 2018 | 3 nights | Swakopmund & Walvis Bay, Okonjima Nature Reserve |
| Namibia | July 2018 | 0 nights | Windhoek |
| Namibia | April 2018 | 0 nights | Windhoek |
| Namibia | December 2017 | 3 nights | Central Highlands, Windhoek |
| Namibia | September 2017 | 2 nights | Central Highlands |
| Namibia | November 2015 | 12 nights | Windhoek, Central Highlands, Damaraland, Etosha National Park, Okonjima Nature Reserve |
| Namibia | December 2014 | 3 nights | Windhoek |
| Namibia | November 2013 | 6 nights | Swakopmund & Walvis Bay |
| Namibia | April 2013 | 6 nights | Namib-Naukluft National Park, Damaraland, Etosha National Park |
| Namibia | November 2010 | 13 nights | Central Highlands, Bushmanland, Etosha National Park, Windhoek |
| Namibia | June 2009 | 5 nights | Waterberg Plateau National Park, Damaraland, Etosha National Park, Okonjima Nature Reserve |
| Namibia | March 2007 | 9 nights | Southern Namibia, Luderitz, Fish River Canyon, Namib-Naukluft National Park |
| Namibia, Botswana | May 2006 | 10 nights | Central Highlands, Caprivi Strip, North-west Kalahari & Panhandle, Chobe National Park |
| Namibia | November 2002 | 1 nights | NamibRand Nature Reserve, Namib-Naukluft National Park |
| Namibia | October 2002 | 2 nights | Skeleton Coast & Kaokoland |
| Namibia | April 2002 | 3 nights | Namib-Naukluft National Park |
| Namibia | October 2001 | 2 nights | Swakopmund & Walvis Bay, Skeleton Coast & Kaokoland |
| Namibia | June 2001 | 1 nights | NamibRand Nature Reserve |
| Namibia | April 2001 | 1 nights | Southern Namibia |
| Namibia | September 1999 | 4 nights | Etosha National Park |
| Namibia | April 1999 | 4 nights | Damaraland |
| Namibia | September 1998 | 2 nights | Namib-Naukluft National Park |
| Namibia | March 1998 | 1 nights | Southern Namibia |
| Namibia | July 1997 | 2 nights | Damaraland |
Reviews from Sabina's latest travellers
---