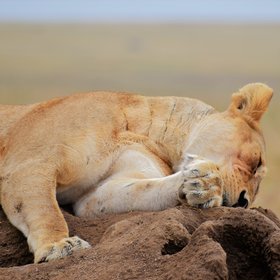 Not only does Tanzania offer first-class wildlife viewing...
Tanzania Safari Guides
You can easily be driven between northern Tanzania's parks; they're close together. Here one of our private guided safaris give you maximum flexibility to do what you want to, when you want to.
These safaris include:
A private vehicle
This will be a 4WD (usually a Land Rover or Land Cruiser) with a 'poptop' roof for unobstructed game-viewing. You will have exclusive use of this vehicle and the safari guide.
A private safari guide
Your guide will have a huge role in your trip. We know that the right safari guide is crucial for a great safari; a poor safari guide will ruin your trip. Hence we've taken a great deal of trouble to research the options for you.
We offer a real choice of different guiding standards, at different cost levels. All are substantially better guides than the (generally very disappointing) average standard that we saw in Tanzania when researching. In brief, we offer two standards of guide:
Superior guide Your guide will be pleasant and personable; they're an established safari guide with at least 3 years of bush experience. They will have conversational English, and will be able to correctly identify virtually all species of animals and most birds – and also have some knowledge of their behaviour. They'll have a good understanding of the local cultures, and often speak some of the local languages. They will generally admit what he doesn't know, and use references to try and find out the answers. Superior guides are used in all of the trip ideas mentioned here.
Expert guide Having been a safari guide for at least 7 years, an expert guide is probably quite well-known; some guides at this top level hold a Zimbabwean professional guide's license. You can expect often fascinating conversation from the guide's wealth of experience. They will be an accomplished birdwatcher, with an excellent understanding of the wildlife and its behaviour – including a very good knowledge of trees, plants, insects and reptiles. The depth and breadth of his knowledge will considerably enrich your safari.
On some trips, it's possible to upgrade your guide. Talk to us about these options and the possible costs involved.