Wild dog in Botswana
We believe that to get the best from a trip to Botswana, you need impartial advice from people who know Africa well, have actually been to the places where you are thinking of travelling and can advise you from first-hand experience – like our team!
---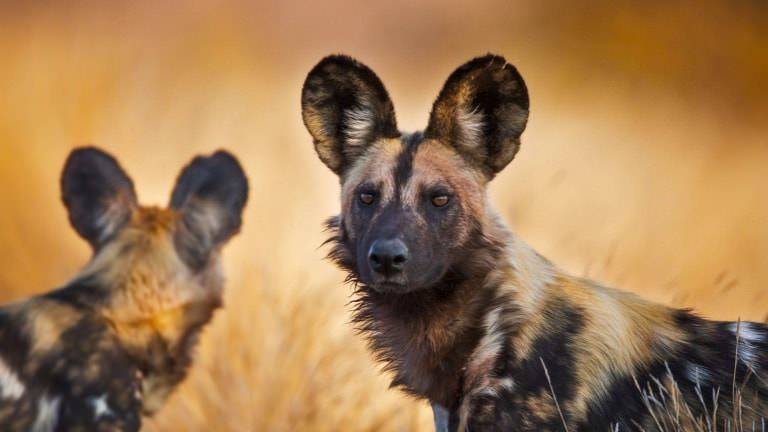 Quick facts about Wild dog
| | | | |
| --- | --- | --- | --- |
| Scientific name: | Lycaon pictus | Habitat: | Savannah & woodland |
| IUCN status: | Endangered | Adult weight: | 20–36kg |
The African wild dog is sometimes confused with hyenas but is very different, both in appearance and lifestyle. Its patterned coat, unique to each individual, explains its alternative name of 'painted wolf'. Other unmistakable features include a white tail tip and large Mickey-Mouse ears.

Wild dogs are built for stamina: packs hunt co-operatively, driving their prey to exhaustion and consuming it quickly. Typical targets include medium-sized antelopes such as impala.

Packs, numbering 2 to 27, centre upon a dominant breeding pair, which often raise their pups in an old aardvark burrow. Away from the den, packs are constantly on the move, covering large areas and aiming to steer clear of lions and spotted hyenas, their great competitors.
~15,000
Wild dogs left in Botswana
8-10 weeks
Pups abandon den
Observing wild dogs in Botswana - 324 sighting reports
Based on 324 reports by our travellers since May 2018, visitors at these camps in Botswana have the best chances of sighting wild dog.
---
Where to see wild dogs in Africa
African wild dogs wander widely and so are often hard to track down. If you find them, stay with them: they are typically unconcerned and you may witness a hunt.
---
Top tips for viewing wild dogs
African wild dogs inhabit a variety of terrain, typically with a mixture of bush and open grassland. Today they are rare – victims of persecution and canine distemper – and largely confined to a handful of major conservation areas.

Significant strongholds include the Selous (Tanzania), Okavango (Botswana), Hwange (Zimbabwe) and Laikipia Plateau (Kenya), although wild dogs wander widely and may turn up unexpectedly almost anywhere. In a few locations, including Mana Pools (Zimbabwe), habituated packs allow close viewing, even on foot.

Although largely diurnal, wild dogs rest up during the heat of the day, becoming most active in the early morning and late afternoon. The alertness of prey animals, and their sudden panicking flight, is often your first clue that a pack is on the hunt nearby.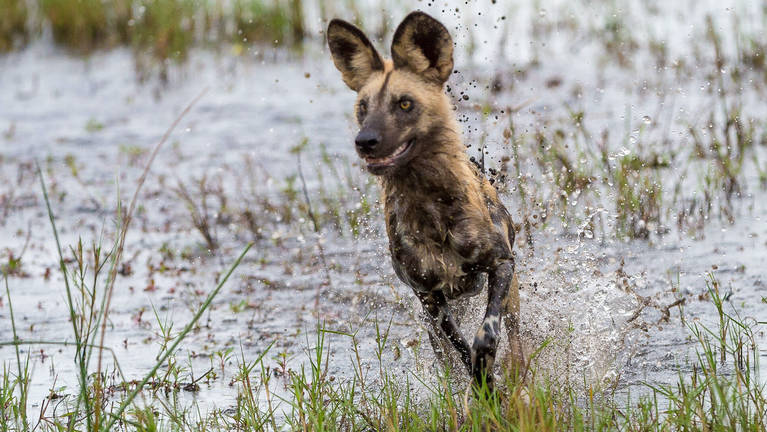 Our top safaris for observing wild dogs in Botswana
Based on our travellers' reports, these ideas for Botswana safaris are likely to give the best wild dog sightings
---
More information about wild dog in our other destinations
Click here for detailed information about wild dog in other countries, including the places for sighting wild dog.
---