Amalinda Lodge: Information from the owner
General information
About this information
All the information on this page is supplied to us directly from the lodge owner and reflects their view, not ours.
For Expert Africa's view, see our own full report on Amalinda Lodge, which contains our own observations and views.
---
Last updated by Owner

3 Nov 2021






















Facilities at Amalinda Lodge
Property facilities

24-hour Security, Bar, Battery Charging Facilities, Communal Dining, Eco Friendly, Internet Access (Paid), Laundry Service (Available), Library, Malaria Free, Mobile Connectivity, Pool, Private Vehicle Available, Secure Parking, Spa

Room facilities

Balcony / Deck, Bath, Dressing Gowns, En-Suite, Fan, Fridge, Hair Dryer, Heater, Laundry Facilities, Laundry Service (Available), Lounge Area, Mini Bar, Mosquito Nets, Outside Shower, Pure Cotton Linen, Safe, Sala, Shower, Smoking Rooms, Tea / Coffee, Verandah

Activities on site

Bird Watching, Game Drives, Game Viewing, Game Walks, Gourmet Picnic, Massages, Natural History Tours, Rhino Tracking, Safaris, Walks (Guided), Walks (Self Guided), Wildlife Tours

Nearby activities

Animal Encounters, Bird Watching, Child Friendly Activities, Cultural Tours, Cycling, Game Drives, Game Viewing, Game Walks, General Sightseeing, Hiking, Historical Tours, Massages, Mountain Biking, Museums, Natural History Tours, Rhino Tracking, Rock Climbing, Safaris, Walks (Guided), Walks (Self Guided), Wildlife Tours

Languages

English
Room types at Amalinda Lodge






Room 1
Situated on ground level at the foothills of an original San Bushmen settlement, this tastefully furnished twin room, with a secluded outside deck looking towards the infinity pool and distant Matobo Hills, includes a large en-suite bathroom and shower with a dressing room.
The perfect room for siblings, friends sharing or those not keen on stairs, Room 1 offers a perfect private getaway in luxury surroundings





Room 2
Another beautifully hidden and private room slightly elevated amongst the granite outcrops, Room 2 offers a large double bed, perfect for couples on a romantic getaway or single travellers looking for a private escape in the wilderness.
As one of our smaller rooms, and having been described as "cosy", this homely space suits as an ideal home away from home for travellers. The en-suite bathroom with shower and the small private deck add to the pleasant, comfortable atmosphere and design.





Room 3 – Family Room
Room 3 is a Standard Family room on the ground level of Camp Amalinda and still incorporates some of the granite structures. There are no stairs to Room 3 and it is an open plan bedroom, lounge & bathroom area with 2 double beds. The ensuite bathroom consists of a shower & bath, toilet and single rock basin. If required, there is space for an extra single bed in the family room.
Amenities include tea & coffee stations, fan, mosquito nets, mosquito coils, open wardrobe, private outside veranda, hair dryers & electric blankets.



Room 4
Guests can enjoy an open plan room, ideal for families or close friends, with space to roam and mingle. Boasting 2 double beds, as well as en-suite bathroom, guests are provided comfort and luxury in a unique natural setting
This room is on ground level, allowing ease of access to the room, as well as the abundant surrounding wildlife on offer. An ideal escape hidden amongst the granite walls of the Matobo Hills.






Room 5
Room 5 is our largest room on offer, with lots of space to lounge and relax, containing 2 comfortable double beds, as well as an en-suite bathroom equipped with a sunken bath and open shower.
Tastefully furnished with natural lighting and direct access into the historical granite hills, Rooms 5 offers families or friends a chance to relax and enjoy nature together, without feeling crowded.





Room 7
Room 7, cleverly hidden away and elevated amongst the rocks and wilderness, shows ingenious use of space and light, with a relaxing bath looking out over a precipice.
Offering ideal seclusion whilst still giving direct access to the surrounding wilderness, Room 7 is suitable for both couples wanting a romantic getaway and single travellers looking for privacy.





Room 8
The San Suite, our Room 8, is one of our most popular and sought after rooms. With ingenious architecture and incorporation of the natural granite boulders, Room 8 allows travellers to be at one with nature.
The Loo with a View is the only one of its kind at Amalinda Lodge, with epic scenery out across the countryside. The room is also home to an original San Bushman painting, making your stay fell authentic and natural.






Suite 10 – Cecil John Rhodes Suite
The Cecil John Rhodes Suite is the most secluded lodge, elevated to the back of the main area and behind Suite 8. There are 36 steps up to the room so would be most suitable for those guests that don't mind a little uneven terrain.
The suite consists of an ensuite bathroom with toilet, his & hers showers, outside bath, rock basin, tea & coffee stations, a lounge area, fan, mosquito net, mosquito coils, open wardrobe, king-size bed, hairdryers & electric blankets. This suite boasts a swing bridge leading out to a private viewing sala overlooking the waterhole.





Suite 9 - Lobengula Suite
The Lobengula Suite is elevated amongst the granite boulders & situated behind the main area and library. There are 90 steps up to Suite 9 so would be most suitable for those guests that don't mind a little uneven terrain.
The suite consists of an ensuite bathroom with toilet, shower, outside shower, his & hers rock basins, tea & coffee stations, a lounge area, fan, mosquito net, mosquito coils, open wardrobe, private outside deck, king-size bed (suitable for extra tall guests), hairdryers & electric blankets.











The Home-Stead
Two thousand years ago, the Bushmen called Matopos their home. Now you can too.
For 26 years, the Stead Family have shared their beautiful family home in quiet harmony with furry and feathered residents of Matopos. The only noise pollution being that of their children's laughter bouncing off the rocks. The Steads would now like to share their idyllic lifestyle with you and your family. Unfenced and untamed – this is your private wilderness of granite. A wonderful opportunity to disconnect from reality and reconnect with family and nature.
Activities at Amalinda Lodge

Cultural & Village Tours
Take a tour to an African homestead and get down to earth with the local Matabele people. Enjoy their gracious hospitality as they show you around their "pole and dagga" huts. Use this opportunity to get an insight into the way of life for the local people and to experience their culture. We offer a chance to visit a clinic, traditional healer and local primary school where one begins to understand no matter what adversity children face, one of their basic wants is to learn. Many projects at the school, clinic and orphanage have been completed, and some are ongoing, through our social responsibility program, The Mother Africa Trust.

Explore the sites of San Bushman Cave Paintings
Explore the hills where mysterious nomads once held their sacred ceremonies. The rocky granite topography boasts more than 2000 sites of the San (Bushman) tribes and is probably the richest source of San rock art known. This area, and several famous rocks here – known to the Ndebele people – hold spiritual significance of bygone rituals. Here, you can learn about their trials and tribulations, hopes and aspirations.




Paul Hubbard Tours
FOR BOOKINGS AND DETAILS CONTACT - resman@amalindacollection.co.zw
Rock Art Sites:
The Matobo Hills World Heritage Site s home to one of the greatest densities of prehistoric rock art sites in the world. More than 3000 sites are known in the area, although only a handful are open to the general public for reasons of preservation. In general, the paintings are more than 1500 years old and were created by the hunter-gatherer ancestors of present-day Bushmen. The paintings, although beautiful are not merely a record of daily life or "art for arts sake". They form part of the spiritual practices of these hunter-gatherers and guests will have an opportunity to hear more about the fascinating and mystifying beliefs and rituals behind their creation.
Most sites are located on the edges of the granite kopjes (hills) and some walking over uneven ground is required. Some of the better preserved caves require a long hike and are best done early in the morning or late afternoon to avoid the heat of the day. If guests are unable to walk very far, alternative arrangements to visit small, easily accessible sites can be made.
View of the World (Rhodes' Grave):
This iconic hill is known to local people as Malindidzimu - the dwelling place of benevolent spirits. Revered by local Matabele and Kalanga people long before arch-imperialist Cecil John Rhodes ever laid his eyes on it, the dwala is renowned as the final resting place of the founders of Rhodesia. Cecil Rhodes, Leander Starr Jameson and Charles Coghlan are buried within the living rock and a large mausoleum containing the earthly remains of Allan Wilson's 34 brave soldiers who died in an attempt to capture the last Matabele King is nearby. The scenery from atop the hill is amazing while the privilege of admiring the exquisite sunsets with a drink in hand, swapping stories, is one of the true highlights of any visit to Zimbabwe.
A visit here can be combined with a trip to see a rock art site.
Umvukela! Battlefields of the Anglo Matabele War, 1896:
The Matobo Hills are the most sacred place in Zimbabwe. Such spiritual splendour has been scarred by eons of conflict, most violently in 1896. With this tour, I aim to give visitors an insider's view of the 1896 civil war (called Chimurenga I or the Umvukela) as it was fought in the Matobo Hills World Heritage Site, arguably its most critical phase. By the end of the tour the guests should have an in-depth understanding and appreciation of the difficulties and opportunities facing the opposing forces. The ebb and flow in the fortunes of war will be realised on the ground, brought to life in a walking tour of the sites of struggle in the hills. Guests will also be exposed to the grandeur and beauty of the Matobo area, its history and inhabitants. This experience is complemented by the additional tours "All Rhodes Lead to Matopos" and "The Mzilikazi Footprint".
War of Warriors: Mzilikazi's Footprints:
For the first time ever in Zimbabwe, a chance to trace the mighty footsteps of one of the greatest warriors of all time, King Mzilikazi, ruler of the Matabele. If you want to be propelled back in time to the heady days of the late 1800's, then allow us to bring to you the smells, sights and the rhythm of pre-colonial homes and the colonial battlefields of Matabeleland. The ebb and flow in the fortunes of war will be realised on the ground, brought to life in a walking tour of the sites of struggle in and around the hills. Guests will immersed in the grandeur and beauty of the Matobo Hills World Heritage Site, its history and inhabitants.
Three and five day tours led by Paul Hubbard, a professional archaeologist whose stories take you back in time with a vibrancy beyond compare. Hosted at the famous Camp Amalinda.
Bulawayo
Bulawayo of Yesteryear - City Centre Tour:
For such a young settlement, Zimbabwe's second city of Bulawayo has an exciting melange of architecture and history crammed into its 126 block radius. War and siege, boom and bust, development and demolition - Bulawayo has weathered political and economic storms for more than a century. Amazingly it has somehow managed to combine the character of a city and a village, a town that embodies the qualities of Africa and the West. It is a proud and independent town. Focusing on the architecture and history, this walking tour will immerse the visitor into the life of a developed African town and provides a unique viewpoint on urban history in the context of a developing country in Africa.
Railway Museum:
The National Railway Museum in Bulawayo is one of the largest museums of its kind in Africa. One of nearly every locomotive, waggon and carriage ever used by the National Railways of Rhodesia and Zimbabwe is on display. Several other objects relating to the history of Zimbabwe's railways are on display ranging from models and original tickets to place settings from Royal Trains and Cecil Rhodes' personal carriage. Visitors are encouraged to climb inside the engines and imagine the heady days of steam travel in an excellent museum.
Natural History Museum:
National Museums and Monuments of Zimbabwe owes its origins to a small group of men (and much later, women!) in Bulawayo who dedicated their lives to creating one of the largest museums on the African continent. The National Museum, as it was then known, grew from a single room in the back of the Public Library to an immense building, housing collections from nearly every branch of the natural sciences. Today the Natural History Museum houses the fourth largest collection of bird specimens in the world, eighth largest collection of mammals and our collections of herpetofauna, fish, insects, invertebrates and arachnids rank highly in Africa for their scope and sheer number of specimens. In addition to wandering through the superb galleries, my tour traces the creation and growth of this museum and reveals many fun and fascinating stories behind the objects and specimens on display. The museum is a national treasure and I always enjoy sharing some of this excitement with guests.

Empire of Monomotapa: The Zimbabwe Culture Ruined Cities
Land of Strangers: Khami World Heritage Site:
Located a short driving distance from Bulawayo, Khami World Heritage Site is the second largest stone-built city in Zimbabwe. Built at the end of Great Zimbabwe's reign, Khami ruled western Zimbabwe and eastern Zimbabwe for decades before being destroyed in a civil war in the late 1600s. At its peak, it was home to at least 8000 people, who controlled the local gold, metals and ivory industries and traded with the outside world. The site is extensive, with impressive terraces and platforms built along the Khami River. Full and half day tours are offered.
Spirits and Stones: Great Zimbabwe World Heritage Site:
Built and inhabited in medieval times, this is the largest stone-built city in southern Africa. At its peak, Great Zimbabwe was home to at least 18,000 people ruled by a king aided by an aristocracy. Through their dominance of trading networks, agricultural production and a complex and fascinating religion, the rulers of Great Zimbabwe created an empire that stretched across most of modern Zimbabwe. Trading in gold, ivory, cattle and iron, the people at Great Zimbabwe were part of a global trade network that rewarded these rulers with rare luxury goods. As the capital of over 250 similar but smaller sites as well as untold villages, Great Zimbabwe's immense stone walls and rich archaeological discoveries have excited the imaginations of visitors and researchers alike. Studied by archaeologists and historians for over 120 years, the site has also been the epicentres of many unfounded controversies over who built it, when and for what purposes. Thanks to the work done by competent archaeologists since 1905 it is known without a doubt that Great Zimbabwe was built by the ancestors of the local Shona people between 1250 and 1500 AD. At least a full day - preferably two - is recommended to explore all that this site has to offer. The prime source of Zimbabwe's pride in its past - the country takes its name from this site and Great Zimbabwe is a site that should not be missed by any visitor to Zimbabwe.
From "Strangers" to "The Destroyers": The Rozvi Ruins of DhloDhlo, Naletale, Zinjanja and Bila:
The four ruins are the best known of scores located in the area between Shangani and Gweru. Each tells a fascinating story of the rise and fall of the rulers of this era during the 17th and 18th centuries. The Rozvi people, known as the Destroyers because of their military power, controlled this area for over a century. Their power was only broken with the arrival of Mzilikazi's Ndebele in the 1830s. These ancient stone cities are an integral part of the story of modern Zimbabwe. Located in an area of stunning scenery, little visited by tourists, this tour is an essential entree for those interested in Zimbabwe's past.


Relax beside our infinity rock pool
Take in the aura and beauty of the Matobo Hills while relaxing beside our specially designed infinity rock swimming pool.

Rhino Tracking by Vehicle or Foot
The Matobo Hills is one of the last bastions of both black and white rhino in Africa. The most unforgettable safari experience will be an approach up to this endangered species. This encounter is offered within the skills and knowledge of our experienced guides. Please note: For rhino tracking on foot, guests will need to hire national parks scouts - rates available upon request.

Safari Spa
Indulge yourself in a full body massage, manicure or pedicure in our Safari Spa set amongst the boulders in the sunset lounge.

The " My Beautiful Home" Bicycle ride
No matter where one is in the world, home is where the heart is. It is where dreams are made and where children are born and grow. The walls of a home emanate familiar smells of the mother, favourite meals and fathers pipe. These walls have seen laughter, sadness and tears, reunions and farewells, birth and loss. Home is a safe haven, a security and comfort and that is why so much love, care and attention is given to it. Each home has a personal stamp of love and pride that makes it individual and unique
The Homesteads of Africa are some of the most extraordinary in the world. They are made entirely by hand, usually a family affair, using only what nature provides. Wooden poles cut from indigenous trees, supporting sweet smelling African earthen brickwork, fired and baked in homemade ovens. Intricate grass thatching provides a tightly woven roof that separates the lovingly polished floors and the stars. Rich mud walls smoothed by hand are painted and decorated in styles and colours associated with the resident family. Diligently swept yards are home to contently clucking chickens and usually one arrogant and formidable looking rooster. A central shady tree is the meeting place during the heat of the day where women shuck corn and men talk about the rains and their precious cattle.
MBH17A well-plotted and carefully planned cycle route through these villages and rural homes in the Matopos is a once in a lifetime experience. It is a bucket list opportunity to touch the very essence of rural life and feel the warm heart and soul of Zimbabwe. A chance to pedal your way through the pulse of Africa. Every home is different. Authentic and uncontrived, with no planning permission needed. There is no duplication or carbon copy. Every home is complete. This is a livelihood where less is certainly more. An overdose of life in all its simplicity – yet this is where you will see the widest smiles and hear the most genuine laughter.
Family values are the very core of The Amalinda Collection. A family run company that knows the importance of the comfort and the security of home. "My Beautiful Home" is a personal celebration of the preciousness of the family herd and they are thrilled to offer you this unimaginable heart-warming opportunity. There is no other like it in Zimbabwe. Matopos is home to the some of the most incredible rural homesteads and their proud residents are excited to share their warm hospitality and their home fires with you.
Please contact The Amalinda Collection for more details and allow us to introduce you to "My Beautiful Home Cycle Tour.

Visit the world famous tomb of Cecil John Rhodes
Drive through the granite hills in the footsteps of Cecil John Rhodes. Visit his world famous tomb known as "View of the World", it's an historical experience not to be forgotten. Leander Starr Jameson is also buried here and together with the spirits of of soldiers killed in battle by Matabele warriors, they gather around at sunset, there is a definite spiritual presence . This "dwala" is known as "the dwelling place of spirits" or rather "Amalindidzimu", the view will leave you breathless…….

Walks/Hikes around Amalinda Lodge
Walking on our property is entirely safe – you could bump into warthog, zebra, klipspringer, kudu, impala, wildebeest, reedbuck, duiker, steenbok, hyrax and a vast variety of bird life. Watch out for the elusive leopard, although he'll see you first….
Other lodges in Matobo National Park
Alternative places to stay in this same area.
---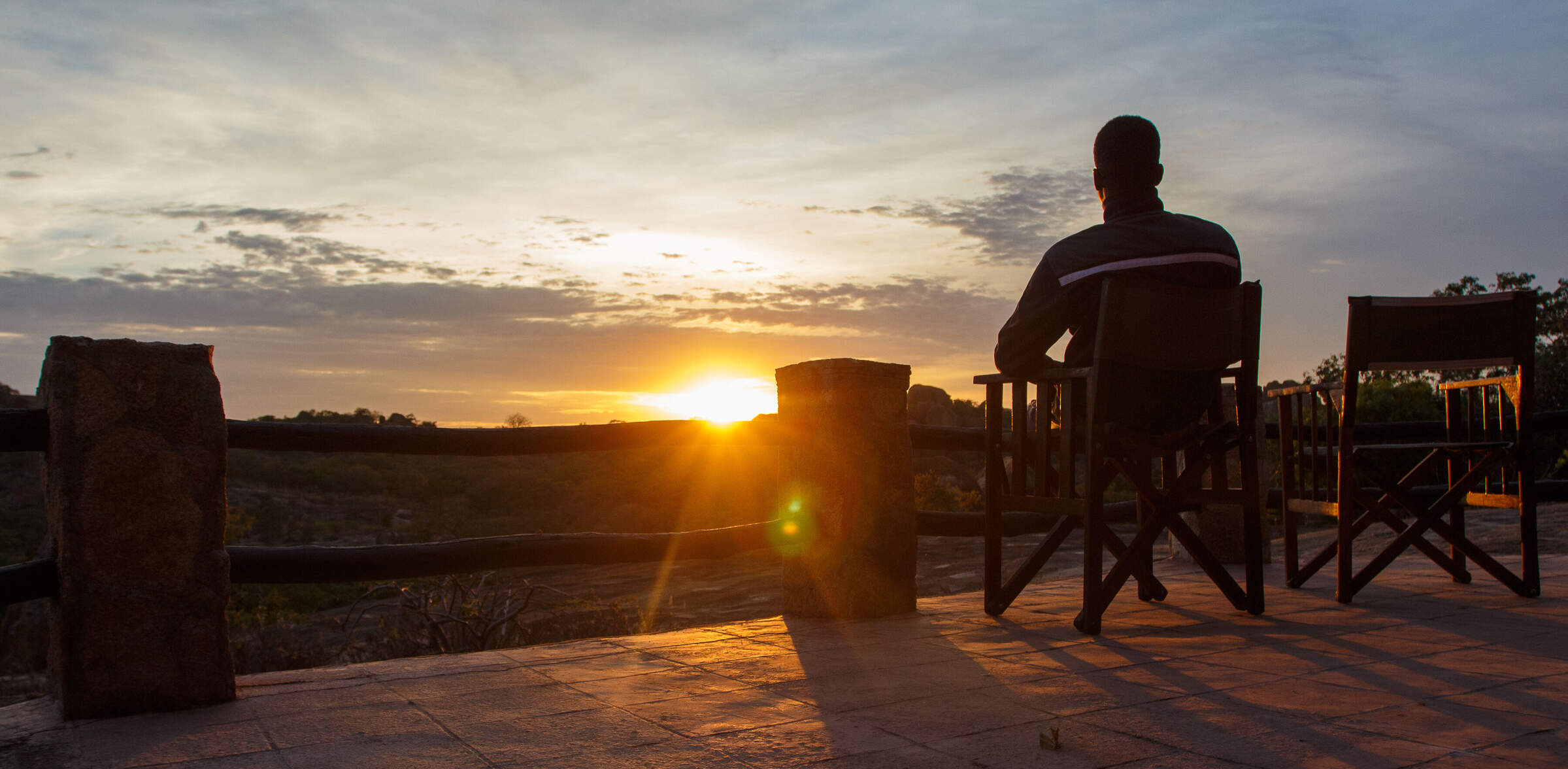 Big Cave Camp
Located on the top of a granite whaleback, Big Cave makes a simple base from which to explore Matobo Hills National Park.
---

Khayelitshe House
In a private reserve bordering the Matobo National Park, Khayelitshe House is an exclusive private house in a remote & less visited area of Zimbabwe.
---