Travel reviews by Dr K & Dr B from Ontario
Namibia between 26 May 2016 and 13 Jun 2016
"Overall, our trip to Namibia was amazing. The accommodations were as expected and mostly first class, with two notable exceptions: Olive Grove Guesthouse and Damaraland Camp.

The scenery and wildlife in Namibia were exceptional and we would love to return again and again and again. If we did return, however, there are some aspects of the trip that would merit closer attention.

For example, the transitions between camps were sometimes problematic. As mentioned in my review of Scenic Air, the fact that they do not inform passengers of their flight times more than a day in advance makes planning arrival times very difficult. In order to catch our flight to Sossusvlei, which we expected would be in the early morning, we arrived in Windhoek the previous day and overnighted at the Olive Grove. Check out time was 10 am yet we weren't picked up until 12:30 so since late check out had not been arranged, we sat in the reception area waiting for two and a half hours (after already having spent the previous afternoon in transit as well as killing time all morning waiting for our pick up).

When I emailed Tracey, she explained that no other scheduled flights serviced airports close to Sossusvlei Desert Lodge but what frustrated us was not so much the wait as not having a choice about the wait. If Tracey had mentioned during our trip deliberations that we had a choice of a regularly scheduled flight to an airport 30 or 60 minutes drive away from the Lodge versus Scenic Air's unpredictable scheduling to the Lodge's airstrip, we at least would have been prepared for the wait. Furthermore, once we got to Sossusvlei, we discovered a fairly major airport within about 30 minutes of the lodge and another within about 60 minutes of the Lodge, both of which offered regularly scheduled morning flights. Our group came to the clear consensus that we would have preferred a flight to one of these airstrips as that would have saved us at least a half day of waiting.

Our return connection between Sossusvlei and Windhoek and then onward from Windhoek to Hoanib also seemed to be less efficient than it could have been. During trip deliberations, Tracy told us that the only way to get directly between Sossusvlei and Hoanib was via expensive charter flight so we elected to spend a night in Windhoek. But, while waiting on the tarmac at Doro Nowas, we encountered a couple who had flown in from Sossusvlei and were about to board the Wilderness Safari flight to Hoanib. I understand that these people did not fly from Sossusvlei Desert Lodge airstrip but it just seems that a little creativity - and perhaps an hour long drive from the Lodge to a different air strip - could have saved us another day in transit.

We also encountered more problems with our transfers than should have been the case; when we arrived at Eros from Sossusvlei, no one was there to pick us up. Our pilot had to call Wilderness Safaris, who then had to call a subcontractor/cab to come get us. When we arrived at Eros from Okonjima, Barnabus (from Wilderness Safaris), gave us cards that indicated we'd be picked up from the Olive Grove the next morning at 5:30 am. When we told him that we had to catch a flight leaving Windhoek International Airport that afternoon at 3, he called the office and arranged for us to be picked up at noon. When no car had arrived by 12:15, we had an Olive Grove staff member call Wilderness on our behalf and found out that they didn't plan to pick us up until the following day at noon!

Bruce and I were also frustrated that our Expert Africa package did not arrive prior to our departure. Tracy explained the late mailing by saying that she didn't realize we planned to travel within South Africa before arriving in Namibia but in our trip planning deliberations, I did tell her of our plans. Even Peter only received his package a day before he departed Australia and complained that it would have been nice to receive the package at least a bit in advance in order to have an opportunity to read and review the materials.

Another frustration concerned luggage restrictions. We are seasoned Africa travellers so well aware of the luggage limits required when travelling by small aircraft. However, Tracy insisted that even more strict limits applied to Namibia and our luggage must not exceed 10 X 12 X 24 so we ditched our much used Africa travel bags and bought smaller ones. Yet, when we arrived in Namibia, we found that everyone - including our travel companions - exceeded the 10 X 12 X 24 limits at least somewhat. Our old, reliable, Africa travel bags would have been perfectly fine - and would have made our packing much easier and our travel much more comfortable.

Another issue that arose during trip deliberations that turned out to be a false issue concerned our weight. Even though we provided Tracy with our weights before we made the final payment on our trip, we were later told that because we as a party exceeded the weight limits normally allowed for two men and one woman, we would need to either limit our total luggage weight to 15 kg per person or pay an extra $1,650 US. Needless to say, we were shocked, both because we are not particularly large people and because this felt like a bit of a scam having come up after having paid our full fare.

After some back and forth, Tracy managed to get the company to "acquiesce" to allowing us 20 kgs luggage per person which at the time seemed like a win. But, when we boarded each of the Scenic Air flights, we discovered that the "fourth" seat they had wanted us to pay $1,650 US for was never even used as a seat. For each and every flight we were on, it was folded down and part of the luggage compartment. Never was there a fourth passenger and never was our luggage even weighed!

I understand this issue has everything to do with safety; however, we can't be the only Expert Africa clients affected and I don't understand why this isn't dealt with before a quote is provided. Alternately, Tracy should have negotiated the outcome on her own before asking us to pay an extra $1,650. Only if she were not able to achieve the ultimate outcome (which was essentially no change) should she have gotten us involved and stressed out! In light of all the issues surrounding luggage size and weight, we packed less than we would have otherwise and found ourselves less comfortable throughout our travels. I sighed several times wishing I had a warmer sweater or a nicer outfit to wear to dinner. Small things, I know, but they add to the comfort and enjoyment of a trip."
Feedback response
We were delighted to read that overall these travellers had a super time in Namibia and enjoyed the majority of camps that they stayed at.

We were however sorry to hear that they felt that other aspects of their trip, mainly with respects to the various transfer routes, and restrictions to do with these light-aircraft flights, were not as they would have liked them to be.

It was a shame that these travellers had to wait around at the Olive Grove guesthouse for their transfer. As they have rightly said the schedule for many light aircraft flights in Namibia are only set the day before the flight. As such, travellers are informed the night before of their departure time the next day. There is always the option to head into town to explore and then return to the guesthouse in time for the transfer to the airport.

We are sorry that we did not present these travellers with all the alternative choices for flying from Windhoek to the Sossusvlei area. Sossusvlei Desert Lodge is located a fair distance from the main airstrip in the Sossusvlei area (called Guluk), hence the lodge have their own airstrip for use by those staying there. So although there are scheduled flights to Guluk, as a matter of course we recommend the light aircraft flight directly to the lodges' own airstrip to save guests the 1 – 1½ hours transfer (between Guluk and the lodge) in an open-sided vehicle along rather dusty gravel roads.

When these travellers made their booking with us there were only two alternatives for flying directly to Sossusvlei Desert Lodge; an expensive private charter flight (where we could guarantee a confirmed departure time) or the scheduled Wilderness Air flight, which departed Windhoek International Airport at 14:10. Hence we used Scenic Air for this flight as they usually depart from Eros (the Windhoek Town airport) as opposed to having to travel 40 minutes back to the international airport (as for the Wilderness Air flight) and would also usually depart earlier than the Wilderness Air flight. Only shortly before these travellers trip departure date (April) did Wilderness Safaris introduce an earlier flight at 10:30.

As most people prefer not to spend 1 – 1 ½ hours on a road transfer when there is a direct flight to the lodges' own airstrip we chose this option for them but we will ensure that in future we present all the alternatives to our travellers.

The very best direct flight option from Sossusvlei Desert Lodge itself to Hoanib is a private charter and we provided a quote for this at the same time as presenting the option with a stop over in Windhoek. This came in at an additional cost of about £100 per person, but the option via Windhoek was chosen by the travellers. We are very sorry that we did not go into details about the alternative option to fly from Guluk (which would have included the road transfer, as mentioned, from the lodge to the airstrip), and then a flight from there to Swakopmund, then on to Doro Nawas and then finally to Hoanib, This route via Guluk worked out more expensive than the private charter option and given that the travellers did not want that, we didn't think to recommend this longer and more costly option too.

We were concerned and sorry to hear about the timing problems with the transfers in Windhoek. These had been booked correctly and confirmed by us – but our partners in Namibia who were at fault, would like to extend their sincere apologies for the errors made regarding these.

We are very sorry that these travellers did not receive their final travel pack before they left home. It was posted out just over a month prior to the start date of our arrangements in Africa. About a week later we emailed to see if they had arrived and were reminded that they actually departed Canada slightly earlier than this. We were very sorry to have overlooked this, and immediately emailed all essential travel documents over to them so that they had all they needed for travel 10 days prior to their departure.

We do completely understand how frustrating this must have been for these travellers to have such limitations on their luggage size. We had very early email exchanges about this where the protocol was explained and that all we can do is pass on the information that the light aircraft providers stipulate to us.

We are also sorry that the personal weight limits and subsequent baggage limits caused issues for these travellers. We do mention in our quote letters that those weighing over a certain amount may have to pay for an 'extra seat' in the light aircraft flights, but perhaps should have followed up more specifically on this.

We always like to keep our travellers fully informed and rather than wait longer to let them know they may have to pay extra, we preferred to let them know immediately when we were told by the light aircraft company. In hindsight perhaps we should have waited for the outcome of our negotiations before contacting them. However under the circumstance we were delighted that we were able to assist in getting the sum waived at the expense of a few kilos in luggage weight. This is very rare and something the light aircraft providers do not usually agree to.

Finally we were sorry that a couple of lodges did not suit these travellers and that they were unhappy about several aspects of their stays. The feedback has been forwarded to the lodges.


Arranged By Tracy Lederer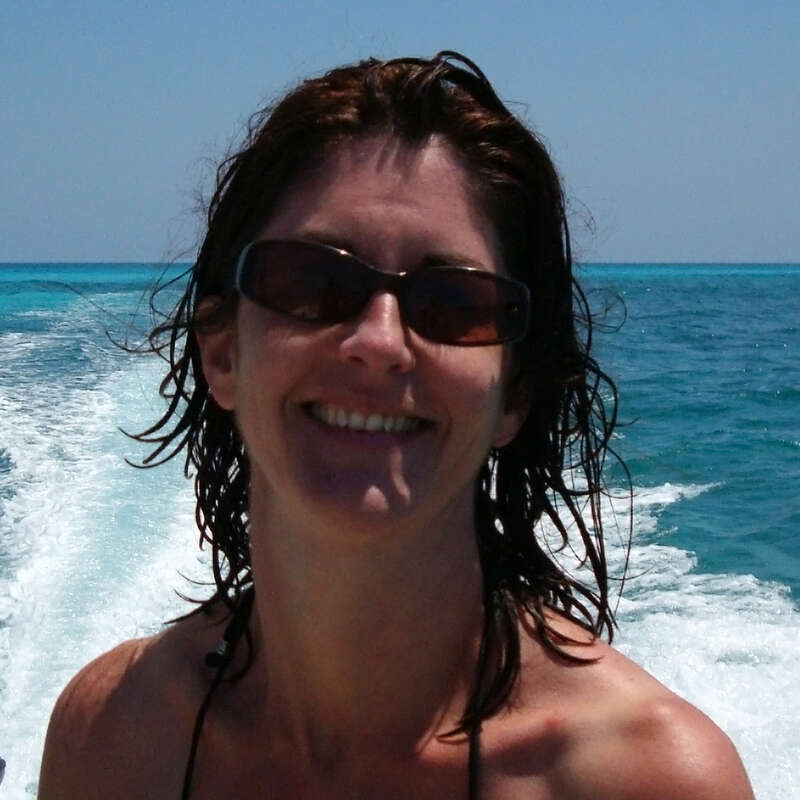 ---

Olive Grove
"Adequate"
1 night
Arrived 26 May 2016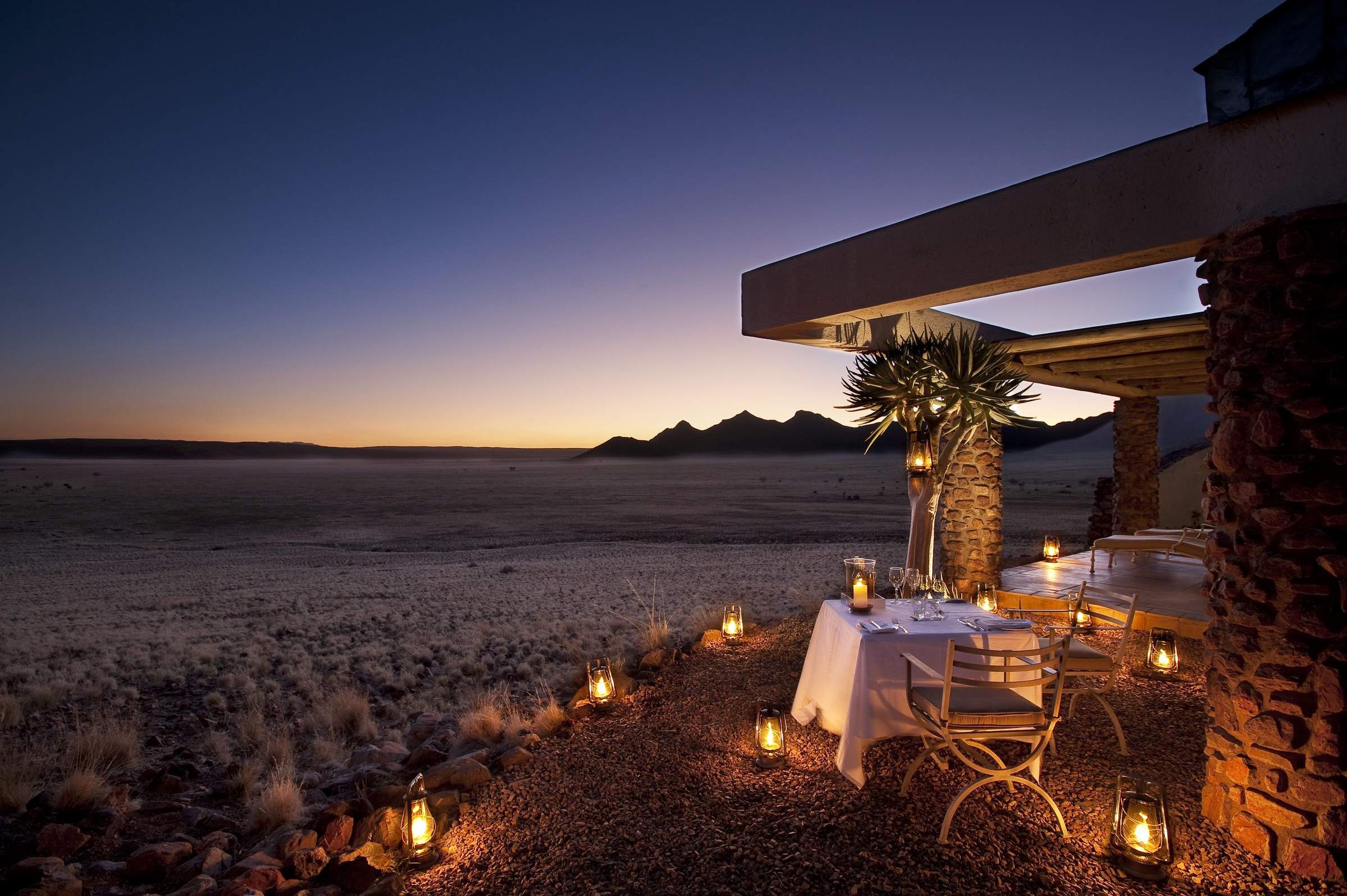 Sossusvlei Desert Lodge
"Jewel in the Desert!"
3 nights
Arrived 27 May 2016

Olive Grove
"See previous review"
1 night
Arrived 30 May 2016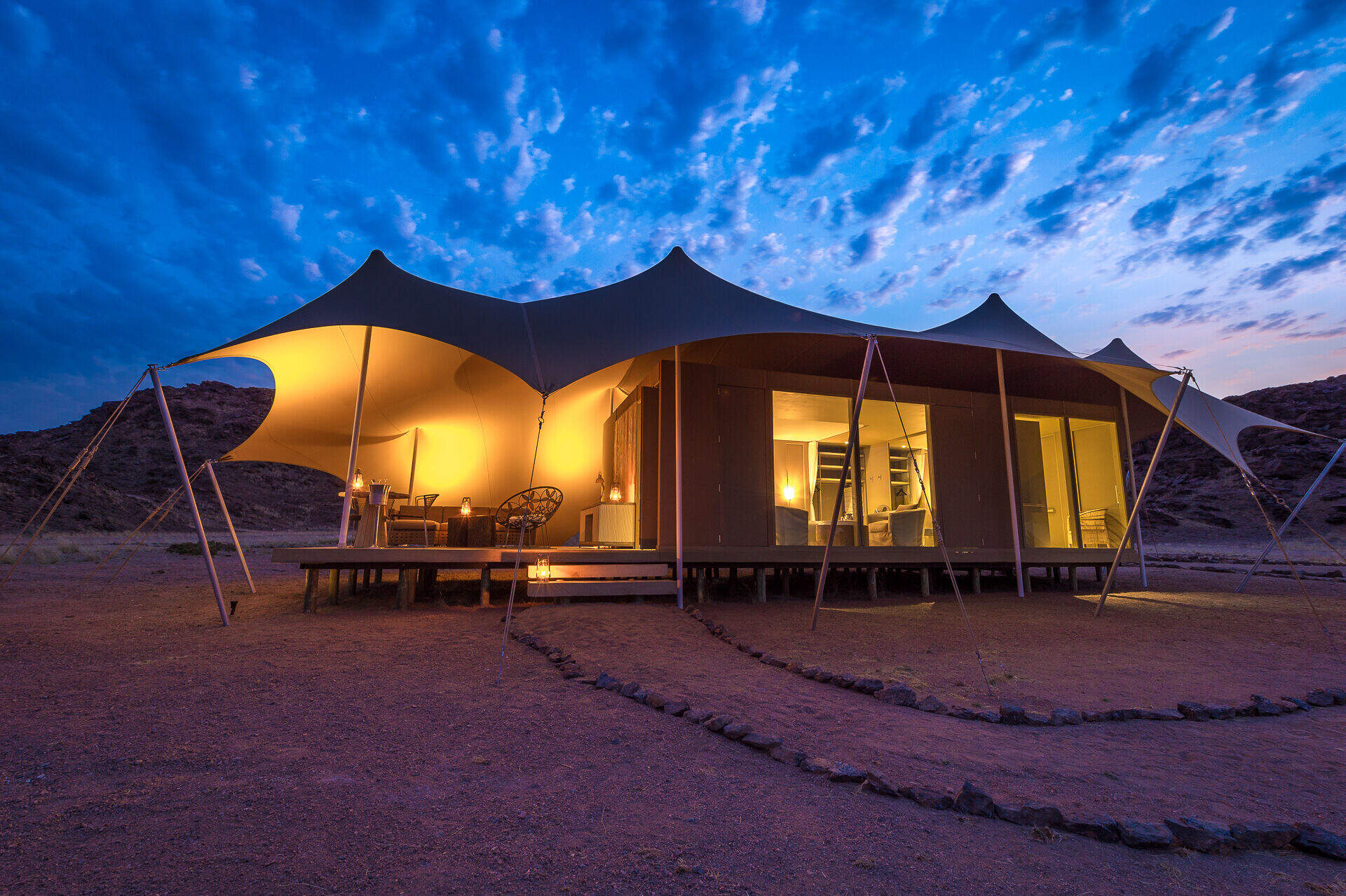 Hoanib Skeleton Coast Camp
"The highlight of our trip!"
3 nights
Arrived 31 May 2016

Damaraland Camp
"A waste of vacation time and money."
3 nights
Arrived 3 Jun 2016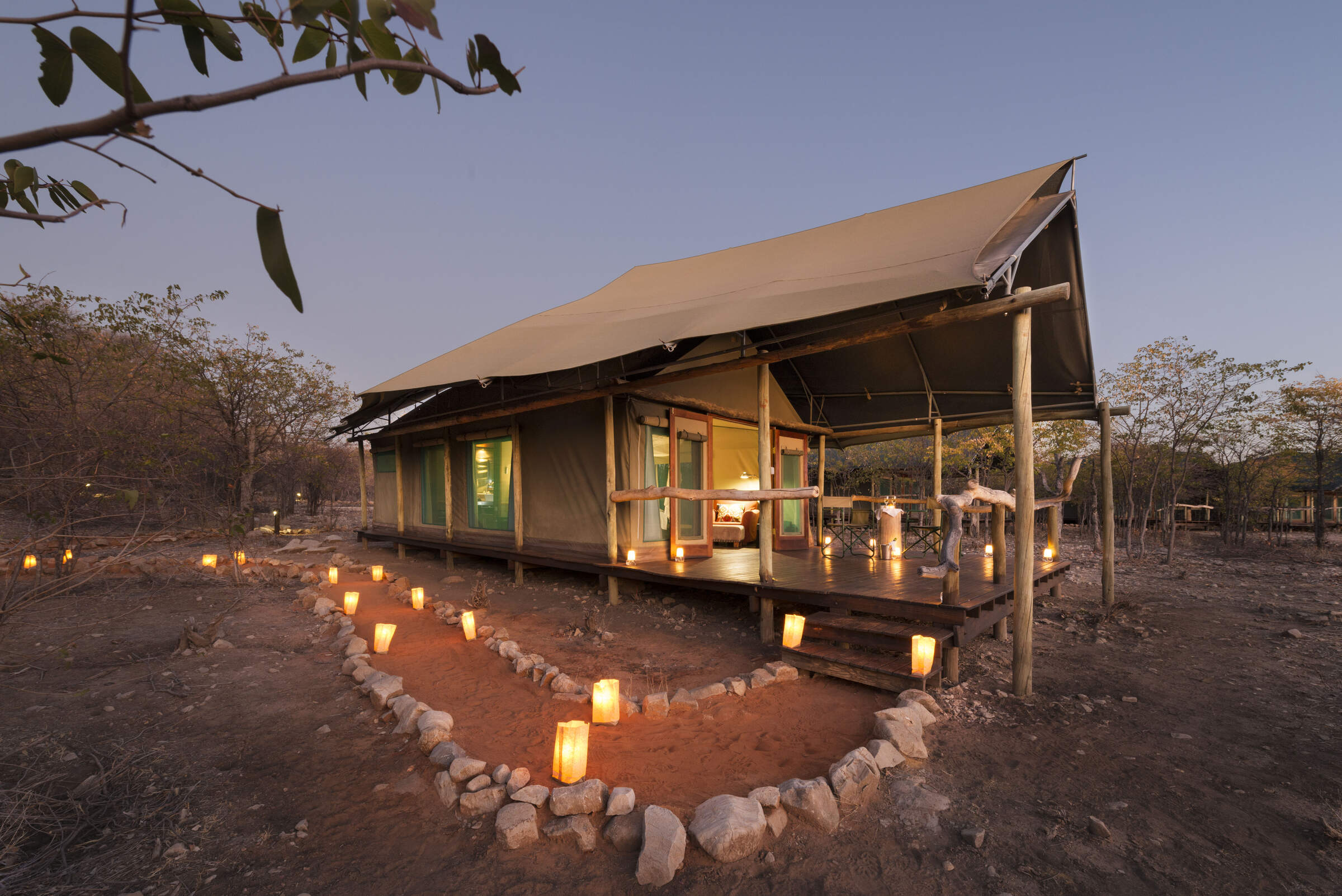 Ongava Tented Camp
"Fantastic wildlife experience!"
3 nights
Arrived 6 Jun 2016

Okonjima Bush Camp
"Glad we went but wouldn't go again."
3 nights
Arrived 9 Jun 2016