Black Rhino in Kenya
Kenya – home to black, southern white and the last two northern white rhinos – is one of the best countries in East Africa to see these iconic animals. Search for them by vehicle or head out on foot or on horseback.
---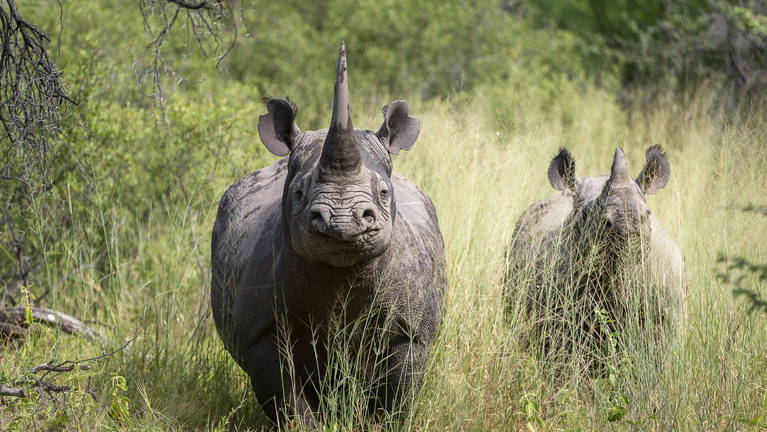 Quick facts about Black Rhino
| | | | |
| --- | --- | --- | --- |
| Scientific name: | Diceros bicornis | Habitat: | Scrub & open woodland |
| IUCN status: | Critically Endangered | Adult weight: | 800–1,400kg |
Kenya's black rhino is the eastern subspecies, Diceros bicornis michaeli. Now classed as critically endangered, eastern black rhinos were once found all over the country: the aptly named J.A. Hunter shot more than 1,000 in Akamba-land, east of Nairobi, to clear the land for farming in the 1940s, and the Maasai killed most of the magnificent rhinos of Amboseli National Park (some with horns more than a metre long) when their cattle were driven from the park's water points in the 1970s.

Today, Kenya's 600-odd black rhinos receive high levels of armed protection in the well guarded parks, conservancies and sanctuaries where they roam free.
Kenya's top camps for seeing black rhinos
Based on 137 reports since May 2018, the camps below have the best chance of seeing black rhinos. Simply follow the key below.
---
Where to see black rhinos in Kenya
Kenya is home to some 600 eastern black rhinos. Reliably good sightings can be had in Nairobi and Meru national parks, and several conservancies in Laikipia and northern Kenya.
---
Top tips for viewing black rhino in Kenya
The Laikipia region is a stronghold for black rhinos and home to more than half of Kenya's total number. The Borana, Lewa, Ol Pejeta and Solio conservancies all have stable, breeding populations. Further east, Meru National Park has a thriving black rhino sanctuary.

For the most exhilarating black rhino experience, visit Saruni Rhino Camp in the Sera Conservancy in northern Kenya. This is one of a handful of lodges in Kenya where you can track black rhinos on foot.

Black rhinos have small territories, so their general location is well known, but they like deep bush, where it's sometimes impossible to spot them. If you don't get another chance, Nairobi National Park has a good population of breeding black rhinos, and they're relatively easy to see here.

Holiday ideas to see black rhinos in Kenya
These trip ideas include places that will give you a chance of seeing black rhinos in Kenya
---
Our top destinations for black rhinos
Read tips for spotting black rhinos in these countries and the best camps and lodges for sightings
---