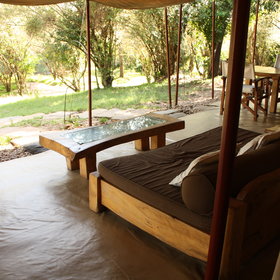 Naibor consists of three camps in Kenya's Maasai Mara.
Naibor Camp: Our full report
Rooms
12, incl. in Little Naibor & Naibor Wilderness
Children
Best for aged 12+
Open
All year
Naibor Camp is a collection of three interlinked tented camps – Main Naibor, Little Naibor and Naibor Wilderness – nestled together in a small stretch of green woodland on the banks of the Talek River, right in the heart of the Maasai Mara National Reserve. Each offers varying degrees of luxury to accommodate different tastes and budgets. Their separation is limited, though, as the same team serves all and all guests have access to the same central areas.

Naibor Camp's location on the south side of the Talek River is special. Most of the camps in this area are located on the north side of the river, and there are just two crossing points, which means guests of Naibor Camp have peace and quiet in the early mornings and evenings – a quality that makes all the difference to your safari experience in a reserve as busy as the Maasai Mara. The woodland here is orange leaf croton and greenheart trees. The presence of lions in the crotons adds significantly to the atmosphere, especially at night.

The camps', communal area – comprised of a large mess tent with partially separated rooms – is located between Little Naibor and Main Naibor beneath shady trees. In the evenings these can be closed off to create smaller cosy lounges and dining rooms, but during the day the canvas drapes are fastened back for a more open-plan feel. The minimalist pale wooden furniture and low-slung sofas are much more contemporary than most tented safari camps.

In front of these communal areas is a short path that leads you down to the Talek River, where you'll find a fireplace, chairs and often tables set for lunch. The trees provide lovely natural shade making this a cool place to relax and watch the hippos that frolic and argue noisily with each other in the Talek.

Further relaxation can be found in Naibor Camp's spa tent, where a trained therapist can do manicures, pedicures, waxing and massages. When we last visited in June 2017, an hour's full-body massage cost US$60/half an hour US$35 – or you can enjoy a complimentary neck massage before dinner, which should help to undo the knots caused by any rough roads!

The tents at Naibor Camp vary quite a lot in style and size.

The seven 'Luxury Tents' (five doubles and two twins) at Main Naibor are very comfortable and quite stylish. Their cream canvas and relatively high ceilings make them feel really spacious and airy. The beds are very large and comfy.

These tents are approached from the back, so the first thing you see is the open-sided veranda with a low, comfortable day bed overlooking the river. Behind this, a pair of twin wash basins set into a wide wooden table beneath a mirror. There is no running water, but jugs of clean washing water are always on hand and hot water is provided in the mornings and evenings. Inside, bedside tables frame the huge double or twin beds. We loved the pale rustic wood, which feels both in keeping with the natural surroundings and very stylish. Rugs cover the canvas floor, and there is hanging space for clothes, plus LED lights on the bedside tables, drinking water and a radio in case of emergencies.

A small step up at the end of each tent leads to an en-suite bathroom on a wooden deck. It is equipped with a bucket shower – with ample hot water brought on request by your tent attendant – and a flush toilet.



The two 'Luxury Suites' that make up Little Naibor offer a lot more space and privacy. Two bedrooms (a twin and a double) flank a central living room making them ideal for a family or group of four. These suites are decorated in a more exotic style, with Persian rugs on the polished wooden floor, an ornate mirror in the bathroom and dark-wood furniture mixed in with the classic pale-wood items.

The central living room has a large sofa with cream coloured cushions; a coffee table laid out with interesting books and magazines, and two lounging chairs, as well as some large floor cushions. The bedrooms include hanging space for clothes, LED bedside lamps and a Campaign-style chair in the corner. Each has its own en-suite bathroom with a single metal basin set into a dark-wood surface, a flush toilet and a large safari shower; hot water is brought on request. Each suite at Little Naibor also has the big advantage of its own private vehicle and guide.



Finally, the three 'Classic Tents' at Naibor Wilderness, offer a slightly lower-cost option and is ideal for a small group of up to six people travelling together. The tents are the same size as those at Main Naibor, but the furnishings are much simpler. One faces the river, while the other two are set a little further back and face into the bush. Each tent features a wrought-iron bed, open-sided iron wardrobe, wooden table and directors' chairs on the veranda. Hot water is provided in the mornings for a canvas washbasin on the veranda and the en-suite bathroom has a flush toilet and bucket shower.

Naibor Wilderness, although not hosted, also has its own mess tent and central dining area.

Photography groups often take Naibor Wilderness, but for guests staying there in smaller parties, the option is always available to visit the main camp for meals or just to visit.
Activities
at all three Naibor Camps are basically the same and focus on game drives: either full or half days. On a previous visit our drives were led by engaging guides, who tried their utmost to give us a good game-viewing experience. The vehicles are all open sided and with tops that can open too; two vehicles are six-seaters, and the rest seat four. Naibor usually tries to keep guests with the same guide throughout their stay, though this isn't always possible in high season.
With advance notice, it is possible to arrange hot-air balloon trips that cost around US$500 per person; visits to a Maasai village for US$20-30 per person, which is donated to the village; and bush breakfasts can be organised too for an additional cost.
Our view
Naibor's location in the heart of the Mara is perfect for people who like to be in the thick of the action. The camp offers a variety of experiences. Main Naibor and Little Naibor have some of the most stylish tents we have seen in the Mara, while Naibor Wilderness offers great value and an ideal private option for groups who can occupy all three tents. All are very well run with good food, guiding and service – though at full capacity Naibor might feel a little busy.
Geographics
Location: Maasai Mara National Reserve, Kenya
Ideal length of stay: 3–4 nights is recommended.
Directions: It is a 90-minute flight from Nairobi to Olkiombo airstrip in the Mara. From there, it is a further 30-minute drive to Naibor Camp, across the Talek River. In the wet season (November–June), if the river is really high, there are vehicles stationed on both sides with a footbridge across.
Accessible by: Fly-and-Transfer
Key personnel
Owner: Nigel Archer, Anthony Cheffings and Satchin Patel (of Talisman fame - the Nairobi restaurant)
Staff: For our info: Up to 6 guides – 3 of which are permanent. One silver, and the rest are bronze, of whom two were sitting for silver when we last visited.
Food & drink
Usual board basis: Full Board
Food quality: We enjoyed the food at Naibor – it was very tasty and well presented and they will happily accommodate most dietary requirements.

Breakfast in camp consisted of cereals, fresh toast, fruit, yoghurt and a hot breakfast cooked to order. Alternatively, there is usually the option to take a packed breakfast, which would include similar food items, but with cold boiled eggs and sausages instead of the hot food option available in camp.

A buffet lunch is usually served at separate tables down by the river. Expect dishes such as quiches, homemade pizza, pasta salad, green salad and similar cold light options. A fresh-fruit salad rounded off our tasty meal.

Before dinner guests tended to gather in the lounge tent for drinks and nibbles –the camembert samosas were our favourite – then everyone sat together around a big communal table for the main meal. On one occasion we started with a red pepper and tomato soup, followed by a sizzling cooked-to-order steak impressively dished up on a hot stone and served with vegetables and a choice of peppercorn sauce, mushroom sauce or garlic butter. The meal was finished with a very decadent tiramisu!
Dining style: Group Meals
Dining locations: Indoor and Outdoor Dining
Cost of meal e.g. lunch: Included
Drinks included: All soft drinks, house wines, beers and spirits are included. Premium brands cost extra.
Further dining info: Naibor Camp will happily arrange for people to have dinner in their tents, but there are no phones in the rooms so must be arranged in advance.
Special interests
Honeymoons: A stylish camp in the heart of the Mara; Naibor offers luxury, attentive service, and an unbeatable location for your Kenya honeymoon. The tents are private and cosy, and you'll enjoy meals on the bank of the Talek river whilst watching the resident hippos in the river below.
See more ideas for
Honeymoons in Kenya
Children
Attitude towards children: Naibor will gladly accept children, but ideally they should be over the age of eight. They recommend that the Little Naibor suites are better for families, who then have the use of a lounge that is away from the main area, and exclusive use of a vehicle.
Property's age restrictions: There are no specific age restrictions at Naibor.
Special activities & services: Naibor can arrange early dinners for children.
Equipment: Naibor has a cot and there are small canvas beds that can be added to rooms. They can't offer any childcare, but a night-watchman (with no formal child-care qualifications) can keep an eye on children if parents want to come down for dinner.
Generally recommended for children: We feel that Naibor Camp is better suited to families with older children. It is quite a smart tented camp and although it isn't too formal, it still has quite an adult atmosphere. In addition, the camp isn't really geared towards families: though the suites have good sleeping arrangements there aren't any activities, beyond wildlife watching, for smaller children to do.
Infrastructure
Power supply: Solar Power
Power supply notes: Naibor Camp runs off solar power, but also has a back-up generator which is usually on used for the workshop. The lights in each tent are powered 24 hours a day, though batteries can only be charged during the day in the mess tent.
Communications: There is WiFi in the lounge tent that guests can use for free; ideally bring your own device to access it.
TV & radio: There is no TV at Naibor Camp, but for special sporting events, guests will be welcome to watch the staff TV.
Water supply: Other
Water supply notes: Naibor has a spring for its water supply.
Health & safety
Malarial protection recommended: Yes
Medical care: Naibor has first-aid kits in the camp and in each of the vehicles. The managers have some first-aid training. There is a doctor based at the nearby Mara Intrepids Camp who can be called, and the camp has links to flying doctors in case of emergency.
Dangerous animals: High Risk
Security measures: Naibor Camp has guards patrolling the property day and night. Guests are escorted back to their rooms after dark.
Fire safety: There are fire extinguishers in all the rooms at Naibor Camp. When we visited, fire training was about to be done.
Extras
Disabled access: Not Possible
Laundry facilities: A full complimentary laundry service is available, but female underwear isn't accepted. Items are hand washed, line dried and charcoal-ironed.
Money: Naibor Camp has a central safe where guests can stow their valuables. They can exchange small amounts of currency; though this largely depends what cash they have in camp at the time.
Accepted payment on location: Naibor Camp can accept cash payments in US dollars, Kenyan shillings, euros and pounds sterling. They can also accept Visa and MasterCard, but when we last visited they were applying a 5% surcharge.
The information on this page is our report, of what we saw, felt and experienced personally on our visits.
See Info from the owner for the standard information written by the owner about this property.