Guides at Porini Amboseli all come from the Selenkay Maasai community.
Gabar Goshawk Safari: In full
If you're interested as much in Kenya's people as its wildlife and landscapes, then this unusual, 9-night safari might be just what you're looking for. Your trip starts in the community-run Il Ngwesi Conservancy in Laikipia and then goes on to Maasai Mara's Olare Motorogi Conservancy where the local community works with conservationists to protect the wildlife and habitat. You then move south-east to the plains beneath Kilimanjaro and the community-owned Selenkay Conservancy in the Amboseli ecosystem.

To experience the great migration when you're in the Maasai Mara, take this safari between late July and the beginning of October. Huge herds of migratory wildebeest seeking pasture roam the plains at this time.

After a safari, many travellers want to relax on the beach on the Kenya coast. It's easy to add one of our beach add-on trips to your itinerary.
Include:
---
Days 1-3
3 nights at Il Ngwesi Eco-Lodge (full board & activities) | Laikipia, Kenya
From Nairobi's small domestic Wilson Airport you take a scenic safari flight north over the central highlands and past Mount Kenya to Lewa Downs airstrip. You'll be met by a vehicle from Il Ngwesi Eco-Lodge for the two hour road transfer along bush tracks into the wild countryside of northern Laikipia. For the next three days you'll be exclusively in the company of the charming warriors and elders of the local community (they all speak English and many are excellent, trained guides) as they walk and drive you through their ancestral lands on morning and evening acitivities.
---
Days 4-6
3 nights at Porini Lion Camp (full board & activities) | Maasai Mara Conservancies, Kenya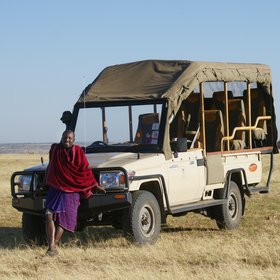 You drive back south to Lewa Downs airstrip and take a light plane flight south across the central highlands and Great Rift Valley to a bush airstrip in the Maasai Mara, where a traditionally clad Maasai driver guide from Porini Lion Camp will greet you. En route to camp you'll pause to watch wildlife and start learning about the local Maasai community. With three full days to explore the Olare Motorogi Conservancy, and perhaps do a visit to the Maasai Mara National Reserve, you will have unforgettable wildlife encounters while in the company of the region's oldest inhabitants.
---
Days 7-9
3 nights at Porini Amboseli Camp (full board & activities) | Amboseli and the Chyulu Hills, Kenya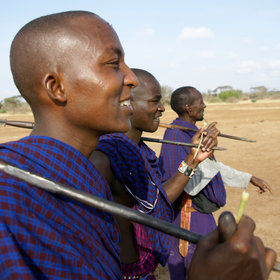 You fly back to Nairobi and connect on a flight to Amboseli National Park (schedules vary - please ask us), where you'll be met by a guide from the Selenkay Maasai community who will drive you through the bush back to camp. For the next three days you will be hosted in great comfort by Maasai warriors and elders, participating in game drives, bush walks, sundowners and bush meals, deep in this wildlife sanctuary that is exclusive to its guests. You also have the option of a full day drive into Amboseli National Park, with the chance to watch elephants and hippos in the swamps, against the backdrop of majestic Kilimanjaro.
---
Day 10
On your last day you'll do a morning walk or game drive, followed by lunch, before flying back to Nairobi in the afternoon (high season only, around 1½hrs depending on routing). In the low season, or if you are connecting onto an afternoon flight to the coast, you'll fly from Amboseli on a morning flight back to Nairobi.
---
See Prices & details for the precise dates/prices for this trip - and all the fine print.