Overview: Nairobi Elephant Orphanage visit
Please note
:
Expert Africa
only books excursions as a part of a full,
Expert Africa
itinerary.
The
Sheldrick Wildlife Trust elephant and rhino orphanage
inside the western end of Nairobi National Park, offers a wonderful opportunity to meet staff caring for baby elephants, and sometimes baby rhinos, which have been orphaned by poachers, or have been lost or abandoned for natural reasons.
The trust was run for many years by Dame Daphne Sheldrick in memory of her husband David Sheldrick, the founding warden of Tsavo National Park. Dame Daphne died in 2018, but the hand-rearing methods and substitute elephant milk formula that she developed over many years of trial and error are now being replicated across Africa.
During the hour-long open house, the elephant keepers bring their juvenile charges out to play between 11:00 and 12:00. After some ad hoc football games and mud baths, the elephants and their keepers come up to an informal rope barrier stretched along one side of the 'playground' from where you can easily take photos. Each keeper gives a short presentation to the visitors nearest to him, explaining how orphaned elephants need to be cared for. The youngest infants are assigned keepers for individual 24-hour guardianship, a responsibility that includes sleeping in their stables. Without the love of a surrogate family and plenty of stimulation, orphaned baby elephants fail to thrive: they can succumb to fatal infections when teething, and, even if they survive, can grow up disturbed and unhappy and badly prepared for reintroduction to the wild.
Rearing orphaned rhinos and elephants
Rehabilitation is one of the Sheldrick Trust's major preoccupations. For rhinos, which mature at twice the speed of elephants, this involves a year or more of walks with their keeper, introducing the orphan's scent, via habitual dung middens and "urinal" bushes, to the wild population. Many of Nairobi National Park's rhinos grew up in the Sheldrick nursery; the last surviving member of Amboseli's famous long-horned rhino herd was rescued by the Trust in 1987 and is now a successful breeding female, having been released in Tsavo East National Park.
In the case of elephants, which mature at about the same rate as humans, the process of reintroduction is closely attuned to the individual: outgoing elephants are encouraged, while they are young, to meet wild friends and potential adoptive mothers, again through walks with their keepers, most often in Tsavo National Park. More traumatised elephants take longer to find their feet. Matriarchs who were Sheldrick orphans themselves, such as Eleanor at Tsavo East, have been responsible for adopting many returnees.
Sheldrick Wildlife Trust visit details
The excursion to the SWT elephant and rhino orphanage turns out to be a mini-highlight for many visitors to Kenya - a shining example of conservation and animal welfare work combined with genuine behavioural research to help protect a species that is always under threat.
You can visit SWT from any of our hotels in the Nairobi area on any day of the year except Christmas Day. Since the trust reopened to the public in 2021 after being closed to visitors for more than a year during the pandemic, pre-booking is required and can be done from 90 days to 2 days prior to your visit. If you're staying at Giraffe Manor, The Emakoko or Nairobi Tented Camp, a visit can easily be incorporated into the activities that are included in your stay. While the orphanage is inside Nairobi National Park, you enter through a private gate, and park fees are not payable. For the daily 11:00 visit, SWT charges Ksh1500 or US$15 per adult and Ksh500 or US$5 per child under 12, which is paid in cash on arrival. If you're staying at another hotel, we will book a driver-guide and private vehicle for you, and you can incorporate other Nairobi visits into the same half- or full-day private vehicle use. The driver will pick you up and drop you back when you choose.
The SWT 11:00-12:00 visit can be quite busy with other overseas visitors as well as Kenyans, including school parties. If you'd like a more private experience, you can also make a visit in the afternoon from 16:00-17:00 or from 17:00-18:00. This private visit enables you to have a one-to-one meeting with a keeper and his elephant, usually as the orphan is being settled down for the night in the sables. You will need to book this visit direct with SWT, and it can only be requested after you have
'adopted'
one or more orphans through the SWT website with a minimum donation of US$50 (larger minimums apply to groups of 3 or more people). As SWT is not a tourist attraction, Expert Africa can't make these adoption arrangements for you, but again we will be happy to arrange the transport for your visit once you have told us when you have booked to meet your elephant orphan.
Please note that since the pandemic, the afternoon "foster parent" visits have been suspended and it is not known when they will be restored. An exclusive private afternoon visit to the orphanage is still possible, from 3-4pm, for a minimum donation of $900 for your group of up to 10 people.
Age restrictions
None, but children need to be under control at all times.
Availability:
Any day except Christmas day. You can request to book a visit in advance when booking your safari with Expert Africa, or include a visit in your activities for the next day or later in your stay when discussing your plans with your camp or lodge manager at Giraffe Manor, The Emakoko or Nairobi Tented Camp.
Please note
:
Expert Africa
only books excursions as a part of a full,
Expert Africa
itinerary.
Start location

Any of Expert Africa's hotel in the Nairobi area

End location

Back at your hotel

Meals included

No meals are included

Duration

One hour, by pre-booking only
Photo gallery
What to look forward to.
---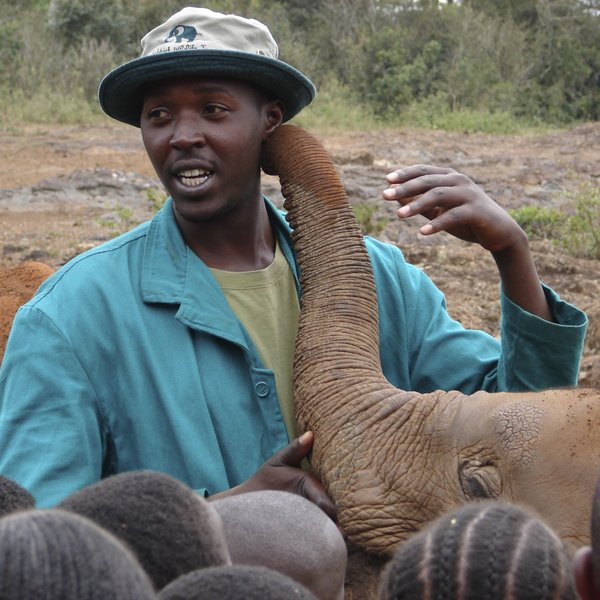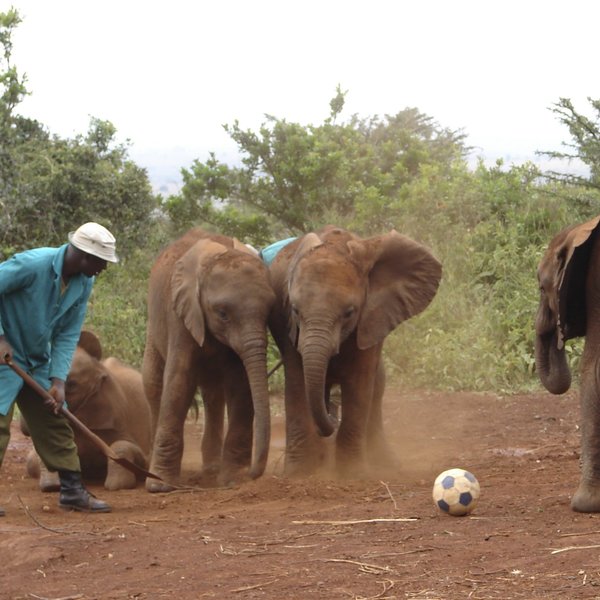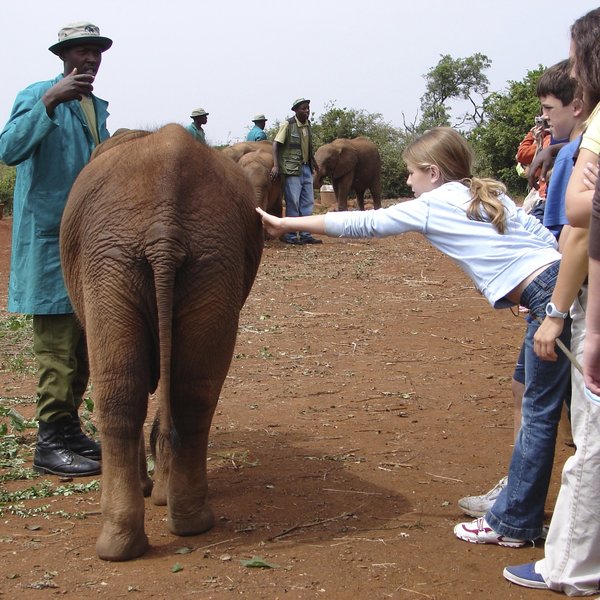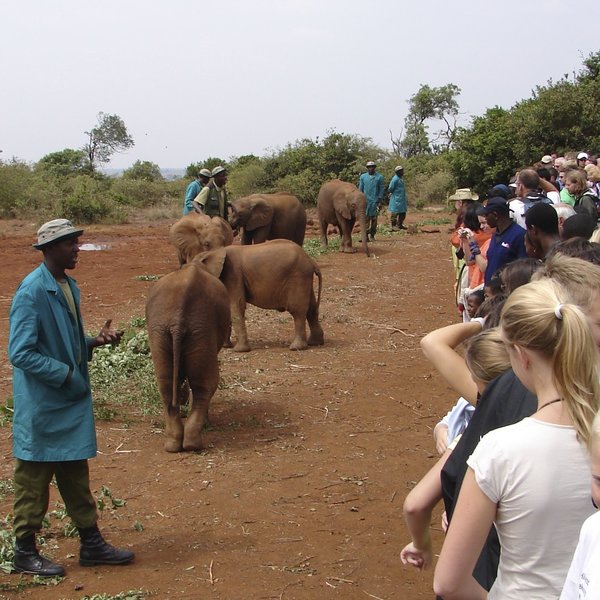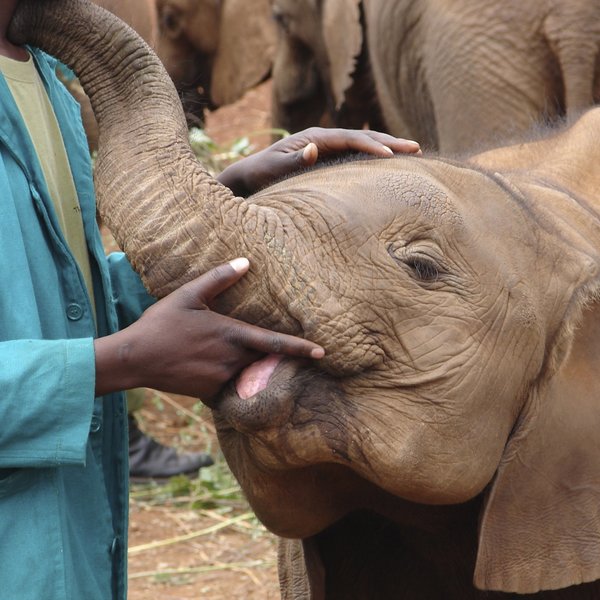 Nairobi Elephant Orphanage visit reviews
49 independent first-hand comments from our travellers.
---
Ideas for holidays which can include Nairobi Elephant Orphanage visit
Add this experience to these trip ideas or contact us to start planning your own tailor-made safari to Kenya.
---
Other excursions in Kenya
Inspiration and great ideas for other experiences in Kenya to include in your safari.
---
Kenya fact file
Below, you'll find useful information to help you prepare for your time in Kenya
---