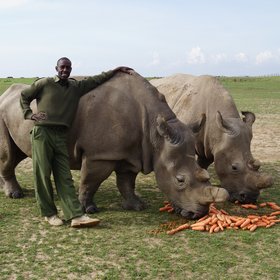 The Endangered Species Enclosure protects the last two northern white rhinos.
Northern White Rhinos visit
All the camps and lodges in the Ol Pejeta Conservancy will take you to visit the northern white rhinos in their predator-free
Endangered Species Enclosure
. This is a well fenced and carefully guarded 700-acre (3km²) patch of savannah and woodland in the eastern part of the main conservancy.
The two northern white rhinos here, Najin and her daughter Fatu (the last two individuals of their subspecies left in the world) were moved to Kenya from Dvůr Králové Zoo in the Czech Republic in 2009, with Mark Cawardine and Stephen Fry
filming the whole event for the BBC
. You'll meet the northern white rhinos and the keepers who walk with them at all times, and you may have a chance to get out of the vehicle, feed them carrots and take some selfies. Depending on circumstances, however, you may need to stay in the vehicle: your driver-guide and the enclosure keepers will let you know. Either way, it's a gentle and moving encounter: the sheer mass of these magnificent animals is impressive and memorable.
If you opt for the horseback visit, you will need to demonstrate a reasonable level of equestrian skills, and horseback visits take place at different times form the usual visits by vehicle.
The northern subspecies of the white rhino once ranged across Uganda, the northeast Democratic Republic of the Congo (DRC), Central African Republic and what is now South Sudan. Their last wild population, in Garamba National Park in the DRC, was wiped out by poachers in the early 2000s. After the last male, Sudan, died of age-related complications in 2018, the only chance of preserving the genetic identity of this subspecies is in-vitro fertilisation using frozen sperm and possibly surrogate southern white females. These are expensive, experimental techniques, and Ol Pejeta Conservancy and Dvůr Králové Zoo are running a joint campaign to raise $US9million to
Make a Rhino
.
The enclosure also protects small herds of Grevy's zebra and Jackson's hartebeest, both of which are easy to see.
Start and end location:
Any of the camps and lodges in the Ol Pejeta Conservancy
Timing and duration of a vehicle visit:
08:30 and 16:00 for the standard visit of about 1 hour, usually as part of a morning or afternoon game drive
Timing and duration of a visit on horseback:
10:00 and 15:00 for the horseback visit, also of about 1 hour, usually after your morning drive or before your afternoon drive
Maximum size of group:
Visits are usually limited to 12 guests in total, so booking in advance is recommended
Age restrictions:
None, but children need to be under control at all times
Availability:
You can request to book a visit in advance when booking your safari with Expert Africa, or include a visit in your activities for the next day or later in your stay when discussing your plans with your camp or lodge manager