Lake Natron Camp: Our full report
Situated close to Lake Natron, Ngare Sero Lake Natron Camp sits on the surrounding grassy flats.
(Note that this camp is often simply called 'Lake Natron Camp' but should not be confused with the nearby Lake Natron Tented Camp.) It is a very open environment here, so each tent and the main mess tent are sheltered under a thick camouflage netting/mesh. This allows the light and lovely breeze through, but softens the suns rays and heat dramatically. The camp also sits alongside a natural spring which feeds into a nearby soda lake − a swim in the cool water is also a great way to combat the heat.

Due to its close location to the lake, Ngare Sero Lake Natron Camp makes a concerted effort to be very environmentally aware. The tents each have a compost toilet and the water comes from the natural spring where an osmosis filter system makes it safe for drinking. The camp is designed, so that if it were dissembled, there would be no trace of it and the landscape could be totally restored.

Ngare Sero is also highly involved with the local community. The camp has a special concession with the village of Engare Sero, which lies only 7km away. As a simple form of 'ground rent' for their spot beside the lake, the camp pays the village $20 per guest per night plus an annual rental fee. These proceeds are collected into a fund, which is used for the advancement of primary and secondary education in the area. Ngare Sero Lake Natron Camp are also involved in various other community projects that have been requested by the villagers themselves.

The activities from Ngare Sero Camp include a walk to the Engaro Sero Falls, a three-hour round trip which cuts through a rocky gorge, complete with bubbling shallow river, until you reach the waterfalls. Visiting in 2008, we loved this cool walk after the heat of the lakeside – and had a very refreshing swim before we headed back down to the camp.

You can also walk out to the shore of Lake Natron with a Maasai guide from Ngare Sero, to see the flamingoes feeding on the algae. Small hills dot the mostly flat ground around Lake Natron, and when doing this walk we continued to walk up some them, which gave great views across the lake and back towards the impressive volcano – Oldoinyo Lengai. Doing this walk in the evening, it was great to stop atop of one of these hills for a sundowner drink – the sunset was spectacular, and one of our fondest memories from our time at Lake Natron.

More intrepid travellers do occasionally take on the six-hour climb to reach the top of the active volcano, Oldoinyo Lengai. We're told that this is best started at midnight. It is very challenging and we regard it as dangerous, and so cannot recommend it to our travellers – though that is, of course, up to every individual.

The mess tent sits under the netted mesh and has a Bedouin design, with large cushions strewn across the floor and Persian rugs dotted around. There are a few hammocks to relax in, and one long wooden table for dining. Though the room is quite simply furnished, it has a comfortable and inviting atmosphere. It is certainly a pleasant spot to sit and have a drink, and enjoy the tasty meals.

The accommodation at Ngare Sero Lake Natron Camp are highly unique, and called "bedu shade tents". These are designed and apparently even patented by Timothy Leach – the owner and director of Lake Natron Camp. They are certainly some of the most unusual tents we have ever stayed in. Each tent is covered by a separate, wide shaded mesh net. This net helps to cut down the heat, and though the rooms are still hot during the day, they are far cooler than they might be.

Still shaded by the netting, but outside the tent, each has a lounge area with a pair of directors' chairs and a deck chair. There is also an outside table where you will find drinking water, glasses and mosquito repellant. Each also has a private path to the stream, where you can have a cool dip – very welcome after a day of activities.

Behind each tent, still under its shaded netting, each has a private compost toilet and shower. The shower does not have a hot and a cold tap, but is instead one warm temperature – heated by the sun in a tank above. Both the shower and the toilet are in slightly separate cubicles, encircled by green canvas and on wooden slatted platforms.

Visiting in late 2008, Ngare Sero's tents did look rather tired and worn, and were also quite small inside – although the large extent of their shading mesh did provide each with a much larger private shaded space. We felt that the tents could do with replacing, but they are functional and fine as a base for a few nights to explore the area. The shade netting is ingenious; we think it's a great idea!
Our view
Lake Natron Camp is certainly one of the most unusual camps we have ever stayed in. Though rather rudimentary, it is also quite fun. The style is unique and there is a sense of adventure in the design itself. Its simplicity fits the harsh environment; anything lavish might have felt gaudy or inappropriate, nestled in amongst the surrounding Maasai villages.

When we last visited in June 2008, we also felt that Lake Natron Camp had a great atmosphere. The team bent over backwards to make sure that we enjoyed our stay. We recommend it as a comfortable, albeit simple, base from which to explore Lake Natron.

Geographics
Location

Ideal length of stay

Stay at Ngare Sero for 2 nights to explore the area and do most of the activities on offer. Though stay for three if you want to explore more of the area and can handle the heat.

Directions

Lake Natron Camp is about 4 hours' drive from the turn-off at Lake Manyara, or about 6 hours' from Arusha. There is no registered airstrip, so driving is the only option – and all of our travellers will be driven here by one of our guides.

Accessible by

Fly-and-Transfer
Food & drink
Usual board basis

Full Board & Activities

Food quality

The food here is tasty and hearty, but nothing overly lavish - it is good food cooked well.

At breakfast – there is usually a buffet of cereals and fruits to which you can help yourself to. There is also a cooked breakfast available, which consists of eggs, bacon and toast.

We skipped lunch when we were here in June, though we were told that guests can expect a light starter of salad or soup. Then a main course of vegetables and meat, after which a desert such as fruit salad is served.

As with the other meals, dinner was hearty, filling and tasty. There were three courses, all of which were a self service buffet. To start with we had cream of tomato soup with fresh-baked bread. Then the main course was baked rainbow trout with vegetables. Desert was a deliciously rich chocolate mousse.

There was a good selection of South Africa wines to accompany the meals.

Special interests
Photography holidays

Lake Natron's scenery is stark and spectacular. Photograph it around dawn and dusk when the light on the surrounding hills, especially Oldoinyo Lengai volcano, is breathtaking. The lake is often home to flamingos and some of the local Maasai welcome visitors.
See ideas for Photography holidays
Children
Attitude towards children

Property's age restrictions

Children must be aged five or above to stay at Ngare Sero Lake Natron Camp.

Generally recommended for children

We wouldn't really recommend this area to children, it is a long and hot drive to reach Ngare Sero Lake Natron Camp and it is a very harsh environment when you arrive.
Communications
Communications

There is no cell phone reception in the area of Lake Natron Camp, though the camp plans to get a satellite phone for emergencies. They currently use a short-wave radio to contact the office.
Health & safety
Malarial protection recommended

Yes

Medical care

Ngare Sero Lake Natron Camp has a first aid kit and links to the flying doctor service for emergencies.

Dangerous animals

Moderate Risk

Security measures

There are 'askaris' and Maasai guards at the camp.

Fire safety

There are fire extinguishers dotted around the main area.
Extras
Disabled access

Not Possible

Laundry facilities

Laundry is an extra charge – larger items cost around $2. Leave 24 hours as the clothes are hand-washed and line dried.

Money

There are no currency exchange facilities here.

Accepted payment on location

Guests can pay using Tanzanian shillings and US dollars in cash. Travellers' cheques are also ok and there is no charge.
Other lodges in Lake Natron
Alternative places to stay in this same area.
---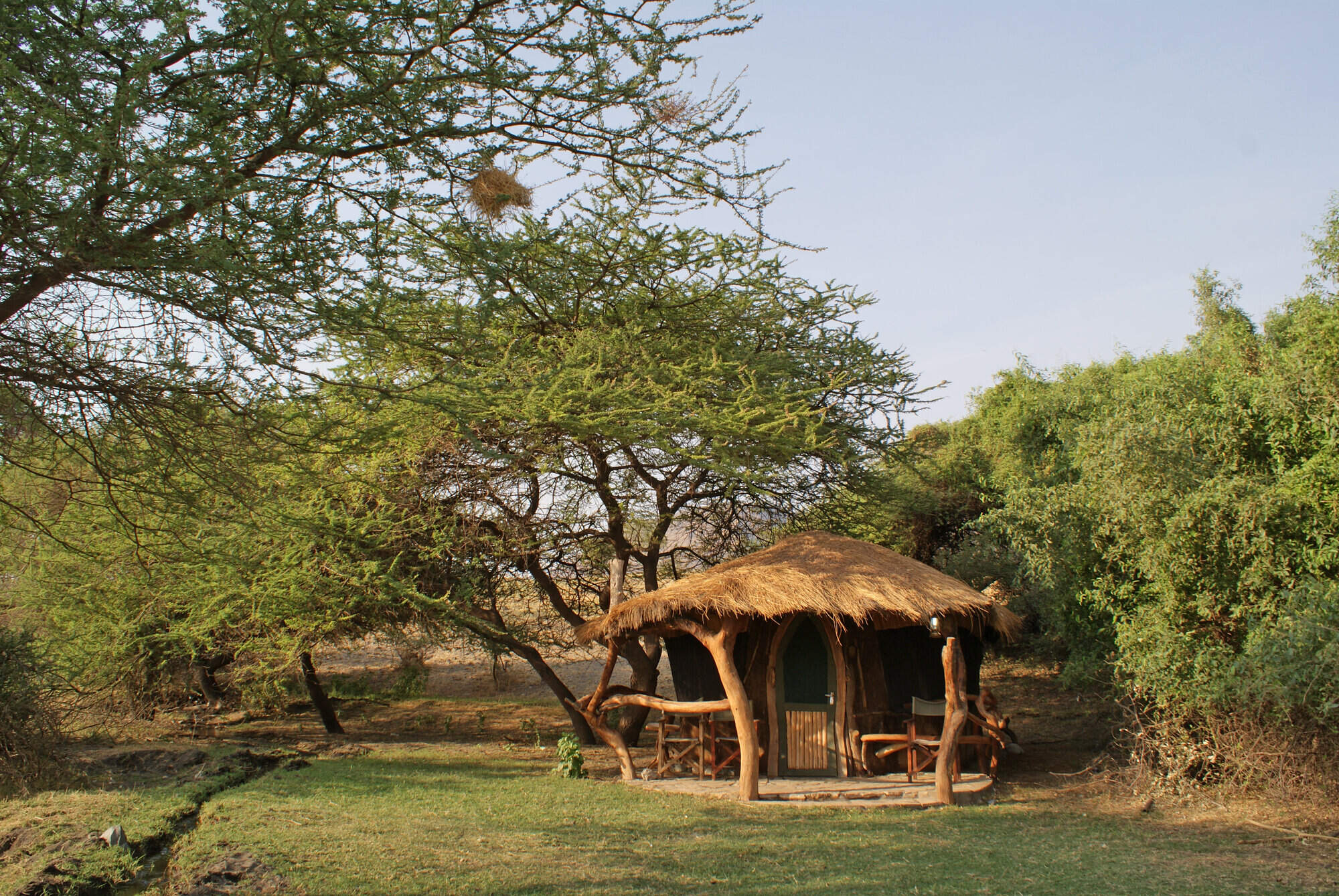 Moivaro Natron Tented
Sitting in an oasis of green under a shady acacia woodland, this camp provides a relatively cool spot for exploring this area.
---