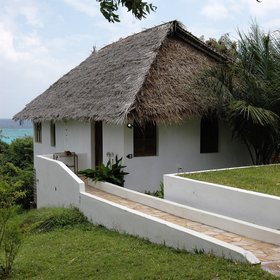 The Seaview Villas are the largest and most luxurious land based rooms at the Manta Resort.
Seafront Villas
The
six Seafront Villas
are easily the best land-based rooms at The Manta Resort. The rooms are incredibly spacious and feel both bright and airy. The open-sided front of each room affords beautiful views over the Indian Ocean, with wooden shutters to close the 'window' at night. In the centre of each villa sits a large four-poster bed draped in a weighted mosquito net. There is a small coffee table, and breakfast may be brought to your room. Villas one, three and five also have a large 'baraza' style daybed, whereas villas two, four and six have an L-shaped sofa. Along with a wooden safe and a free-standing fan, there's a recently installed 'evening-breeze' cooling system over the beds; this is an almost-silent air-conditioning system which keeps the bed cool within the mosquito net.
At the back of the room is an
open-plan bathroom
with a shower and twin sinks. Although the toilet is enclosed separately, this probably wouldn't be the best option for friends travelling together, or those who like a little more privacy.
Garden Rooms | Seafront Villas | Underwater Room |