Kitich Forest Camp
Rooms
6 tents
Children
Great for adventurous children of all ages.
Open
All year
Located well off the beaten track, Kitich lies at an altitude of 1,330m on the western slopes of the Mathews range, a lushly forested "sky island" surrounded by semi-desert plains. Ol Donyo Lenkiyio (2,375m, or 7,790ft above sea level) is the highest point in the central cluster of these gaunt mountains, known as Lenkiyio to the Samburu people. The Mathews range is protected by the Mathews Range Forest Reserve, which lies within the 900 km2 Namunyak Wildlife Community Conservancy, a Samburu community conservancy. Local Samburu warriors and elders staff Kitich and work as guides and the camp provides an ideal location for exploring this region, which is one of northern Kenya's best preserved highland forest ecosystems.
Continue reading our full report on Kitich Forest Camp
Our view of Kitich Forest Camp
We've been dreaming of visiting Kitich for decades. When the chance finally came it didn't disappoint. This is a wonderfully rustic, forest camp for people who yearn for the remote places on earth, who love the shady intensity of the equatorial forest and relish the chance to try out a macro lens on insects and plant life as much as a telephoto on birds and beasts. With its wonderful retinue of loyal, Samburu staff and guides, excellent food and comfy, down-to-earth accommodation, we have no hesitation in recommending Kitich for reasonably fit and adventurous safari-goers.
Read the Owner's description of Kitich Forest Camp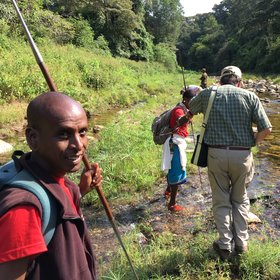 Kitich Forest Camp specialises in bush walks through the highland forest.