Nhoma Camp: Our full report
Nhoma Camp, located close to Khaudum National Park, is a small, tented camp in a remote area of north-eastern ...
... Kalahari, known as Bushmanland, which takes its name from the nearby village of //Nhoq'ma. New owners, Belgian Flora Blommaert and Namibian Moritz von Hase, took over from Arno and Estelle Oosthuysen in January 2021 and, together with their young child Indigo, have made Nhoma Camp their home and the Bushmen their business partners and neighbours.

Nhoma Camp and village is within Bushmanland adjoining the Nyae Nyae Conservancy, the home of the Ju/'hoansi Bushman. Established in 1998 at a size of about 9,000km², this conservancy encourages the Ju/'hoan people to hunt for food using their traditional sustainable methods and with tools created in the traditional way. The Bushmen also derive income from tourism in the area. A portion of your accommodation fee at Nhoma Camp goes directly to //Nhoq'ma Village.

Time at Nhoma Camp and with the Bushman that live here is truly a unique experience: and often an amazing one. Visitors can participate in day-to-day village life in a sensitive way. In addition, tourism has significantly helped //Nhoq'ma Village. Apart from their material gain, it has increased the importance that the people place on their own traditional skills and cultural heritage – as they now see these as passports to earning money, rather than as anachronisms.

Nhoma Camp has 10 tented rooms each built on wooden decks and with a delightfully simplicity and rustic feel – it's very close to the village. These are made up of a walk-in Meru-style tent, with an en-suite bathroom and private veranda. All the furniture is made with the help of the community; throw rugs cover the floor, and linens in creams and browns with a bushman motif cover the beds. We found these to be some of the most comfortable beds that we've ever slept on!

The camp is set on a hillside overlooking //Nhoq'ma Omarumba (river valley). It's a classic Kalahari landscape of open woodlands standing on ancient sand dunes. At the highest point is the pole and thatch dining area, where tea and coffee is available throughout the day and buffet meals are served. Beyond this is the camp fire, a gathering point for pre- and post-dinner drinks and to discuss the day's experiences. Due to the lack of light pollution in the area, the night skies seen here are some of the clearest that you'll ever find.

Activities at Nhoma Camp centre around the Bushmen and the village. During a stay at Nhoma Camp, it is usual to spend most of your activities following the village's hunters and gatherers whose job it is to find food in the traditional way. What hunting and gathering activities are planned for the day, or indeed if one is planned, depends on recent events and what the village needs. The decision is made by the villagers. During our last visit, we spotted a porcupine on our way to camp and after telling the villagers, they decided to delay their plan to harvest a known bee nest and to track the porcupine instead.

An activity can last anything from two hours to most of the day. In our case, the porcupine eluded us. So after a few hours the Bushmen gave up and went in search of spring hare instead, a nocturnal rodent that sleeps in its burrow during the day. Depending on the needs of the villagers, it is possible that visitors staying a number of days, may be able to join a hunt for bigger game such as kudu or wildebeest. First you stalk the prey and shoot it with a poisoned arrow. Then you rest whilst the poison takes affect before you track it to where it has fallen – such a trek can take most of the day so a good level of fitness is recommended.

When following the hunters and gatherers, you'll always be accompanied by a guide; crucially he speaks Afrikaans and English, so can interpret what the hunters say. This is usually Moritz or Kaece G/aq'o (aka 'Bertus'), the son of one of the village's elders (now deceased). Along the way the Bushmen stop to point out various plants and explain their traditional use for food or medicine. This is often an interactive experience with the chance to taste or imitate.

Unlike activities at most conventional safari camps, where you go and what you see on these activities isn't determined by your wishes. The guide does not instruct the hunters and gatherers - instead, they carry on as they normally would – and you have the opportunity to either follow or, if it's particularly long and arduous, to turn back to camp with your guide.

The village eagerly awaits the return of the hunters and gatherers to see what they bring back. Afternoons are often spent here with the community watching them process any meat, honey, berries or nuts brought to the village. The villagers will also demonstrate the ancient skills of fire making, creating rope and setting traps. The woman and children will often initiate games such as the monkey orange game or hyena game. Games are usually accompanied by much merriment and singing.

During dinner at Nhoma Camp, singing is often heard coming from the village. If this happens, then visitors have the opportunity to wander over to the village, and watch dances performed by the Bushmen – like the traditional giraffe or elephant healing dance. If you are lucky, you will see one of the participants fall into a trance where he believes he is being spoken to by his ancestors. Again – these are activities are a part of village life and you have the opportunity to join in if you'd like.


Giving something back
The work Flora and Moritz are doing with //Nhoq'ma Village and the surrounding area is not charity work; they are business people and the camp is a commercial venture, albeit a small one. With Flora's background in fine arts, she started a project with the Bushmen in 2015 to revive their traditional hunting sandal and, in 2017, moved to Nhoma to run a small-scale production business – "SAN-dal" – in partnership with the Bushmen.

Visiting Nhoma Camp gives the //Nhoq'ma community a real income in an area where jobs and cash are very hard to find. The villagers are paid by the camp for allowing guests to accompany them as they go about their daily life. Having specifically asked the village elders about this, we were assured that the community is happy with how the arrangement works – and that's a large part of why we are happy to encourage our travellers to visit and support the Camp.

For anyone who wishes to help the village even further, Flora and Moritz run a small fund which is used in various ways to help the village, including school supplies, clothes for the children, blankets, mosquito nets and fire prevention in the surrounding area.


Our experience of Nhoma
We've been visiting Nhoma ourselves, and sending visitors to Nhoma for over ten years, and in that time, we've learnt a lot.

We've found that the experience can be amazing, even life-changing, if you can put your inhibitions aside. It'll work best if you're happy to try to communicate – perhaps to use sign language and mime, to try everything that you're offered, to ask questions and to joke with the villagers. Then you'll usually find them to be very open, demonstrative and often very happy people who often use jokes to communicate a point, and who live very much in the present. Then, you may come away with everlasting memories from this incredible experience.

At its best, we rate the experience here as amongst the most impressive cultural experiences that we have experienced in Africa. It's often difficult to have anything except very superficial experiences of traditional African cultures: we've seen enough excruciatingly embarrassing tribal dances across Africa to last a lifetime. In contrast: Nhoma offers something very rare – the time and opportunity to interact with people from a radically different culture, and to get to know them at least a little.

We've also found that often the Bushmen just don't understand, or relate well, to visitors who remain aloof, nervous or stand on the side lines. This kind of behaviour just isn't normal in their culture ... they don't know how to deal with it. So, if you come to Nhoma feeling insular, or you don't want to get involved, or interact ... then your time here could be quite disappointing.
Our view
Nhoma Camp is in a remote location, so stay for two nights or more. It's a chance to participate in village life in a sensitive yet authentic way, and learn about a hunter-gatherer culture that is totally unlike our own. This can be a unique and incredible experience, but what you get out of it will depend very much on your approach to your time with the Bushmen.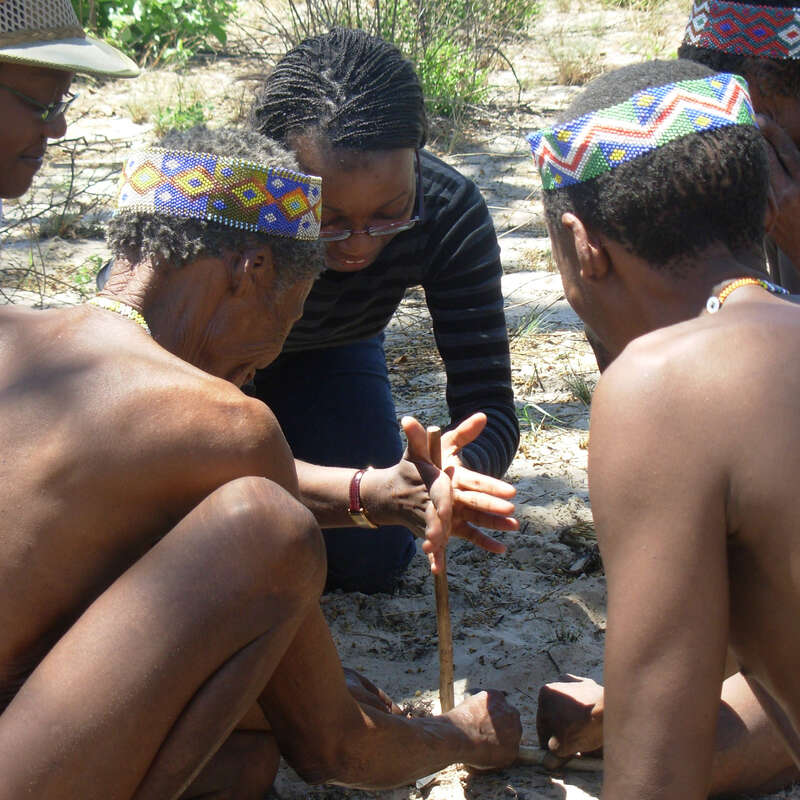 Geographics
Location

Ideal length of stay

Ideally stay here for at least 2 nights in order to experience what is on offer.

Directions

About 60km north of Grootfontein turn east onto the C44 gravel road. After approximately 185km turn north at the sign that reads Nhoma/Aasvoelnes onto a relatively good track. From here it is 40km to Nhoma.

The last 40km to Nhoma Camp is sandy so only recommended for 4WD vehicles. If traveling in a 2WD vehicle arrangements can be made for a transfer from the main C44 road to the camp.


Accessible by

Self-drive or Fly-and-Transfer
Food & drink
Usual board basis

Full Board & Activities

Food quality

The meals at Nhoma Camp are hearty and fresh. Don't expect gourmet food but you can expect fresh ingredients and a variety of dishes.

Breakfast is served as a buffet before the morning activity. This usually includes cereals, fruit, yoghurt, juice, toast, eggs, bacon and porridge with tea and coffee (filter or instant).

Selections of cold dishes are usually served for lunch. Home-made bread is accompanied by salads such as tuna, cheese and tomato or bean salad and cold meats such as ham and chicken legs.

Dinner is usually a choice of meat, vegetables, starches and salads. During our stay we had lamp chops with baked potatoes, polenta and salad on one night and Eland steaks with mushroom sauce, corn on the cob, rice, vegetables and salad on the second. After the meal we recommend you say "yes" to one of Arno's delicious Amarula coffees!

Dining style

Group Meals

Dining locations

Outdoor Dining

Further dining info, including room service

The morning wake up call is accompanied by your choice of tea or coffee.

Drinks included

A good range of beverages are available and included in the price. There is a choice of water, soft drinks, juices, wines, beers and local spirits such as gin and whisky.
Special interests
Family holidays

Meeting Bushmen near Nhoma Camp is a sensitive, authentic insight into a fascinating culture and the bush. We highly recommend Nhoma Camp and Bushmanland for Namibia family safari holidays with interested, adventurous and enthusiasic children of all ages, ideally 8+.
See ideas for Family holidays

Cultural experiences

At Nhoma Camp you're staying right by a Bushmen village. Here, the Ju/'hoan people have been a part of the camp's setup from the beginning, and benefit substantially from your visit. Time with these people offers amazing insights into a hunter-gatherer culture.
See ideas for Cultural experiences
Children
Attitude towards children

Children of all ages are welcome at Nhoma Camp.

Generally recommended for children

We can highly recommend Nhoma Camp and Bushmanland to families with interested and enthusiastic children of all ages. Not only is this a wonderful, genuine cultural experience for everyone, but the bush is a virtual classroom offering countless opportunities for new experiences.
Our travellers' wildlife sightings from Nhoma Camp
Since mid-2018, many of our travellers who stayed at Nhoma Camp have kindly recorded their wildlife sightings and shared them with us. The results are below. Click an animal to see more, and here to see more on our methodology.





Roan antelope
50% success









Communications
Communications

Communications with Nhoma Camp are erratic. Sometimes there is cell phone reception around the camp, at other times there isn't. WiFi is available in the camp's main area. There is also a charging station in the main area for guest's use.

TV & radio

There are no TVs or radios here - it feels as if you're a long way from anywhere ... and you are!

Water supply

Borehole
Health & safety
Malarial protection recommended

Yes

Medical care

There's a simple clinic in Tsumkwe, and an hour's drive away Mangetti Hospital often has a doctor on site. However, if you encounter any serious medical issues, then it's best to use your travel insurance and go to the private hospital in Grootfontein – about three and a half hours' drive away.

Dangerous animals

High Risk

Security measures

Walking activities at Nhoma Camp: The guides at Nhoma, and their ancestors, have lived here in the Kalahari for millennia. For most of that history, the Bushmen have hunted and gathered to survive – giving them an exceptional appreciation of their natural environment, and understanding of the animals within it. However, even with this, they are not immune from the dangers of the bush. Although they understand the wildlife well, and the risks, it's always possible for them to be surprised by dangerous animal and for accidents to occur.

Where our travellers go walking in Africa in areas of big game, safety concerns dictate that they will often be accompanied by an armed guide. This isn't how the walks at Nhoma are conducted: they are led by bushman trackers, none of whom will carry a rifle. We are happy to recommend these walks as fascinating experiences. However, all travellers need to understand that no walk in the bush is without its risks, even when you are being led by people who have been born and brought up in this environment.

You should only come to Nhoma if you are happy to accept the inherent risks of living and moving around in such a wild area, as the Bushman do.

Fire safety

The camp team, with the help of the community, regularly maintain fire breaks around the camp in case of bush fire.
Activities
4WD Safari

Birdwatching

Cultural excursion
Extras
Disabled access

Not Possible

Laundry facilities

A laundry service is included. Please be aware that clothes are hand washed and will not be ironed.

Accepted payment on location

All forms of cash currency are accepted at Nhoma Camp. Payment is not possible by credit card.