Travel reviews by Mr B & Mrs C from Hants.
Astonishing wildlife on first trip to Namibia
Namibia between 2 Sep 2012 and 17 Sep 2012
"Our holiday got off to a frustrating start with our luggage remaining in Frankfurt while we jetted off to Windhoek! Our connecting flight from Heathrow was late and presumably there was insufficient time to transfer our cases from one plane to another. Although the lady on the baggage enquiry desk at Windhoek was very helpful, she did not ring us when she said she would, so it was just as well my wife had brought her mobile phone with her, just in case!

Collecting our hire car from Thrifty at Windhoek airport was fairly straightforward, the formalities taking about half an hour to complete. Mention is made in the Bradt guide book about Wheel, Underside and Glass damage insurance, which I was going to ask for. There was no need as you simply tick the relevant box on the contract and the cost is debited to your account. I would strongly recommend this option as the gravel roads in Namibia are not as good as the guide books indicate.

Having landed at 06:30, we finally drove away from the airport at 09:10. The roads were quiet on a Sunday morning as we headed through Windhoek and it was a pleasant drive up to Okahandja where we stopped at around 10 o'clock for an excellent breakfast at the Brewed Awakenings coffee shop. This place is mentioned in the Bradt guide book and it really is a real gem! Their full breakfast of four rashers of bacon, two eggs, sausage, toast and jam with a pot of tea was superb value.

Despite being delayed at the airport, we still managed to reach Swakopmund at 14:20 and checked into the marvellous Stiltz Hotel for our two nights stay. We quickly noticed the change in temperature on the coast compared with the heat inland. Low cloud kept the temperature down around the low sixties Fahrenheit whereas it was in the high eighties away from the coast and our jackets and jumpers were in our missing suitcases!

The weather was not doing what the guidebooks indicated would happen. Overnight fog stubbornly refused to burn off during our stay and so we never did see Swakopmund or Walvis Bay at their best, even though two or three miles inland it was gloriously sunny! Our cases finally caught up with us towards the end of our second day, having been put on the following overnight flight from Frankfurt then the afternoon flight from Windhoek to Walvis Bay, with Air Namibia delivering them to the Stiltz Hotel by van.

There are numerous places to eat in Swakopmund, not least the many German hotels with tempting (albeit similar) menus in their restaurants and there are a few suggestions in the guidebooks, one of which is the Napolitana pizzeria and grill. This place was so good we went there twice! Their pizzas, baked in a proper wood-fired oven are among the best we have tasted. The "special" featuring stir-fried oryx was superb.

On our second night we wanted to try the Swakopmund Brauhaus but it was unpleasantly warm and smokey when we walked in so went back to Napolitana where I enjoyed a lamb curry and my wife had a simple but very tasty meal of chicken and chips (a whole chicken, by the way, so I had to help her out!). We were too full afterwards to attempt one of their wonderful desserts!

We drove up the coast road towards Cape Cross on another disappointing grey day and the scenery became increasingly desolate. The salt, sand and gravel road was in surprisingly good condition and we made very good progress. Somewhere around Mile 30 we came across the first of the shipwrecks to be seen along the coast. This one being relatively recent, a trawler which ran aground in 2008 so we parked the car and went to have a look.

Almost immediately, we were intercepted by a local youth who pestered us to buy some crystal for a "negotiated" (extortionate) fee. This crystal can be picked up off the ground if you search for long enough and I told him we were not interested. However, his partner soon appeared and the only way to get rid of them quickly was to give them money. N$40 was not a lot but it was annoying and I certainly would not normally give money away like that but we were miles from anywhere and nobody else was around. Be warned!

We deviated off the "main" road into Henties Bay, intending to make a coffee stop but nothing looked welcoming so we carried on. We did not pass another vehicle for the rest of the journey to Cape Cross, where we were going to visit the Seal Reserve but it was so grey and miserable we checked in early at the nearby Lodge instead. With only one other couple booked in, there was certainly a cool and empty feel to the place. At least there was a log fire burning in the restaurant to warm us up as there was no heating in our room!

Next morning remained cool and dismal but there were encouraging breaks in the cloud as we headed north towards the Ugab River Gate entrance to the Skeleton Coast Park. Really desolate scenery but a thrilling drive with nobody else around and at last the sun came out! Only one vehicle was seen during the 75km journey from Cape Cross. When we entered our journey details in the register at the gatehouse, I noticed that the previous entry was over two hours earlier! When the gatekeeper realised we were all the way from England, he wrote out a free permit for our passage through the park. It should have cost us N$170 so this was an incredibly kind gesture! There were some souvenirs on sale so my wife bought a traditional African necklace for N$50.

As soon as we entered the park, we encountered a small herd of Springbok wandering around the dried up Ugab riverbed and they "sprung" into the air in fright when we got too close to them. About 30kms further on, the road ran very close to the sea and there was a pull-off to view the wreck of the "South West Sea", a small fishing vessel that came to grief in 1976. Only part of its wooden frame remains but it was a fascinating and peaceful place to stop for a while (and nobody to pester you for money!).

The C34 road stretched away for miles into the distance and it remained beautifully maintained, the reason soon becoming clear when we encountered some major road reconstruction going on in the middle of nowhere, I would guess 100kms from the Ugab River Gate. Having had the road to ourselves, we now had to dodge construction lorries and graders and we passed a motley collection of shacks that presumably formed a temporary home for construction workers. No doubt this underlines the importance of the coast road and the national park.

Beyond the construction site, the road headed away from the sea and traversed a vast expanse of sand and salt. To add to the experience, the wind was blowing sand across the road making it difficult to see the road ahead. It really was like being in a sand storm but we continued to maintain a good speed and reached the junction with the C39 road inland after covering the 220kms from Cape Cross in a little over 3 hours. Before continuing on towards our destination of Doro Nawas, I wanted a last look at the Atlantic Ocean at Torra Bay but the condition of the C34 beyond the junction dictated otherwise.

There were sand dunes by the road and so much sand was being blown on to the road, I was having difficulty driving through it. A 4-wheel drive vehicle would probably have coped but we were not going to risk our rental car any further so turned around. With such good progress made so far, I felt confident that we would cover the 130kms remaining in about two hours. Not a chance! The C39 started off well enough being a good, wide gravel road but soon deteriorated and for much of the time speed was kept to 40kph or less to stop the car from being shaken to pieces!

It took about an hour to cover the 33kms to the Springbokwasser Gate, which shows just how bad the road had become but at least the slow speed meant we were able to really enjoy the stunning Arizona-like scenery. After signing the register and handing in our permit we made use of the facilities there and carried on. After four hours driving it would have been nice to have been able to buy a coffee or something but there was nothing.

We started to encounter wildlife, including Giraffe wandering free from the confines of a national park. That was a surprise! Reaching the junction with the C43 at Bergsig took three hours from the coast, twice my estimation. Surely, only another half hour to cover the remaining 45kms to Doro Nawas? No. Although the road had improved slightly, 80kph was possible only in short bursts and it took another hour to complete the journey. I was starting to regret not paying out the extra to hire a four-wheel drive vehicle because seven hours from Cape Cross was exhausting!

However, our two-night stay at the Doro Nawas Camp was fabulous and included a highly successful safari in search of desert-adapted elephants. The staff there were great and we really enjoyed their impromptu song and dance routine after dinner on the second night!

Our next destination was western Etosha National Park and there are two ways to get there. The easier route is via Khorixas but we opted for the more scenic route via the Grootberg Pass, which was supposed to be better for spotting wildlife. This meant doubling back along the C39 to Bergsig and continuing along the equally poor C43 to Palmwag. This 88km journey took two hours and twenty minutes. I needed to fill up with petrol and there are two pumps located just the other side of the entrance gate to the Palmwag Concession so you have to state your business at the gate. This was not a problem but we wondered why we were asked where we were from and what our Christian names were.

Whilst I was using the (absolutely disgusting) toilet, a member of Wilderness Safaris staff asked my wife if she would like to buy a souvenir. This "souvenir" was a nut (similar to a large conker) onto which our names had been etched. She declined and I would suggest this was inappropriate behaviour from someone in uniform trying to extract money from tourists in this way. I got caught in this trap whilst walking around Swakopmund on our first day, when I was asked N$300 for this same rather pathetic "souvenir". When I refused he tried to barter but I walked away. Beware of this trick.

We continued our journey on the C40 over the spectacular Grootberg Pass but no wildlife, except for the odd Springbok, was seen. At the top of the Pass we passed the entrance gate to the Grootberg Lodge and it would have made an ideal lunch stop, had it been possible. However, the barrier was down and nobody was around so we carried on. By now my wife was in need of a comfort stop. A few kms further on we passed the entrance to a campsite run by the Grootberg Lodge. Facilities were advertised and the barrier was up so I turned around and drove in. There seemed to be nobody around but I found a member of staff who showed where to find the (absolutely spotless) toilet.

The main road at Kamanjab was still 75kms away and the C40 was just as awful as the C39 and C43. Speed was no more than 40kph for long periods. The chalky white surface was dazzling under the relentless sun and after over 5 hours, the journey was starting to get tedious. We reached civilisation at Kamanjab at 3 o'clock and, hooray, tarmac! We stopped off at the supermarket for some much needed snacks including ice cream, which we enjoyed whilst reeling off the kilometres to Etosha National Park, reaching the Galton Gate entrance at 4 o'clock.

Having filled out the paperwork, we drove the 12kms to the administration office to pay for our permit which covered us for the six days that we would be staying in the park. The cost was N$1020 and could not be paid by credit card so that was a lot of cash to part with in one go! We didn't get far down the gravel road towards Dolomite Camp before we encountered elephants. We also saw zebra, giraffe and oryx during our first hour in the park. We finally arrived at Dolomite Camp at 17:40 over 8 hours after leaving Doro Nawas and two and a half hours longer than I expected the journey to take.

Having been well rested at Dolomite Camp and visited some of the local waterholes to view the wildlife (being very lucky to see a black rhino at Renostervlei), we proceeded on the next leg of our journey which was across Etosha to Okaukuejo Rest Camp. Stopping off to enjoy an excellent packed lunch provided by Dolomite Camp, it was exhilarating to be able to enjoy the animals alone. We had seen only three other vehicles the whole morning as only residents of Dolomite Camp were allowed in western Etosha Park.

However, the road across the park was fairly rough in places and as it was restricted to 60kph anyway, the journey of 190kms was going to take a while. At least this time we were prepared for it but as for comfort breaks, we were told back at Dolomite that there was a toilet after about 90 kilometres. That was incorrect and it was quite apparent that the only toilet was the one marked on my map, about 130kms from Dolomite. Not good news when you are bumping along at 30kph on a terrible road!

When we found the signpost for it, we followed a track to a fenced area protected by a gate which appeared to be chained shut. Now what? There were no notices and you are told not to get out of your car when in the park. It turned out to be only a loose chain on a hook so I got out of the car, opened the gate and drove in, following the dusty track with some huge potholes, past some uninviting picnic tables to an outbuilding which contained a pit toilet. Better than nothing!

It took about seven hours, with stops, to complete the journey to Okaukuejo and it was very enjoyable although not much was seen in the early afternoon during the hottest part of the day. We deviated up to Okondeka waterhole and saw an incredible sight on the way. A large herd of around 100 Springboks were walking as if on parade along the edge of the road. On the way back and by the same road closer to Okaukuejo we were lucky to see three lionesses relaxing under the shade of a tree.

We were well impressed with the rest camp at Okaukuejo and in particular the waterhole there. Everyone that visited always respected the silence that was requested in order that the animals were not unduly disturbed. The waterholes near to Okaukuejo are also worth a visit, not least Nebrowni (about 9kms to the east) which was absolutely astonishing. We went there three times, on different days and at different times. On each visit there were vast herds of various types of antelope present, numbering into the hundreds and they kept on coming (and going). There was usually an elephant or two to add to the excitement!

We also stayed at Halali Rest Camp and enjoyed that too. Its waterhole wasn't so busy but it was in a peaceful setting and if there were no animals, there were usually plenty of birds to watch. We visited most of the waterholes in the vicinity of both rest camps but found the minor roads (particularly the one between Olifantsbad and Aus) to be in poor condition and had great difficulty negotiating them in our mid-size (Nissan) hire car. A very bad road was Rhino Drive as was the road leading to it from Halali and I would say they are really only suitable for four-wheel drive vehicles as they were severely pot-holed and badly rutted. We didn't see much wildlife on these back roads either.

Namutoni Camp can be easily reached from Halali in a leisurely drive and we enjoyed a lunch there. We would have bought some souvenirs from the tourist shop had it not been for a party of Americans barging in front of us to be served first so we walked out in disgust! We noticed that the part of Etosha east of Halali didn't seem quite so good for wildlife spotting with the exception of 7kms from Namutoni when three large elephants crossed the road right in front of us. We'd had quite a lean morning up to that point!

I would say that the six days spent in Etosha were outstandingly good. I had no idea, having never been here before, that Namibia contained so much wildlife. My wife and I have been to South Africa six times, visiting Kruger National Park in 2005 and we thought that was good. Etosha trounced Kruger without any doubt! It was with great reluctance that we left, taking one last look at the waterhole in Okaukuejo (an elephant was there for a lunchtime drink!) before heading south on tarmac roads again.

The main roads in Namibia are a joy to drive on, mainly because not much traffic uses them but they are very well maintained. You just have to watch out for warthogs! The road south from Anderssons Gate cuts through pleasant scenery to Outjo, a pretty little town which we passed through without stopping. This was a mistake as we later found out that the bakery we drove past sells wonderful apple strudel! The next major town is Otjiwarongo which has a Super Spar in the centre, very useful for any required provisions. We wanted to buy some wine to take home but it was 1:30 on a Saturday afternoon when we were there and you cannot buy alcohol in Namibia after one o'clock on Saturday at weekends! (Duty Free staff at Windhoek airport do not point out that you cannot take wines and spirits back to the U.K. via Frankfurt, a trap that we later fell into.)

Near to Otjiwarongo is the Cheetah Conservation Fund and this was a very worthwhile visit, particularly for close-up pictures of these wonderful animals. The only drawback is its location, at the end of a 44km dirt road which, although well maintained, still takes 45 minutes to drive so you have to factor in 90 minutes to and from the entrance on top of the time you plan to spend there. The Bradt guide book indicated that tea and coffee is included in the admission price but this was not the case when we visited. You certainly need bottled water at the very least (available at the shop) when walking around.

A short distance south of Otjiwarongo is the turn-off for Waterberg Plateau, reached by way of the D2512 dirt road. A 100kph advisory sign at the start of this road gives the impression that it is in good condition. It isn't. Almost immediately I hit ruts from water damage and it clearly is in urgent need of regrading. There was a lot of loose sand on either side of this wide road and for much of the time I was driving down the middle of it at only 40kph. We stayed at the Waterberg Plateau Lodge which was a great place to relax after the hectic activities of Etosha.

Our final stay was at Okonjima Main Camp, the base for the AfriCat Foundation where we were able to see leopards from a distance, wild dogs up close and (incredibly) to walk with cheetahs. It was expensive but what the Foundation is trying to achieve does not come cheap and we will never forget our experience here. It was a great way to end a quite extraordinary holiday.

We managed to return our hire car undamaged, which was quite remarkable after all it had been put through. In two weeks we covered almost 2000 miles (yes, miles not kilometres) and about two-thirds of that was on salt and gravel or dirt roads which were not at all as good as I was led to believe they would be. Our Group C car coped but a bigger car would have been better and I think that, despite the cost, I should have gone for a 4 x 4.

If there was one disappointment (apart from the cold and miserable weather on the coast) it had to be Windhoek. We spent some time there to shop for gifts and souvenirs before flying home but after two hours looking around the new shopping malls in the city centre, we found nothing. The malls consisted mainly of the usual clothing outlets found back home. Where are all the African-themed stores?

We were looking for tee shirts, sweatshirts or even towels with Namibia's national animal, the Oryx, emblazoned on them. Not a chance! However, there was an Australia shop. Goodness knows why. We couldn't even find calenders, the usual gifts we buy for ourselves and close relatives, anywhere. There were some items of interest at the airport but not much. Why doesn't Namibia blow its own trumpet and promote itself? It should. It is a fabulous country and we would definately go again.

Suggestions to help us improve our trips or our service:

We cannot fault the service you have given us.

Most of the ideas for our holiday were put together from reading the Bradt guide book to Namibia which is extremely well written. Sabina enhanced the itinerary for us and we were very impressed with the work she did on our behalf. Thank you!"
Arranged By Sabina Hekandjo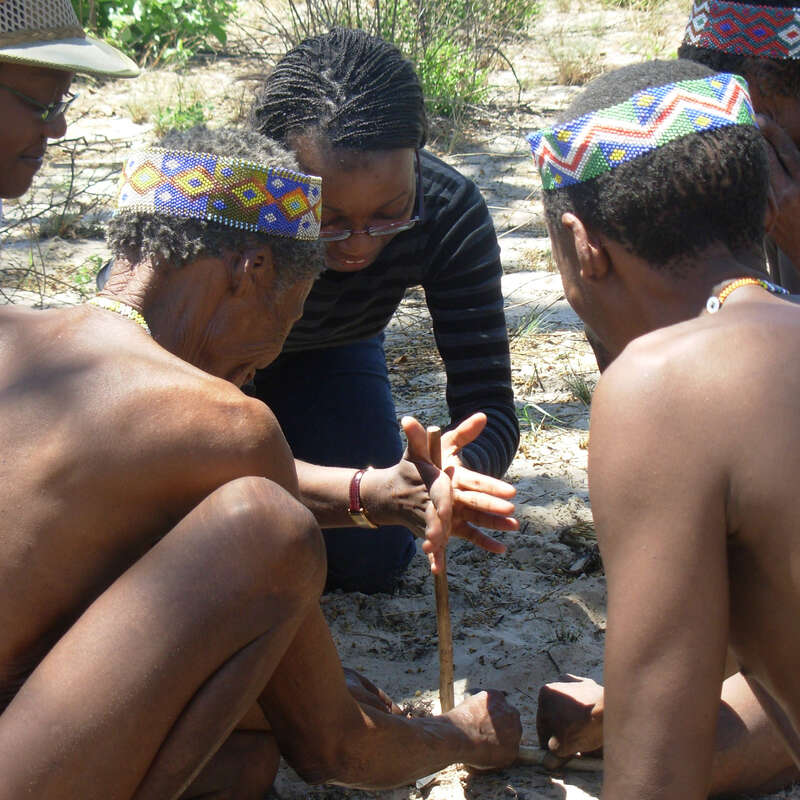 ---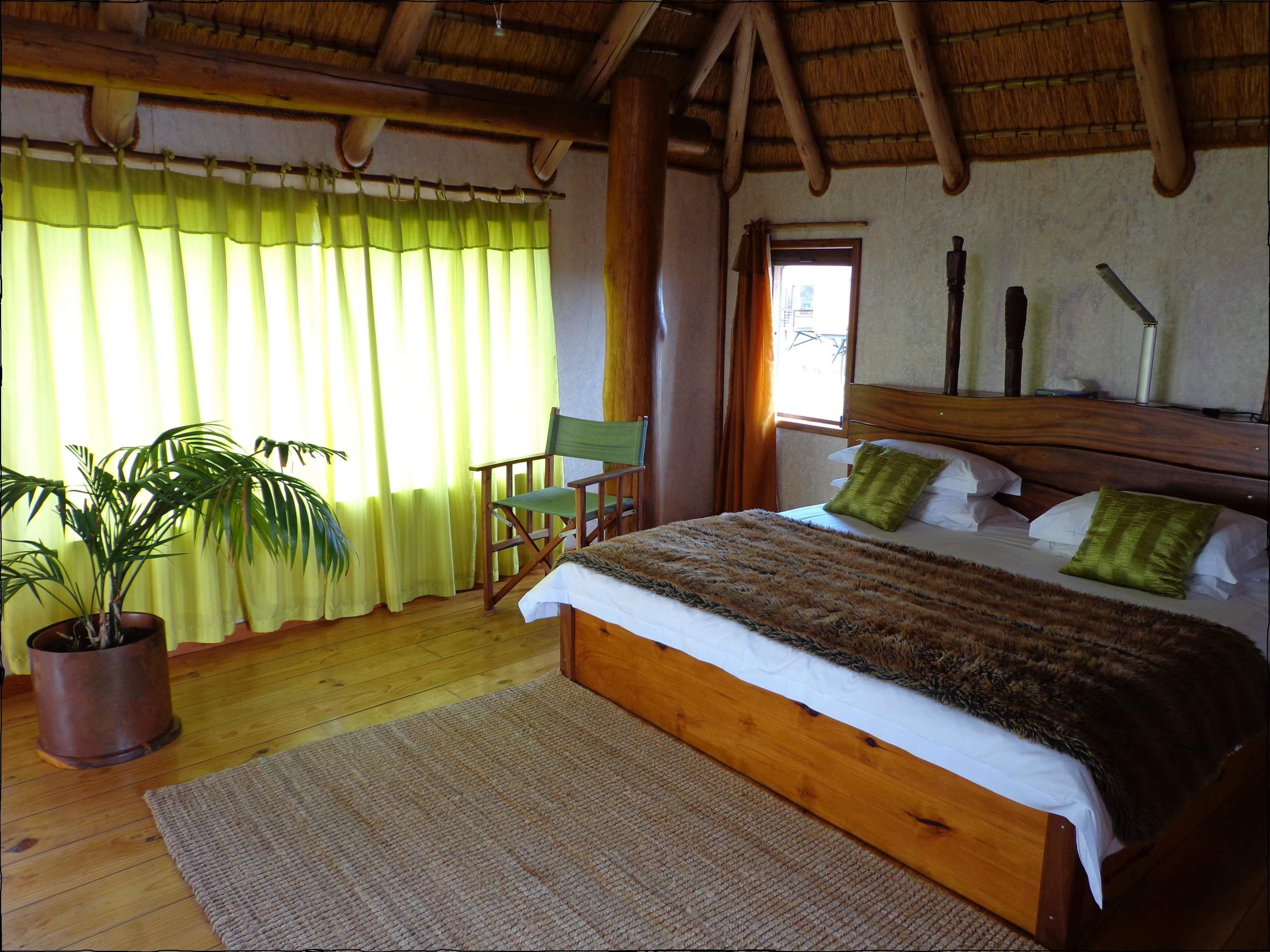 The Stiltz
"A warm welcome at The Stiltz."
2 nights
Arrived 2 Sep 2012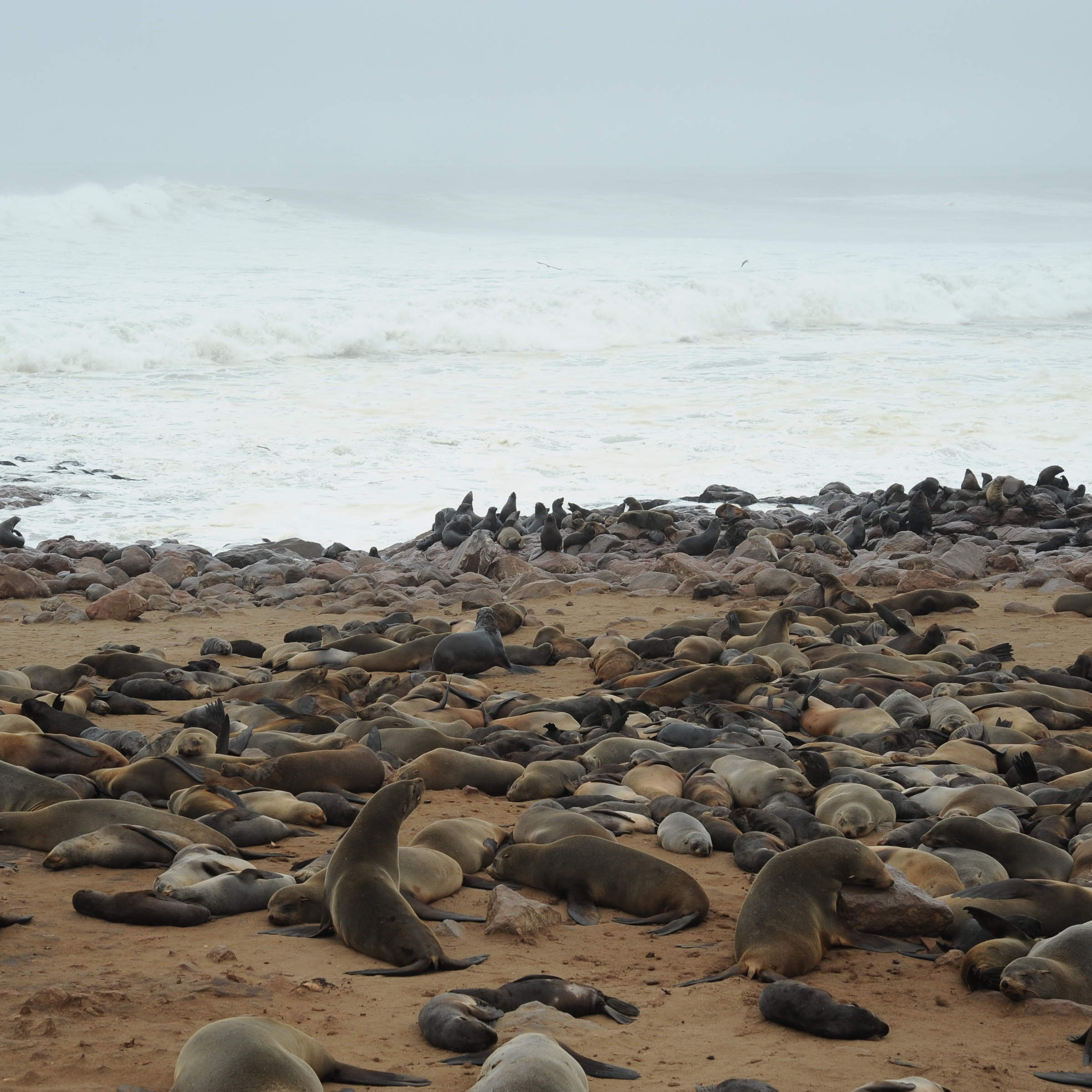 Cape Cross Lodge
"Disappointed at Cape Cross Lodge."
1 night
Arrived 4 Sep 2012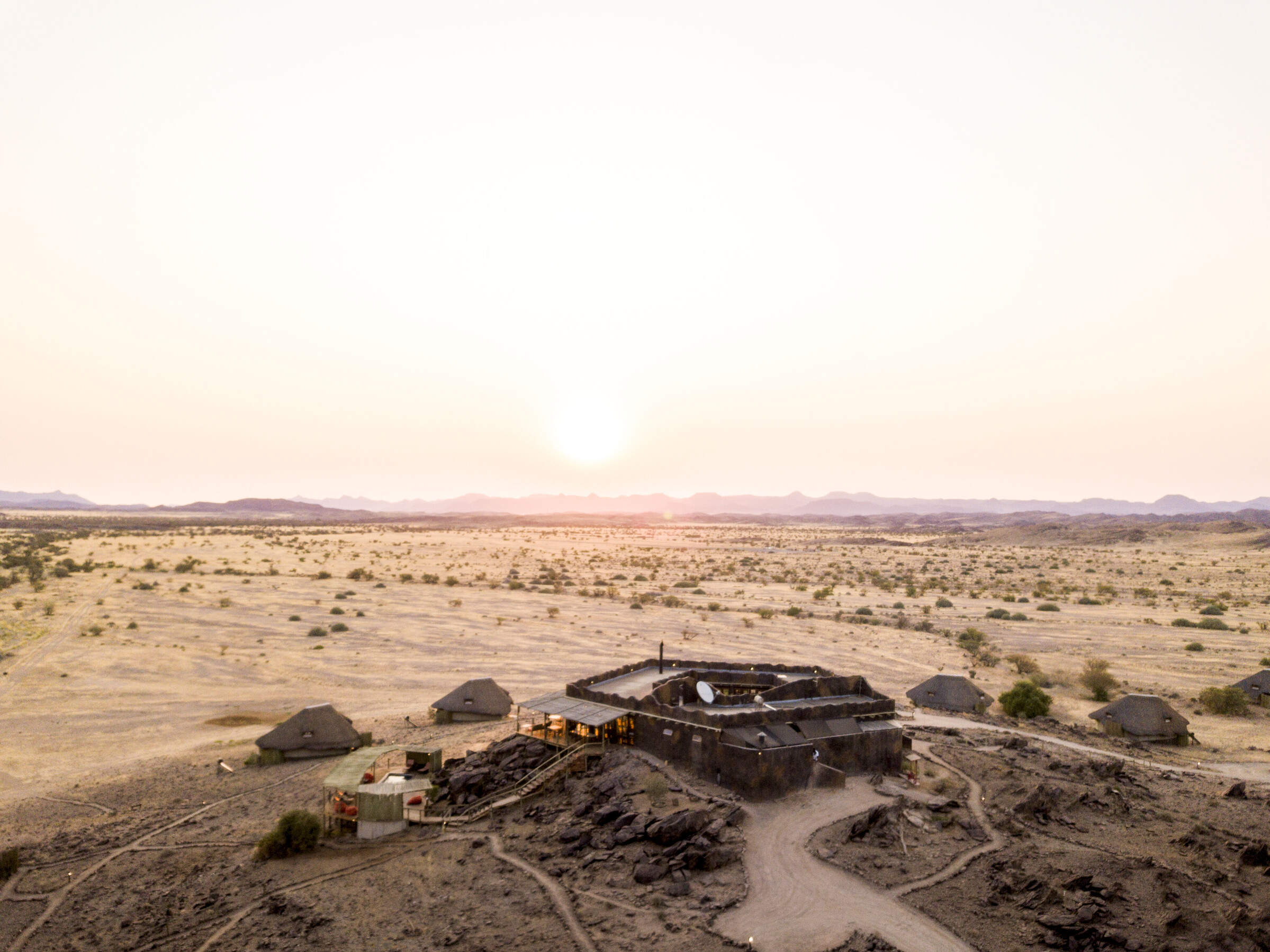 Doro Nawas
"Fantastic experience at Doro Nawas."
2 nights
Arrived 5 Sep 2012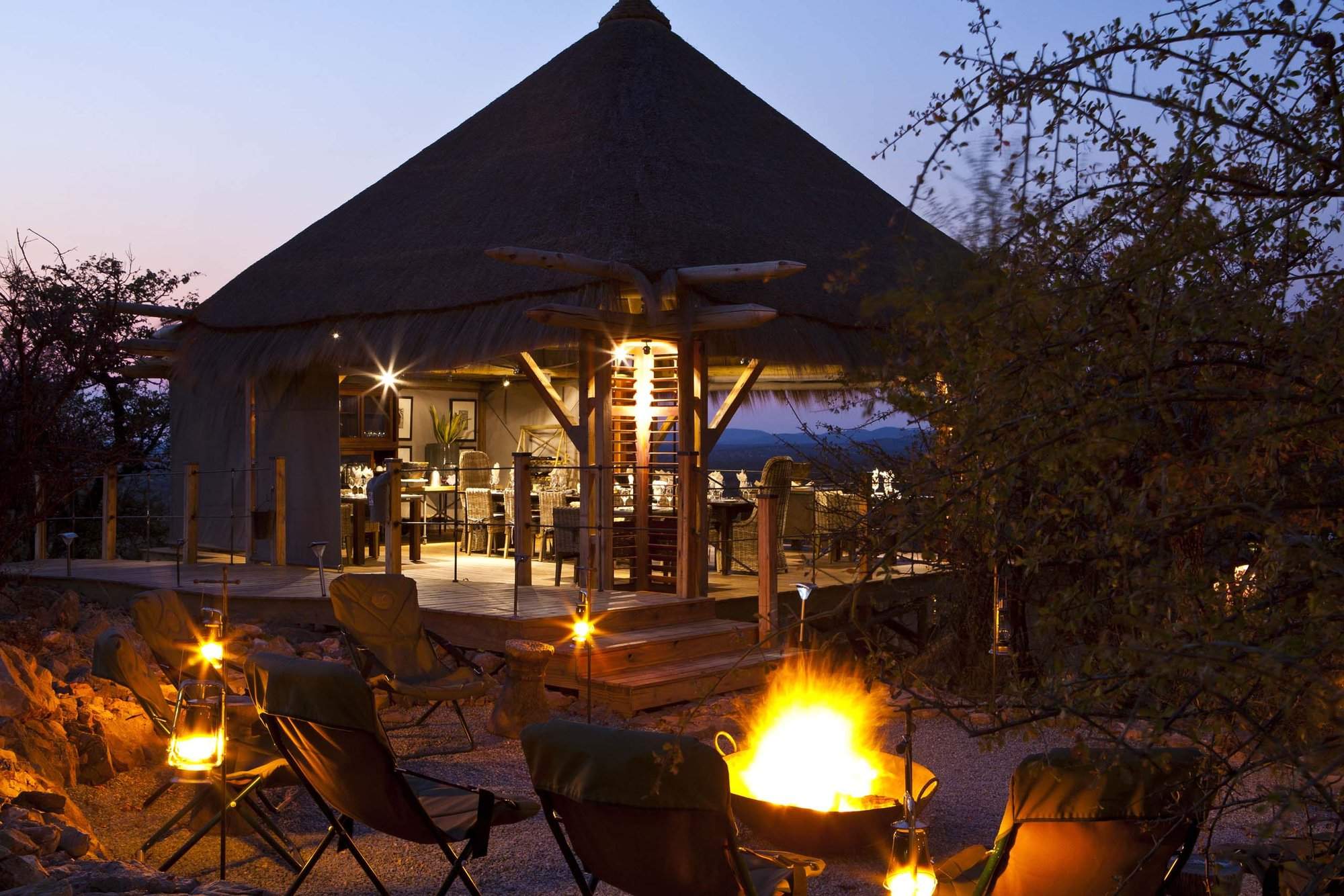 Dolomite Camp
"You need to be fit at Dolomite Camp!"
2 nights
Arrived 7 Sep 2012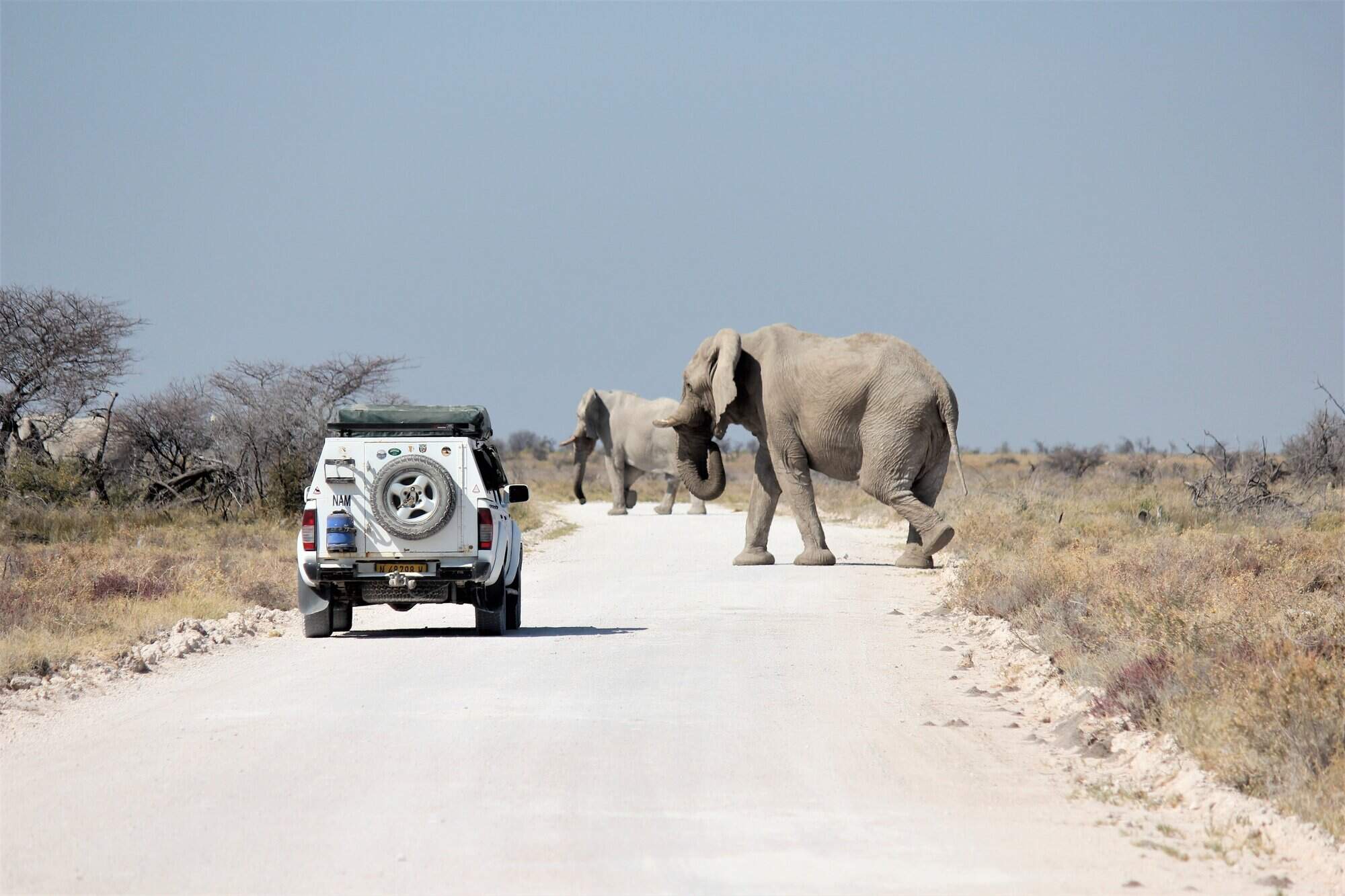 Okaukuejo Camp
"Great location, incredible wildlife."
2 nights
Arrived 9 Sep 2012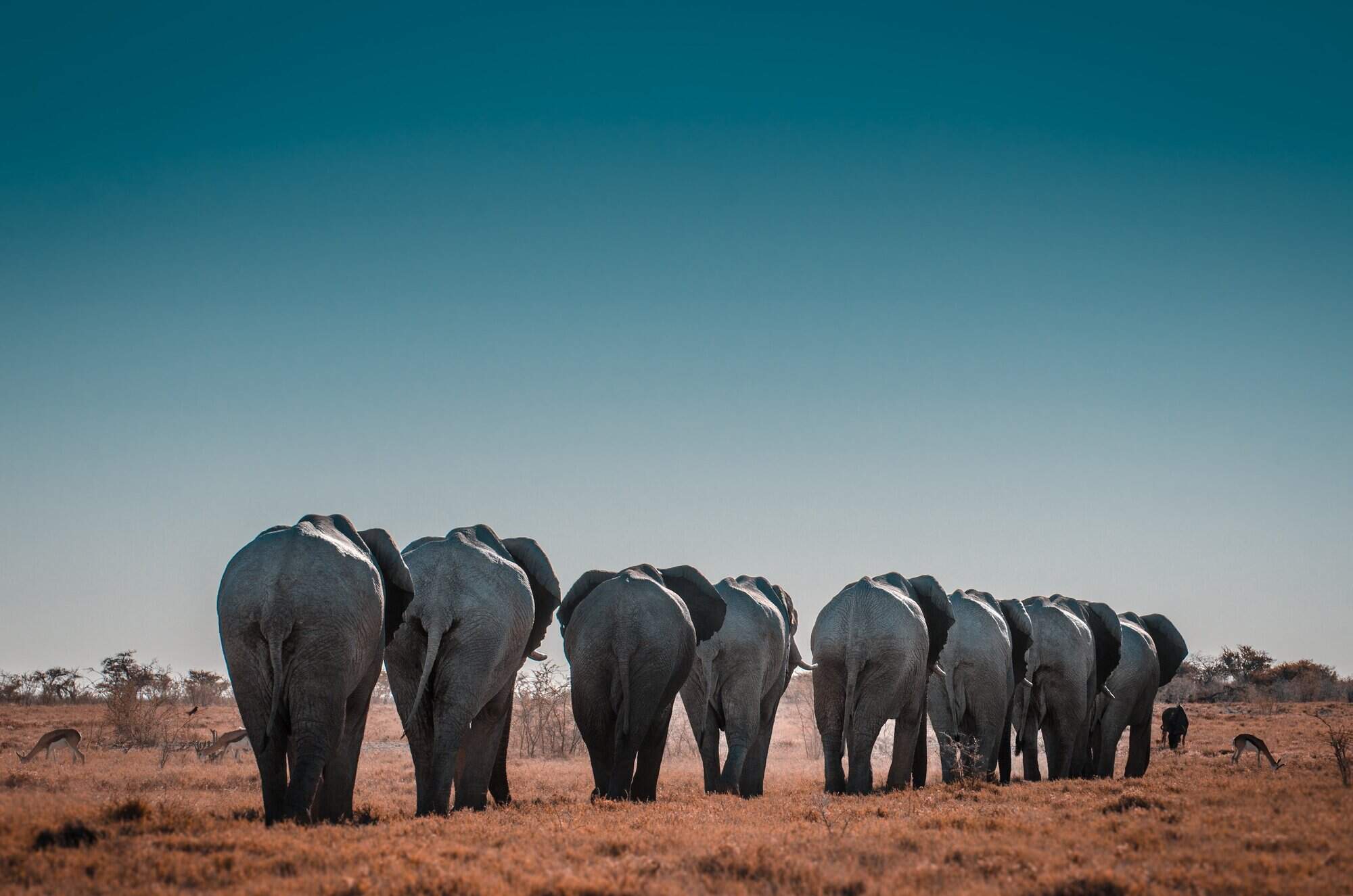 Halali Camp
"A good place to break your journey in Etosha."
2 nights
Arrived 11 Sep 2012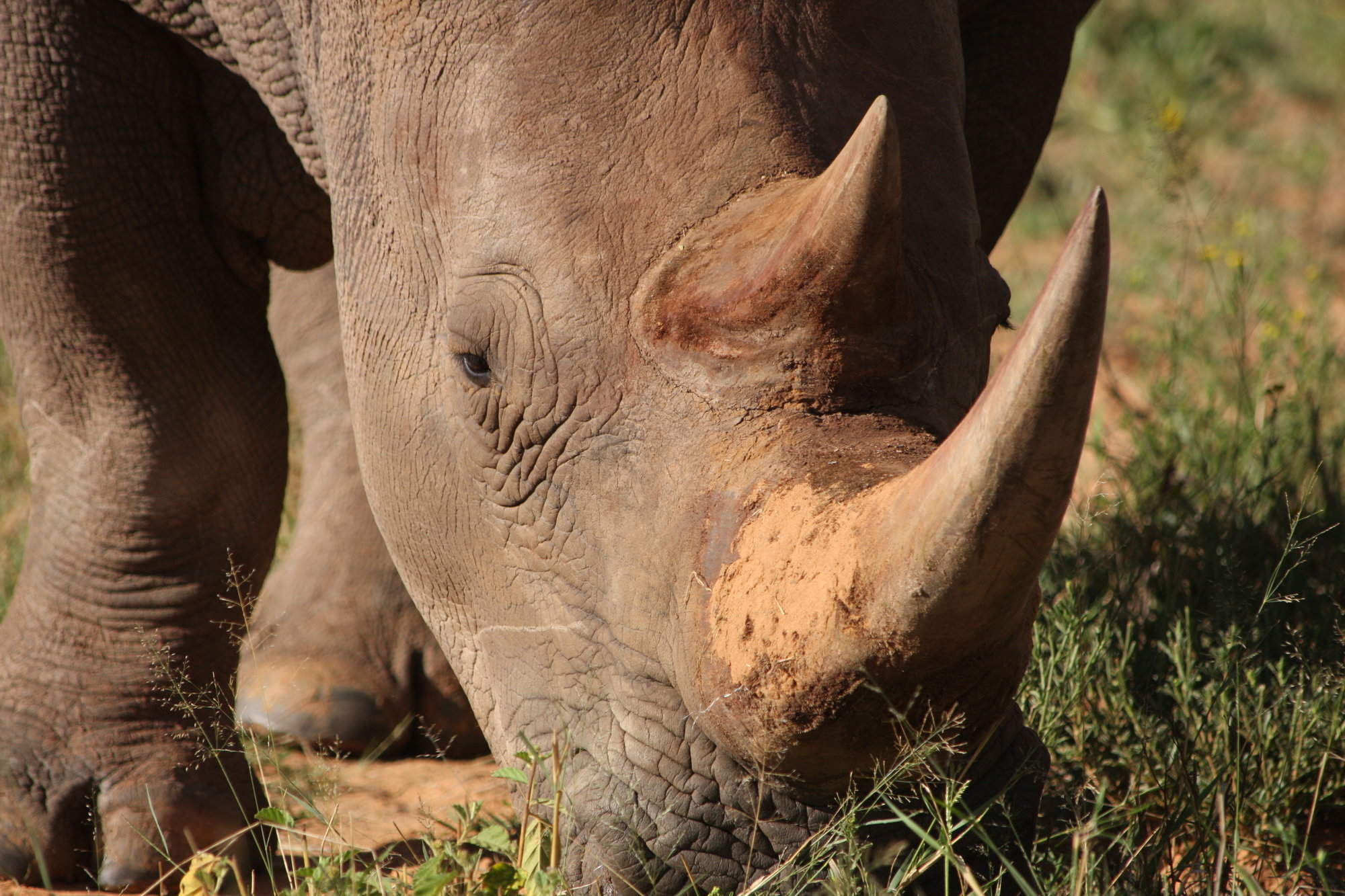 Waterberg Plateau Lodge
"Stunning scenery, great location at Waterberg"
2 nights
Arrived 13 Sep 2012

Okonjima Plains Camp
"Close encounters at Okonjima"
2 nights
Arrived 15 Sep 2012