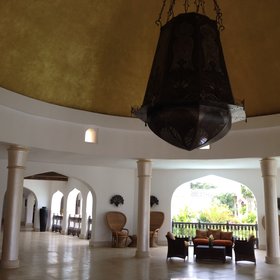 Swahili Beach is a 'big statement' resort hotel with huge public areas.
Swahili Beach: Our full report
Rooms
140 rooms
Children
Best for 8+
Open
All year
The huge Swahili Beach resort opened at the beginning of 2012 in a very central position on Diani Beach, south of Mombasa. The 140 rooms, with Mediterranean-style exteriors and Swahili chic interiors, are in two-storey clusters around the landscaped grounds. The hotel's beachfront is one of the narrower sections of Diani Beach and the sea covers it at high tide.

The first impressions made by Swahili Beach are nothing less than spectacular. This is especially so after dark, when the combination of soaring arches, white walls, gleaming turquoise pools and up-lit palm trees under an inky sky give the whole place the opulent character of an Arabian Nights film set. The daunting lobby brings to mind an enormous mosque, while the cascading swimming pool – which rises near reception and descends in seven tiers to a final pool above the beach – is pure Sun City.

Landscaping and impression-building account for much of the character of Swahili Beach: on a coast where a ten-metre domed roof of makuti (palm-leaf tiles) is still considered de rigueur for many hotel developments, Swahili Beach's echoing atria, elongated poolside terraces and multi-tiered swimming pool set new stylistic benchmarks for coast hotel architecture.

So, the question is: does it work as a place for a beach-based holiday? Once a member of staff has dealt with the check-in formalities at one of a series of expensive-looking desks, it's a long walk to our room – a walk that includes a surprisingly steep footbridge across the swimming pool.

En route through Swahili Beach's central areas we pass a number of retail units that will be shops (a general shop, a jeweller's and a clothes and crafts boutique) – as soon as they've been rented – plus the Majlis (main dining room) and The Spice Route (Indian/Swahili fusion cooking, blending spices and flavours from India with those traditional used in the Swahili kitchen). Occasional tables and chairs, some in modern upholstery, others in Swahili or Asian style, occupy otherwise empty alcoves. There are huge, dark urns pressed up against the walls like sentries. At the end of the lobby, a vast iron chandelier, made on site, hangs from the inside of a dome. It is all, frankly, rather austere: while full of Islamic references, it reminds us of a monastery.

The rooms at Swahili Beach are designed on a much more human and welcoming scale – light, spacious and beautifully conceived in Swahili style.

In each of the 110 superior rooms, a lounge area with cushioned benches opens through french windows onto a large terrace (ground floor) or a balcony (first floor). 16 standard rooms, located in a wing of the main building, are similar in all respects except they lack the lounge area, while 14 suites have connected lounges, a kitchenette and a dining terrace where you can consume whatever you cook there.

All rooms have mosquito nets, air conditioning, tea- and coffee-making facilities, hairdryers, minibars and wall-mounted TVs with satellite channels.

Traditional-style Swahili plasterwork niches have been built in intricate patterns on the wall behind the beds, which are protected by floor-to-ceiling mosquito nets. Screened from the bedroom by a heavy, wooden, sliding door is the very large bathroom, consisting of a double vanity unit and oversized mirror with large bowl-style washbasins, a toilet and bidet in an alcove, and a very large shower with a rainfall shower head and a huge, adjoining sunken bath. Designer toiletries are dispensed from pivoting glass flasks mounted on the wall – a nice touch.

We found the bathrooms somewhat frustrating: the wooden screen door was hard to close and was obstructed by the washbasins; the shower mixers didn't mix (and this is evidently a problem that other guests have experienced); and the polished cement floor – a very common finish – was remarkably slippery (and we hadn't dropped the soap; again other guests confirm the same problem), to the point that we began to approach each shower with trepidation. We have been assured this problem is being addressed with new anti-slip coating.

Small niggles like this become exasperating when piled on top of each other. Further doubts about the way the hotel has been built and finished emerged when we noticed the polished cement on our bedroom floor was cracking as we walked around on it. Further investigation showed that parts of the floor sounded hollow when tapped. The smell of damp cement suggested it might be a spill or a leak, but most of the rooms had the same slightly musty smell, of cement that hasn't fully dried before being sealed. As with the slippery shower floors, we have been advised that re-flooring is going on in the affected rooms.

As is to be expected, the Swahili Beach staff are invariably friendly, but we found them sometimes confused or even clueless. The food and drink service has a way to go to match its claims. We have been advised that more, better trained staff have been taken on in 2013.

Put together, these flaws are certainly not enough to spoil a stay (though we do recommend you stand on a towel when showering if your room has not been refloored), and the virtues of Swahili Beach may well be enough to make your stay a memorable pleasure, especially if this is your first visit to Kenya, or to a tropical beach.

The cascading pool, embellished for its entire length by articificial boulders and imported palm trees, is the hotel's stand-out feature. We're not big fans of fake rocks, but they will gradually blend in as the vegetation grows over them, as the recently planted palm trees mature, and as the gardens are colonised by birds, butterflies and other wildlife. Children will adore the pool – though we're mystified why the landscape architects didn't design a connecting series of waterslides.

All the Diani Beach watersport activities are available to guests at Swahili Beach, including snorkelling (masks and snorkels available), diving (managed by the well-known local dive school, Diani Marine), and sports fishing through Big Fish (Mombasa). There's a very large spa with multiple treatment rooms and a gym.

Our view
There's an awful lot of wow factor at Swahili Beach, and it's all been done with great panache. On the downside, the beach here is quite narrow. And opening the hotel before it was finished was a mistake: service leaves a lot to be desired, and there's still a long list of small deficiencies to address, from slippery shower floors to cracking floor cement and banging doors. We expect there'll be steady improvements, but our three visits, including an overnight stay, have convinced us that the 'teething problems' may last at least another year or two.
Geographics
Location: Kenya Coast, Kenya
Ideal length of stay: 4 nights-plus
Directions: Mombasa's Moi International Airport is approximately a 2-hour drive depending on traffic and any delays at the five-minute Likoni ferry crossing linking Mombasa island with the south coast mainland. Ukunda (Diani Beach) Airport is just a ten-minute drive away (5km).
Accessible by: Fly-and-Transfer
Food & drink
Usual board basis: Half Board
Food quality: Our sampling of various meals suggested a wide range of quality, from top-notch to below acceptable standards.

Main Dining Room (Majlis)
Buffet breakfast: 7.00am–10.30am
Dinner: 7.30pm–10.30pm

Restaurants
The Spice Route (Indian/Swahili fusion)
Beach Restaurant #1: Seafood
Beach Restaurant #2: Italian/pizzeria
Dining style: Individual Tables
Dining locations: Indoor and Outdoor Dining
Cost of meal e.g. lunch: £15-20
Drinks included: Not included. Beer: Ksh300 (around US$4); soda: Ksh150 (around US$2); glass of house wine: Ksh350 (around US$5)
Further dining info: Yes, at an extra charge.
Special interests
Wellbeing: Swahili Beach has a very large gym and treatment centre, with six treatment rooms, a Jacuzzi, steam rooms, a hair and beauty salon and a juice bar.
See more ideas for
Wellbeing in Kenya
Children
Attitude towards children: 'We are for the family market'
Property's age restrictions: None
Special activities & services: Babysitters can be supplied from housekeeping staff, but there are no in-house professional childcare staff. There's a shallow children's pool, but no other child-focused attractions.
Equipment: Cots and highchairs available.
Generally recommended for children: Despite the hotel's own view of its child-friendliness, we don't think Swahili Beach is ideal for very young families. It's very spread out and it can be a long walk in the hot sun from your room to the beach or the restaurants. It's also the kind of place that attracts honeymooners and older couples celebrating anniversaries, so children doing what children do won't always go down well with other guests. Older kids who can look after themselves would be better.
Notes: The large area of swimming pools is not fully covered by lifeguards.
Infrastructure
Power supply: Mains Electricity
Communications: In-room phones; free use of business centre; free WiFi
TV & radio: Flat-screen TV with satellite (DSTV)
Health & safety
Malarial protection recommended: Yes
Medical care: There is a first-aid kit and staff trained to use it. A local doctor is on call 24 hours. The modern and efficient Diani Beach Hospital (5 minutes) is one of the best on the Kenyan coast.
Dangerous animals: Low Risk
Security measures: Askaris from the in-house security team patrol by day and night.
Fire safety: Fire extinguishers are located on the ground, first and second floor of every block.
Extras
Disabled access: On Request
Laundry facilities: Full Laundry Service - Extra Charge
Money: There are safes in the rooms. Currency exchange is available.
Accepted payment on location: Cash in euros or Kenyan shillings is preferred, but pounds sterling and US dollars are acceptable. Visa and MasterCard are accepted with a surcharge.