The Sands at Chale Island
The Sands at Chale Island is a stylish and private beach resort located on the 900m by 300m Chale Island. Situated just a stone's throw off Kenya's mainland, the resort occupies the north of the island, while the southern part is covered by indigenous forest and is actually a Mijikenda kaya – one of this people's ancestral village sites that are scattered along the Kenyan coast. The Sands at Chale has been designed to blend in perfectly with the island's natural environment and the lodge emphasises low-impact, sustainable tourism.
Continue reading our full report on The Sands at Chale Island
Our view of The Sands at Chale Island
We think the Sands at Chale is a good spot if you're looking for a secluded beach stay on the Kenyan coast. We get the impression they offer plenty of options for planning your stay individually. Please note, however, that with 60 rooms this is one of the larger properties we feature on the coast. We will post more details as soon as we have them, and meanwhile please call us for the latest information.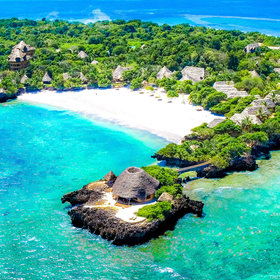 The Sands at Chale Island is a beach resort with 60 rooms.