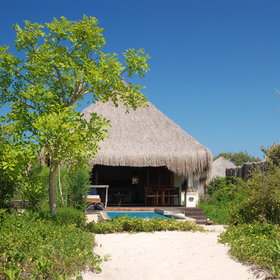 Azura Benguerra is one of the most luxurious properties in the Bazaruto Archipelago.
Presidential Villa
The
Presidential Villa
at Azura Mozambique, which can accommodate up to six people, is located 150m down the beach from the main area of Azura and is designed to be quite separate and self-sufficient. It has its own dining area and comes with its own butler-host and private chef.
This villa really is vast, with 1,075m2 of space. It is stunningly decorated and designed, yet although the white, cream and turquoise colours still dominate throughout, there is a slightly more modern edge to this villa – with pieces of art that hark of really stylish minimalism.
The split-level master bedroom has the kingsize bed up a few stairs and the lounge area slightly lower. It has its own en-suite bathroom with toilet, twin sinks, indoor and outdoor shower and a huge free-standing bath.
The second bedroom in this Presidential Villa is also large, and is identical to Azura's Infinity Beach Villas in layout and design. It can be either a double or a twin-bedded room and has its own en-suite bathroom at the back.
The third room is much smaller and really only suitable for children. It has two single beds and little space for anything else, although it does have an en-suite bathroom with a shower.
Azura's Presidential Villa boasts its own media room with a TV and DVD player. There is a private dining area and a wine bar, and a vast infinity pool spanning the front of the whole villa. This is surrounded by a broad wooden deck, on which there are plenty of sunloungers for the whole family as well as a number of sofas. Those seeking some shade may prefer to sit up in the 'treehouse' – a sheltered deck elevated a few metres off the ground, which catches a lovely breeze coming off the sea.
What really struck us is just how much space the Presidential Villa has. There are so many different places to relax that all six guests could sit in total isolation if they wanted to. This really is a great spot for those seeking space and exclusivity.
Beach Villas | Presidential Villa | Villa Amizade |