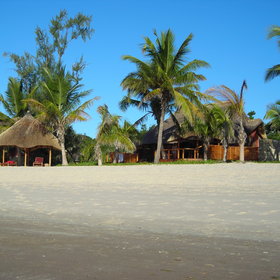 There are three different room types at Benguerra Lodge.
Casita
The Casitas at Benguerra Lodge are huge stone and thatch chalets, and are completely open plan with a lounge area, sleeping area, and bathroom at the far end. These rooms make the most of their lovely position: with the folding shuttered windows and doors open, you can enjoy wonderful views to the beach and sea beyond. Richly decorated in North African style, the rooms have a decadent feel to them. The floors are terracotta screed, the walls a rusty orange colour, and the dark wooden furniture is beautifully carved.

The lounge area consists of a wicker coffee table and two cushioned chairs. Hidden in a dresser there is a fridge which can be stocked with your choice of drinks, along with tea and coffee making facilities. There is also a large wardrobe with electronic safe, and a large full length mirror with intricately carved border.

The beds have dark wooden headboards, are adorned with quilted throws and are surrounded by four-poster style mosquito nets. Either side you will find bedside tables with beaded reading-lamps.

There is no air-con in any of the Casitas at Benguerra Lodge, which means that things could get rather sticky at certain times of the year (especially if you want to keep the shutters closed at night to keep the mosquitoes out), but a stand-alone fan is provided.

The real feature of the open-plan bathroom is the lovely stand-alone copper bath and this is matched with twin copped washbasins and brass fittings. There is a separate room housing the toilet, and double shuttered doors lead out to the enclosed outside shower, with its lovely mosaic floor and dry-stone wall style enclosure. Plenty of toiletries are provided including soap, shower gel, shampoo, conditioner, body lotion and citronella insect repellant. There is also a hair-dryer.

Outside your Casita is a private decked area, which leads directly onto the beach at Benguerra. You have your own plunge pool, sunbeds and a shaded area with table and chairs. Down on the beach is your own thatched shady sala, complete with canvas sunbeds.