Rosenhof Country House: Information from the owner
General information
About this information
All the information on this page is supplied to us directly from the lodge owner and reflects their view, not ours.
For Expert Africa's view, see our own full report on Rosenhof Country House, which contains our own observations and views.
---
Last updated by Owner

17 Jan 2023







































Facilities at Rosenhof Country House
Property facilities

24-hour Security, Activity Desk, Bar, Battery Charging Facilities, Disability Services, Gym, Internet Access (Complimentary), Laundry Service (Available), Library, Malaria Free, Meal on Request, Mobile Connectivity, Pool, Restaurant, Secure Parking, Spa

Room facilities

Air Conditioning, Bath, Complimentary Wi-Fi, Disabled Rooms, Dressing Gowns, En-Suite, Fireplace, Fridge, Hair Dryer, Heated Towel Rails, Heater, Internet Access (Complimentary), Laundry Service (Available), Lounge Area, Mini Bar, Private Pool / Jacuzzi, Pure Cotton Linen, Safe, Satellite / Cable Television, Shower, Smoking Rooms, Tea / Coffee, Television, Underfloor Heating, Verandah

Activities on site

Bird Watching, Fine Dining, Gourmet Picnic, High Tea, Massages

Nearby activities

Adrenaline Activities, Amusement Park, Animal Encounters, Art Galleries, Bird Watching, Child Friendly Activities, Cultural Tours, Cycling, Elephant-back Safaris, Fine Dining, Game Drives, Game Viewing, Game Walks, General Sightseeing, Golf, Health and Fitness Centre, Hiking, Historical Tours, Horse Riding, Kayaking / Paddling, Mountain Biking, Museums, Safaris, Sky Diving, Tennis Court, Walks (Guided), Walks (Self Guided), Wine Tasting

Languages

Afrikaans, English, German
Room types at Rosenhof Country House




















Executive Suite
Located 100m from main house for extra privacy.
An Ideal couples retreat or hide away on your South African holiday. Each of the 2 Executive Suites feature a king size bed, separate lounge, fireplace, private parking, luxurious bathroom, own swimming pool and garden.


















Luxury Room
Choice of a Twin, Double, Double Twin or King Room
12 Rooms situated around a beautiful courtyard, each with their own patio. Ideal for single travelers, families or couples looking for a relaxing retreat or romantic getaway.

















The Bird Cottage
3 NEW guest bedrooms in one house.
Ideal for couples, friends or families travelling together.
Each Bedroom has been given a South African Bird Species name as the Cottage is surrounded by trees with many bird species, nesting close by.
Room 1 – Hoop Hoop
Activities at Rosenhof Country House































Activities in and nearby Oudtshoorn
CANGO CAVES: Situated 30km from Rosenhof Country House. Ecologically Significant and impressively beautiful, the Cango Caves - Africa's largest show caves and one of the seven wonders of Southern Africa - are the archaeological and historical highlight of the Klein Karoo. Adventure and Standard Tours available.
www.cangocaves.co.za

CANGO WILDLIFE RANCH: Situated 2.5km from Rosenhof Country House. Explore the Ancient Valley with leaping lemurs, secretive red river hogs and pygmy hippos OR go Cage Diving with mighty Nile Crocs! Get close to the Big Cats like the Cheetah, Lion and White Tigers.
www.cango.co.za

OSTRICH SHOW FARMS: 4 Ostrich Show Farms are situated in a radius of 15-20km from Rosenhof. (Safari Ostrich Farm, Highgate Ostrich Farm, Cango Ostrich Farm, Chandelier Ostrich Farm)
www.safariostrich.co.za
www.highgate.co.za
www.cangoostrich.co.za
MEERKAT ADVENTURES: Join the Meerkat Guide, Devey, on an early Sunrise Tour to see wild Meerkats in their natural environment! Don't forget your Camera!
www.meerkatadventures.co.za

WILGEWANDEL FAMILY FARM: situated 25 km from Rosenhof this Holiday Farm offers Camel Rides, Bumper Boats, Donkey Cart Rides, Foefie Slides and much more! Visit their restaurant for speciality dishes like ostrich steaks, crocodile dishes and traditional cuisine like bobotie. They also have a curio shop and local wines on the premises.
www.wilgewandel.co.za

CP NEL MUSEUM: The historical Cultural Museum of Oudtshoorn and the Little Karoo region, is declared a national monument and houses 12 exhibition rooms showcasing the fascinating story of the ostrich feather industry.
www.cpnelmuseum.co.za

GOLF COURSE: An 18 Hole Golf Course is situated 5km from Rosenhof.
https://lastminutegolf.co.za/course/oudtshoorn-golf-club

ZIPLINE: Two twin lines stretching over a combined 900-meter course, taking you from the famous Cango Caves to the valley below, accompany by friendly and knowledgeable Guides. Take time to explore the fauna and flora of the Klein Karoo. http://www.cangocavesestate.co.za/

SWARTBERG PASS: Stretching 27km over the Swartberg Mountains to found the arty town of Prince Albert on the other side. It's considered one of the most spectacular mountain passes in the world: an untarred road winds to the summit 1 583 meters above sea level in steep zig-zags and sudden switchbacks, with breath-taking views at every turn. Heading back to Rosenhof through Meiringspoort and De Rust will make it a trip to never forget.
http://princealbert.org.za/swartberg-pass/

RUS & VREDE WATERFALL: Situated 33km from Rosenhof. Isolated beauty, engraved into the heart of the Swartberg Mountain by natures powerful forces. Rust-en-Vrede is situated on a scenic detour branching off the R328, on the way to the world famous Cango Caves. No title could be more apt, for this is definitely a must see.
https://www.oudtshoorninfo.com/attractions.php?id=63&category=100

BUFFELSDRIFT: Situated 7km from Rosenhof. Varies activities available on the premises. Bush Safaris, Elephant Feeding, Elephant Brushing, Elephant Walking, Meerkat Safaris and Lion Feeding.
https://buffelsdrift.com/

SKYDIVING: Few things are as exhilarating and adrenaline filled as falling safely out of a perfectly good airplane. The 20 minute flight to altitude offers spectacular and unique views of the Klein Karoo... and then it's time to jump!
http://skydiveoudtshoorn.co.za/

Bicycles
Explore the historical little town in the Klein Karoo on a bicycle.










Spa
The Bliss Spa, situated on the Rosenhof premises, has a fully equipped gym and sauna, with shower facilities available. The gym and sauna is complementary for Rosenhof Guests.
Let our Qualified therapist pamper your face with dermalogica® (an International Known Product).
Our Strategy is to relax the body and improve the skin, whilst pampering and relieving stress.
Other lodges in Little Karoo
Alternative places to stay in this same area.
---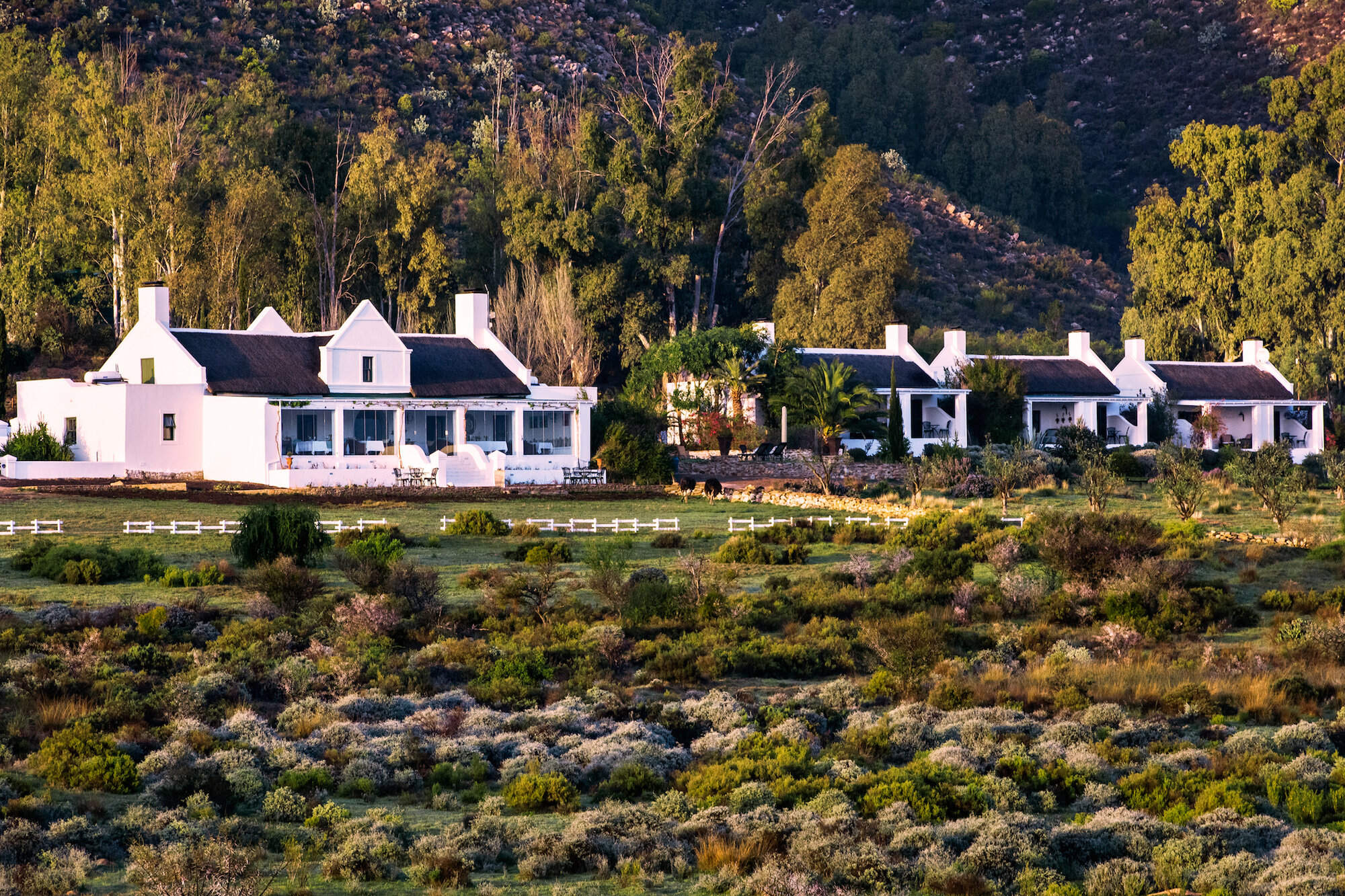 Galenia Estate
Just outside Montagu, Galenia Estate is a newly refurbished guesthouse nestled on a hillside estate with over a thousand olive trees.
---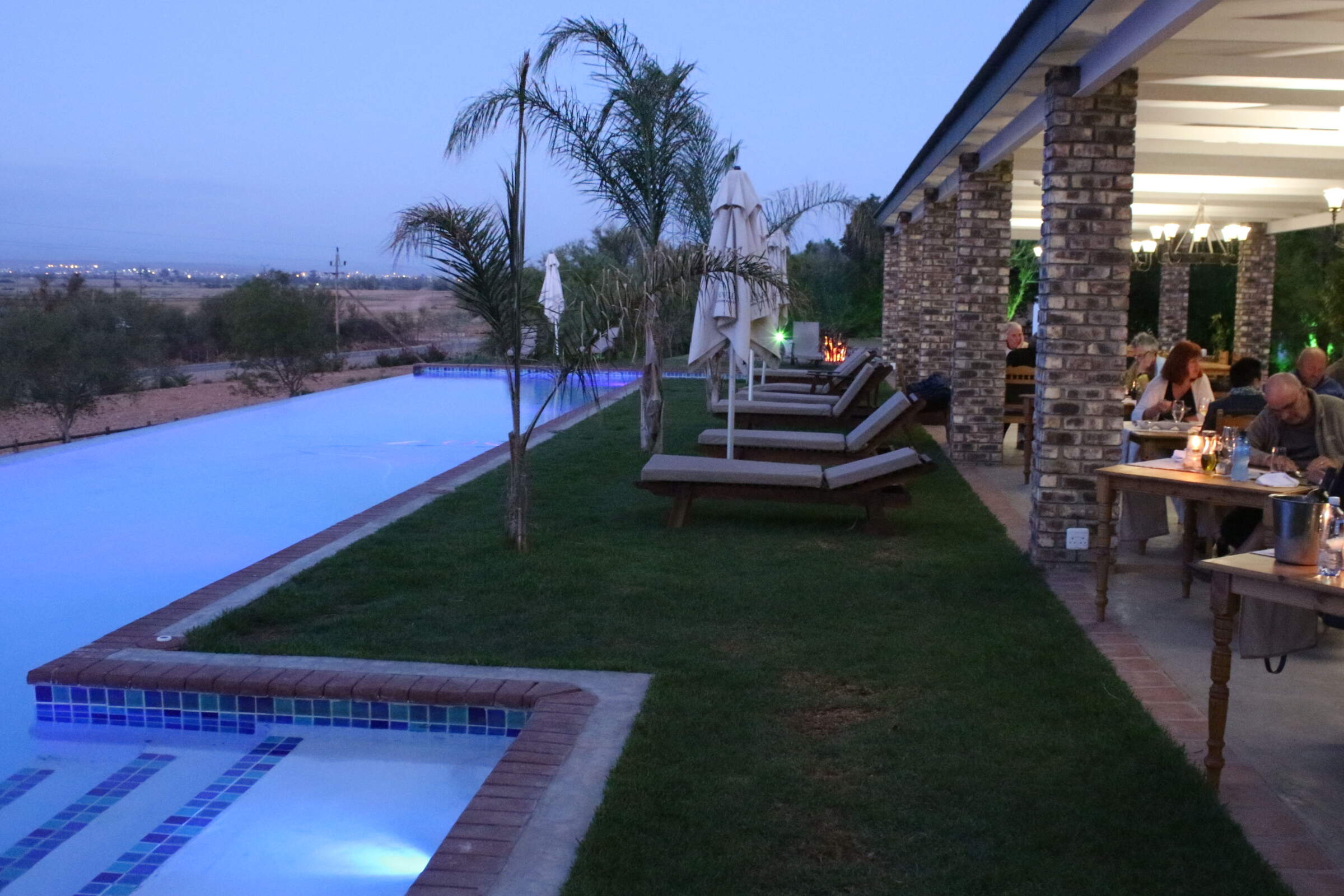 Mooiplaas Guesthouse
In a rural area, not far from Oudtshoorn, the friendly Mooiplaas Guesthouse is a good base for exploring an ostrich farm, the Cango Caves and the Swartberg Mountains.
---
Other areas in South Africa
---