Chole Mjini Lodge: Our full report
Chole Mjini is one of the most original small lodges that we know in East Africa.
It stands on Chole Island, just off the coast of Mafia Island, which is a peaceful and charming hideaway in an area that sees little tourism. The lodge was built to be environmentally sound, and to give real benefits to the local community. Built among 19th-century ruins, it's all quite Indiana Jones: the ultimate eco-lodge, built before the term became so commonplace.

Arriving at Chole Mjini, you're instantly seduced by the enchanting atmosphere that blends history with pure Robinson Crusoe. After dark, hermit crabs scuttle over the sandy paths, lit by solar lanterns.

South African-English couple Jean and Anne de Villiers established Chole Mjini with a very clear ideology, which contributes hugely to its atmosphere. For a while they took a back seat in the running of Chole Mjini, but we are delighted that they have decided to take over management once again. They have carried on the excellent work that the team at Chole were doing in their absence.

A walk through the nearby village will show you how much Chole Mjini has contributed to local life – including building a local dispensary, a primary school and an adult education centre. Out of the cost of your stay, U$10 per person per night goes directly toward funding community projects.

Chole is a beautiful, spacious lodge, in a historical location. Its communal areas, set in lush tropical gardens, are linked by winding paths that lead past the intriguing ruins of Chole town (the meaning of Chole mjini. The island was settled as early as the 16th century, and it was an important trading port as late as the 19th century. The ruined walls and buildings of the old town can still be seen dotted around the lodge's gardens and in the small area of the port, tangled in vines and wrapped by the roots of giant fig trees.

A large open-sided, thatched banda serves as Chole's lounge and dining area. Here you will find comfy sofas of polished cement, strewn with cushions. The thatched roof and polished cement floors help to keep the area cool, as does the sea breeze. Odd bits of African furniture mixed with Swahili and Arab antiques give Chole a beautiful yet simple coastal style.

From the lounge you can look out over the mangroves at the sea beyond, lose yourself in one of the books from the shelves, set your camera up to snap the endless display of birds by the birdbatch or perhaps indulge in a game of bao. Boards of this favourite East African game are dotted around the lounge: it's fun to learn, and the staff will happily teach you how to play.

Above the lounge and dining area is the Hanashi Bar, with more sofas, built into the rafters of the thatched roof, where guests usually congregate for pre-dinner drinks underneath a star spangled sky.

A short walk from the lounge is a small inlet, where the lodge has a number of dhows for excursions and some diving equipment. It is also perfect for swimming at high tide.

Back at the old port, facing Mafia Island, is the Red Herring Bar, which is owned by Chole Mjini and has Wi-fi. This is where the boat from Mafia Island drops you, and it's the perfect place to watch the sunset and have a few pre-dinner drinks.

Six of the rooms at Chole Mjini are tree houses, set on platforms high up in baobab trees. The seventh slightly more conventional garden room stands on the ground.

Chole's wooden tree houses were built to a very high standard by local craftsmen whose skills were honed building dhows. Although each is slightly different, some being on two storeys, they all share one trait: their general lack of modern conveniences.

The lodge operates with solar generated electricity and each guest is issued with a little solar-powered lantern; the loos are composting long-drop toilets rather than flushing ones; and showers are heated by a small but very effective paraffin burner that you light yourself. There's no air-conditioning, of course, but the rooms do have solar-powered fans for those still nights when the open-sided, tree-level rooms don't catch a natural breeze – which is happily the case for most of the year.

Read more about the tree houses at the very bottom of this page.
Helped by Chole Mjini's owner, Jean, we've made a few notes here on some of the quirky individualities of the rooms, and added a few pictures at the bottom of this page.

If you like the sound of these rustic features – then staying in a tree house at Chole Mjini is an experience you won't forget. It's worth noting that much as the tree-houses all have their quirky idiosyncrasies, you can't guarantee which one you will be booked into unless you make a premium booking well in advance. Please ask us about this. Otherwise, you can always ask to be moved to another tree-house - though very few guests are disappointed whichever one they are staying in.

Activities are very much a part of most visitors' time at Chole Mjini: this is a place to do things, as well as relax. All the ideas are very flexible, and a lot depends on the tide, and what the various guests want to do, as you will often be sharing, especially where a boat is required. We were amazed at how much there was to do on such an apparently sleepy island.

The Chole team can organise dhow trip, typically a sunset sail, sometimes to a remote sandbar, where you can relax on a beach surrounded by the sea. We really enjoyed these trips, and the lack of a private beach next to the lodge was never an issue. Activities are at extra cost, however when we were here in 2018 these were all very reasonable, with snorkeling around $25 per person. There are a range of snorkelling locations, from the vast, shallow coral gardens in the Chole Bay to smaller reefs around rocky outcrops. The marine life is beautiful!

With a day's notice, Chole Mjini can organise diving in conjunction with Mafia Island Diving on Mafia mainland; the dive boats go right past Chole Island, and so there is no real need to go to Mafia main island. All the waters around Chole lie within the Mafia Island Marine Park – and Chole Bay itself is ideal for novices, with relatively protected and shallow waters (mostly less than 20m), yet with some good coral and marine life and some excellent drift dives.

More advanced divers head out on an old sailing dhow to explore outside the bay – where various reefs, passes and wall dives go down to about 30m, with even more spectacular marine life. Having dived both here and all around the Zanzibar Archipelago, we regard the diving here as some of the best in Tanzania – and probably the best for sightings of large individual fish. We've seen potato cod, giant grouper, barracuda and white-tipped reef shark on recent dives here.

But it's not just diving that's great here. Guests can explore the Kua Ruins, visit Chole Village, snorkel in the blue lagoon on the neighbouring island of Juani, go on sunset cruises, and at certain times of year arrange humpback whale-watching, snorkelling with whale sharks and trips to see turtle hatchings.

Whale-shark boat trips are run with Kitu Kiblu ('Little Blue Thing' to distinguish it from another operation, 'Big Blue'), which is largely the child of Jean and Anne, and the best way to meet the whale sharks on Mafia. This setup is entirely staffed and run by Mafia locals and overseas interns, and based out of a visitor and research centre on the west side of the island near Kilindoni. Kitu Kiblu run truly responsible whale shark encounters which fully adhere to the local code for how to interact with these gentle giants. A research biologist who has been studying the sharks for years, often accompanies the trips and provides fascinating insights into their surprisingly little-understood natural history and behaviour. Transport, breakfast, wet suit, booties, fins, mask and snorkel are all provided, as are drinks and fruit on board. There are outdoor showers at the end of the trip. Just bring towel, sunscreen and a Gopro if you have one. The trip costs approx $100 per person, based on a minimum of four people, and you can expect to be out at sea for 3 to 4 hours, or longer if encounters are proving difficult. It is a really magical experience!

Back at the lodge, Chole Mjini's close relationship with the village means that it's a great base from which to explore; you can do this by yourself, but we recommend heading out with a member of staff. Wander off in the late afternoon and you'll usually see a huge colony of large Comoros fruit bats starting to wake up before the nightly foray to their feeding sites on Mafia Island. You'll pass by the local hospital, various Tanzanian political party headquarters, and the village square with its community TV room.
Our view
Chole Mjini is the perfect environmentally sound getaway and it has a wonderful community atmosphere that comes from genuine engagement with its neighbours on the island. This is a high-quality lodge, that pragmatically eschews many of the bells and whistles of modern hotels that we so often take for granted. That means it won't be for everyone, but it makes it very distinctive, and we think it's all the better for it.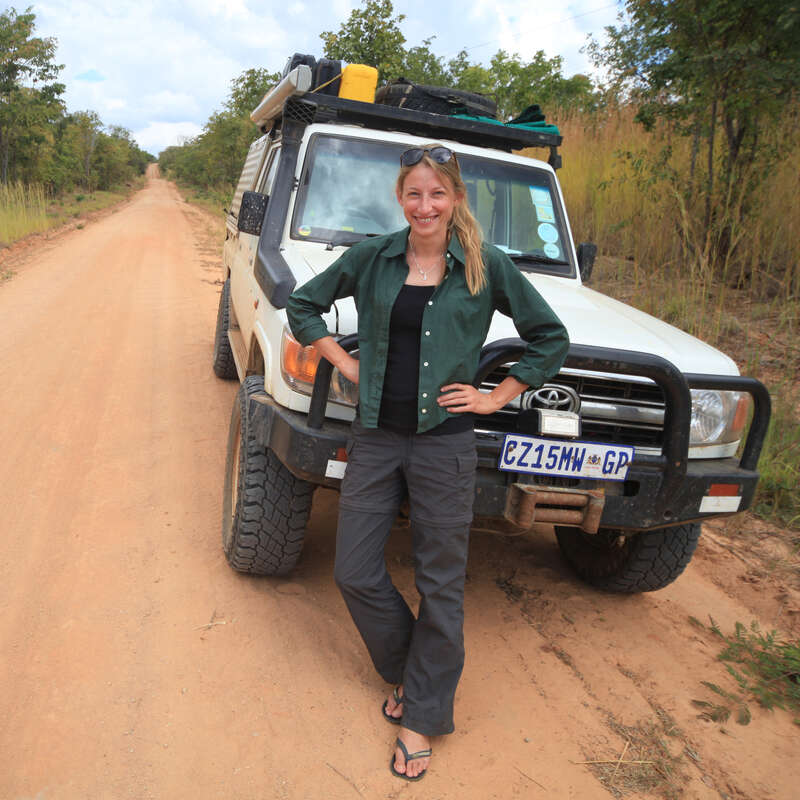 Country manager: Tanzania
Geographics
Location

Ideal length of stay

Four days or more – especially if you are a keen diver or really want to unwind.

Directions

It is a 30-minute flight from Dar to Mafia island and then a 15–30-minute drive to Utende Beach on the east coast of the main island, depending on how long it takes to get your marine park tickets at the office on the main road. From there it is a short 15-minute boat ride across Chole Bay to Chole Mjini. Please note that there is no jetty at Chole – you will need to wade a short distance in water, so wear clothes and shoes that you don't mind getting wet.

Accessible by

Fly-and-Transfer
Food & drink
Usual board basis

Full Board

Food quality

The food at Chole is very good and was delightfully fresh and imaginative. On your first night you will be invited to join the managers and other guests for dinner. Then on subsequent nights you have the choice to dine separately if you like.

Breakfast is very flexible in its timing to allow for individual activities, so most people have breakfast in their own groups. Expect fruit, plain and sweet bread, chia porridge, and (usually) yoghurt made by the lodge team. Eggs can be served in a variety of ways, but they don't offer bacon or pork sausages.

Lunch is light and tasty, usually a buffet of salads, vegetables and a meat dish – all you would wish for on a hot day – and generally eaten at the communal table. On our last visit we had a fresh seafood paella served with a local kachumbari salad, this wad followed by homemade icecream.

Dinner is a sociable, three-course occasion, with a dinner-party atmosphere and served in a different location each night. There is usually a set menu – taking dietary requirements into consideration – with table service by the staff. Private dinners can also be arranged for honeymooners, or for anyone else who requests their own table. We started with samosas, followed by freshly caught fish served in banana leaves, sticky rice and seasonal vegetables. For dessert we tucked in to a rich chocolate cake and custard.

Dining style

Group Meals

Dining locations

Indoor and Outdoor Dining

Further dining info, including room service

There is no room service here – apart from tea and coffee in the morning.

Drinks included

Drinks are not included – they cost around $4 for a local beer, glass of wine or a large shot, and $2 for a soft drink.
Special interests
Family holidays

The quirky originality of Chole Mjini feels quiet but social, and it's perfect for Tanzania family beach holidays with older children. Most kids love its six wooden tree-houses, the ruins to explore and activities like dhow trips and snorkelling in Chole Bay.
See ideas for Family holidays

Honeymoons

Chole Mjini offers a magical and remote honeymoon to Tanzania, ideal for honeymooners who want something different and who are not afraid to go without some of the usual fittings. Stay in a romantic open-sided treehouse and enjoy the privacy and peace of the Island.
See ideas for Honeymoons

Beach holidays

The best beaches near Chole Mjini are on isolated sandbars, uncovered by the tide and surrounded by coral reefs of the Indian Ocean. Beaches don't come more magical, untouched or remote than this, making it one of the best beach experiences in Tanzania today.
See ideas for Beach holidays

Diving & snorkelling

Scuba diving in Mafia Island Marine Park is superb, and if you come here between October and March you may get the chance to swim with whale sharks.
See ideas for Diving & snorkelling

Cultural experiences

Chole Mjini was built to benefit its local community, with local people helping to build the lodge. It is a great place to visit if you value being able to interact with village life. Don't miss the walking tour of the village.
See ideas for Cultural experiences

Wellbeing

Chole Mjini is a peaceful haven that works closely with the local community. Surrounded by nature, birds and stars, it is soul food if you're looking for something that is eco-conscious.
See ideas for Wellbeing
Children
Attitude towards children

Children over the age of two years old are welcome at Chole Mjini. This restriction is primarily due to the open-sided tree-houses, which would not be safe for very young children.

Property's age restrictions

No children under the age of two are allowed to stay at Chole Mjini.

Special activities & services

Childminding can be arranged – though parents should be aware that a childminder would be a local islander from the housekeeping team, and would not have any childcare qualifications.

Equipment

No

Generally recommended for children

We would not recommend Chole Mjini for very young children – the tree houses are a slight hazard. Nor is it great for children who are addicted to electronics, but for more independent and adventurous spirits, this is a magical getaway.
Communications
Power supply notes

Batteries can be charged in the Red Herring bar between 10.00am and 5.00pm.


Communications

There is intermittent mobile phone reception at Chole Mjini and Wi-fi at the Red Herring bar when the power supply is on (10.00am–5.00pm).

TV & radio

There is no TV at the lodge, but there is a popular TV spot in the village where the locals congregate.

Water supply

Borehole

Water supply notes

The water used for the showers is pumped from a well and heated by self-service kerosene heaters. Bottled water is provided for drinking. At the end of the dry season you'll notice some of the foliage around the lodge droops – they're very sensitive to over-using precious community supplies.

Sustainability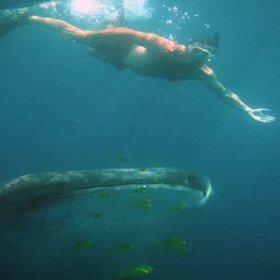 Protecting the giants of the sea
Chole Mjini tells the story of a couple who fell in love with the beautiful waters of the Chole Island, its intricate wilderness and friendly people. However, the jungle retreat is not just a hideaway for 7 treehouses, but also the centre for a series of conservation and community-development projects.
Whale shark protection has become primordial at Chole Mjini. The two owners, Dr. Jean de Villiers Ph.D. and Ms. Anne de Villiers M.Sc., founded Kitu Kiblu, a wholly owned subsidiary of the Chole Mjini Conservation and Development Company Ltd. The aim of the research centre is to raise awareness about whale sharks and support their conservation. In collaboration with Mafia Island Whale Shark Conservation Society (WHASCOS), codes of conduct have been introduced including imposing a fee on whale shark tourism, to protect the animals from exploitation.

One of the main responsibilities at Kitu Kiblu is global spot-pattern photo identification or whale sharks, which seeks to map their migration.

Over the past 20 years the research centre, together with the Chole Mjini Charitable Trust, have built a kindergarten, primary school, medical centre, computer centre, market, women's centre. They offer scholarships for secondary and tertiary studies, as well as small loans. Kitu Kiblu has also built a library, a computer facility and an English club at the Chole Island primary school with sponsorship from the International School of Geneva.

Guests who feel adventurous can join half-day trips, including a 3-4-hour cruise on a traditional sailing how to search for and swim with the giants.
See more great sustainability projects in Tanzania
Health & safety
Malarial protection recommended

Yes

Medical care

In the event of any medical problem, the dive centre on Mafia island has first-aid trained staff, and for serious cases clients would need to fly to Dar es Salaam. There are first-aid kits on all of the boats and there is a clinic in the village for first response.

Dangerous animals

Low Risk

Security measures

There is a large wooden lockbox in each room for valuables. There are also askaris (guards) around the lodge.

Fire safety

All the buildings at Chole Mjini are open sided – so in cases of fire it would be straightforward to exit any building. Fire extinguishers, buckets of water and sand are also provided in every tree-house.
Activities
Boat trip

Cultural excursion

Scuba-diving

Snorkelling

Watersports
Extras
Disabled access

Not Possible

Laundry facilities

Full Laundry Service – Included. They use a charcoal iron so please don't bring your finest silk clothes.

Money

Chole Mjini does not offer any currency exchange.

Accepted payment on location

Because of Chole's remote location, they prefer guests to pay in cash, using US dollars, pounds or euros. There is a 5% charge for Visa, MasterCard and Amex credit cards. This uses 3G so please notify the managers before departure if this is how you would like to pay.
Room types at Chole Mjini Lodge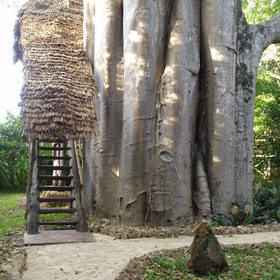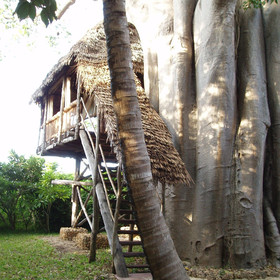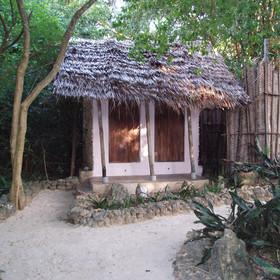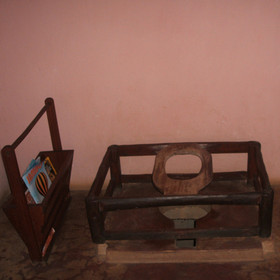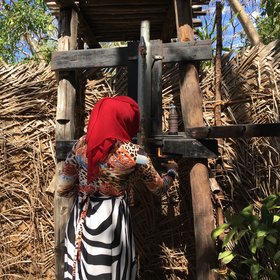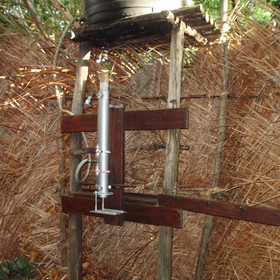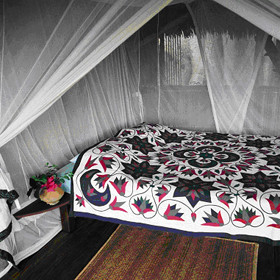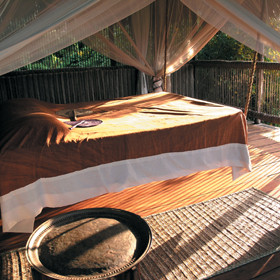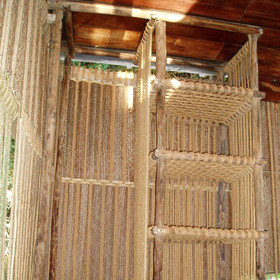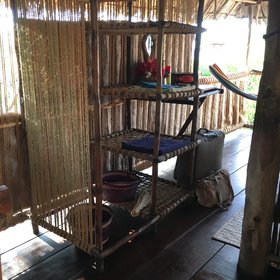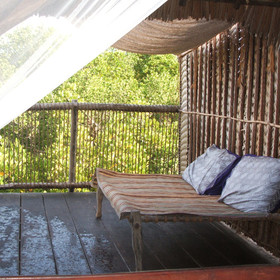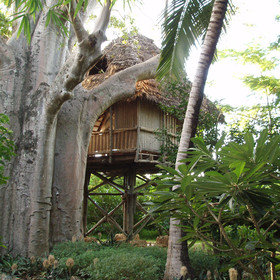 Intro to the tree-houses
Chole Mjini has six tree houses set high up in baobab trees and one ground-level suite, or 'ground house'. Links at the bottom of this page will lead to more detailed descriptions of the individual houses, and a few pictures.

Although these tree houses are all laid out differently, they share many similarities, including wooden steps that usually lead into the main bedroom. All were built by the villagers of Chole from natural materials, including mangrove wood. These skilled craftsmen make sea-faring dhows entirely by hand – so their woodwork is simply outstanding.

Smooth wooden floors are dotted with colourful makuti mats made by the local women, and brightly coloured fabrics adorn the huge double beds, which are swathed in large, walk-in mosquito nets.

All the tree houses are open on all four sides. There are waist-high wooden railings all around for safety, with curtains above for increased privacy. That said, privacy is seldom an issue as all the rooms are fairly widely spaced and cleverly angled .

Most of the tree houses command wonderful views through the trees to the sea beyond. They have high thatched roofs, and most have a second, smaller, 'tea house' floor on another level. These are ideal for families, as twin beds can be made up there for children.

Quirky storage space is made from sturdy poles and coconut-fibre rope and there's a large lock-box for any valuables.

The toilet and shower for each of the tree houses at Chole Mjini are at ground level.

Each long-drop composting toilet is set in its own room – some more spacious than others. All are very clean and some have seats crafted out of wood.

(The garden house, 6, is different, in having a flushing toilet on the same level as part of the main house.)

The shower has its own large enclosure, walled by a palm-leaf screen, and is very quirky – but we wouldn't expect anything less from Chole Mjini. For hot water you simply light a little paraffin burner and in a matter of seconds you have a limitless hot shower. It's a clever piece of intermediate technology.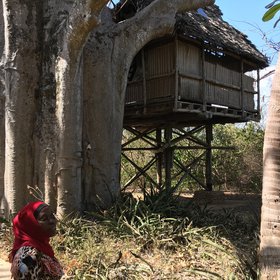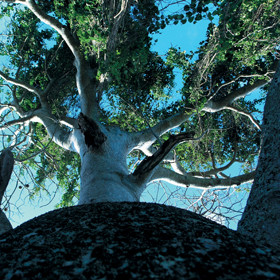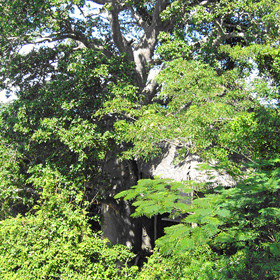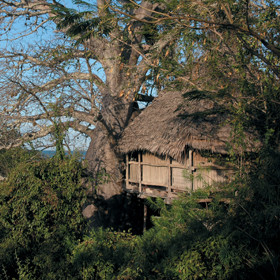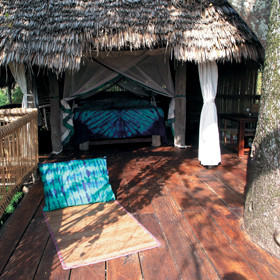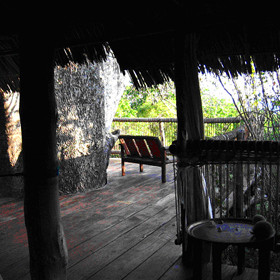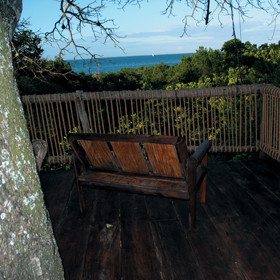 No1 - Tree-house
Tree house 1 at Chole Mjini (Moja in Swahili) up in the canopy of a venerable baobab tree is quite well hidden, especially after the rains bring thick foliage. The baobab trees on Chole Island are unusual, often growing at the water's edge and beside the beach – almost competing with the natural mangrove vegetation.

Moja is the only tree house at Chole Mjini on a single level, and the only one which has just one double bed (most also have additional singles).

Jean, the founder of Chole Mjini, comments that this tree house is a great favourite with guests because of the views over the mangroves to Kinasi Pass. The spacious deck that wraps around the tree allows the closest nature experience of all the houses – and can be enchanting at night when it's lit by fireflies.

Visitors staying in this tree house often share the tree with other inhabitants: nesting fish eagles or kites. Sometimes the young chicks even throw fish and reptile heads down at the guests on the deck below.

The shower is in a bamboo thicket and is particularly special, but Jean considers that the toilet – one of three built for a tented camp that was originally planned here – is small and a little cramped – though it functions perfectly well and does not smell unpleasant.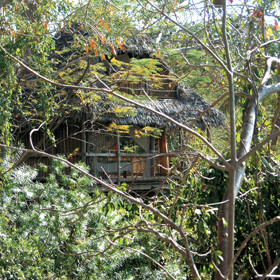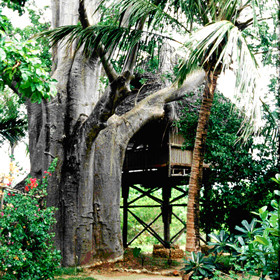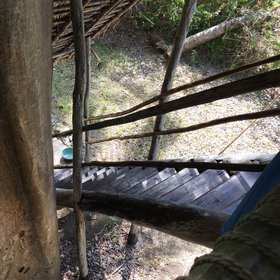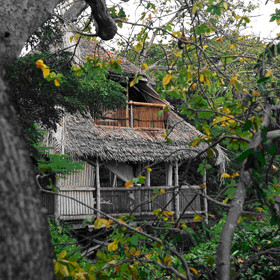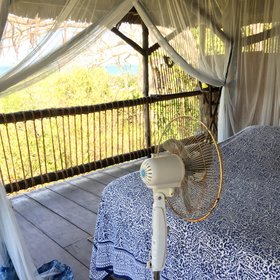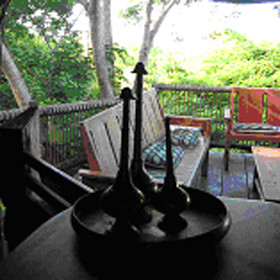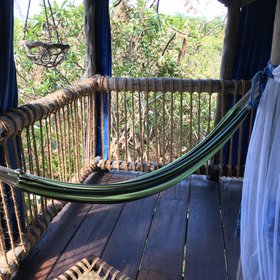 No2 - Tree-house
Tree house 2 at Chole Mjini – or Mbili – was the first one that Jean began here, along with tree house 7. It is bigger than the others, and has the most ambitious construction of them all.

The engineering problems it posed delayed its completion for almost a year, but Mbili is in a fabulous location and Jean is now convinced that it was worth the effort and wait.

Mbili has two double beds on two spacious and separate floors, all under one roof. The views (especially from upstairs) are spectacular and upstairs in Mbili is the most private space available in any of the houses at Chole Mjini.

The associated baobab is the granddaddy of them all, and several sensitive souls have commented that it has its own spirit and personality. One of Chole's former guests still writes emails to this tree – or so we're told by Jean.

The shower and toilet in this tree house are new, airy and spacious.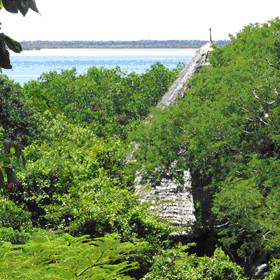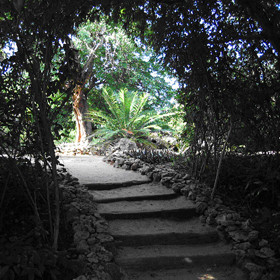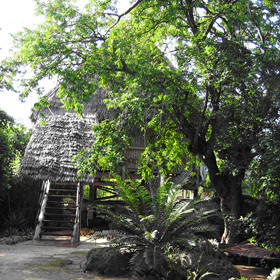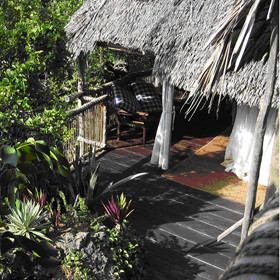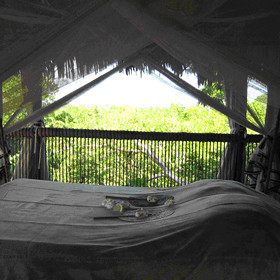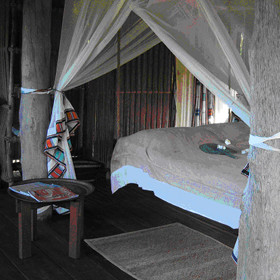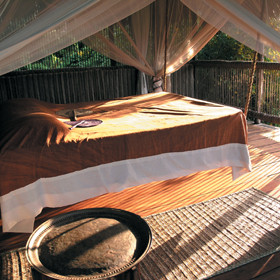 No3 - Tree-house
Tree house 3 at Chole Mjini, or Tatu, is reached by passing through a foliage tunnel. It is built on two levels under two separate roofs, almost like two separate houses joined by a single staircase.

The main house is on rocks under a tamarind tree, close to the ground; from there, the stairs go down into the second house, set among the mangroves over the beach. During spring tides, the water comes right up under the lower house and twice a year in February and March the floor gets wet.

Tatu is Jean's favourite tree house at Chole Mjini because he regards it as 'firefly city', and the house which is most in touch with the ocean. It has both close-up and distant sea views, with crabs and mudskippers scuttling around metres below the house and sometimes schools of fish there too.

The shower is in a very pretty rock garden but the toilet is another of the original three prototype loos at Chole Mjini.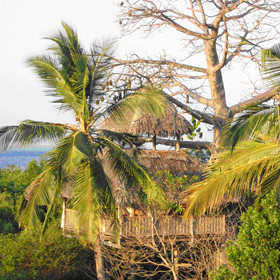 No4 - Tree-house
Tree house 4 at Chole Mjini, or Nne, was the first of three houses with the upstairs 'tea house' design. The 'tea house' is a small, raised upper floor with its own thatched roof projecting above the top of the main roof; it's a bit like a loft with a dormer window – but with all-round views.

Nne is another of the most popular houses, and for good reason. The tea-house is ideal for relaxing, with a great through breeze, 360º views and spectacular sunsets.

Although, quite similar to tree house 7, Nne has a baobab tree and views to the open ocean (no7 has a flamboyant tree and faces more across the water towards Mafia Island).

Nne has perhaps the most appealing of all the showers and toilets at Chole Mjini. Ironically, they were designed by Anne, and built by Fundi Rashid while Jean was away.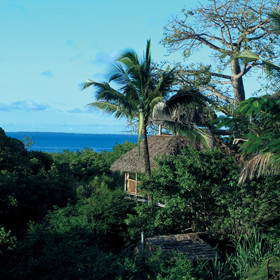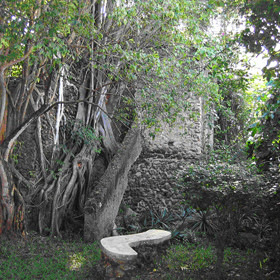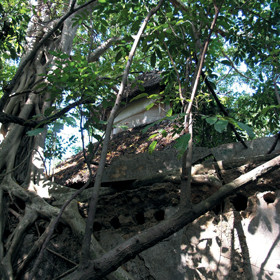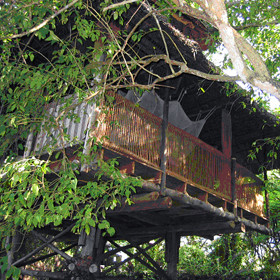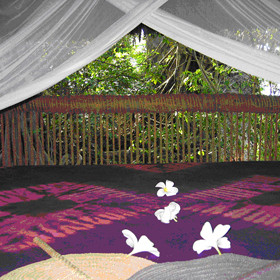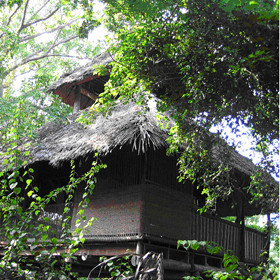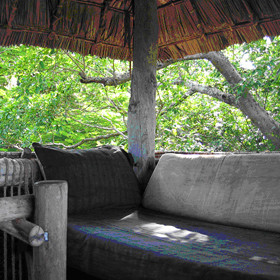 No5 - Tree-house
Tree house no5, or Tano, is the second of the 'tea-house' tree houses, with sweeping views of Chole Bay and delicious breezes. But instead of being closely associated with a tree, it is set amid the ruins of a large 19th-century house dating from the time when Chole Mjini (Chole City) was a bustling port trading between the Shirazi Sultanate of Kilwa and the Omani Sultanate of Zanzibar. The walls of the ruins are held together by the entwined roots of a marula fig tree whose fruit is a favourite with the giant Comores fruit bats that inhabit Chole Island. These beautiful and intelligent flying foxes, with their fox-like facial features and russet back fur, are fascinating to watch. Jean was told by a former Miss Universe, who had stayed there for just one night, that Tano has 'too much nature'.

The shower is built into a remnant of ruin and has space for an entire football team. The toilet is new, bright and breezy.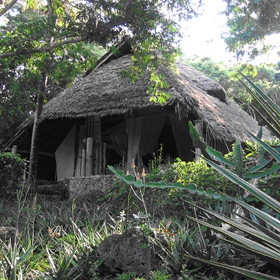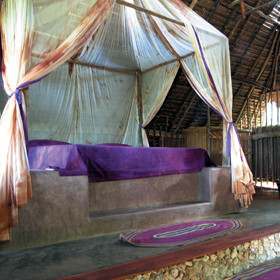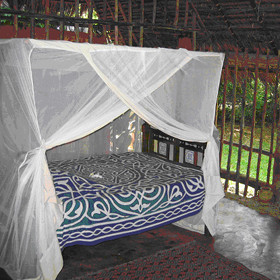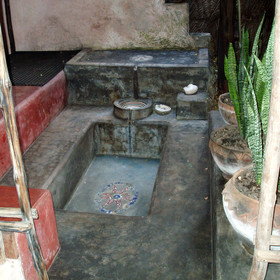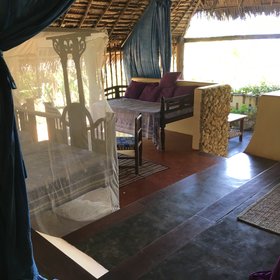 No6 - Garden Room
The garden room at Chole Mjini, No6 or Sita, was built to cater for families with small children, or for anyone afraid of a tree house, or anyone who absolutely requires a flush toilet. It has the only flushing toilet on the whole island.

Sita is very large and on three levels, with a double bed at the top, two Zanzibari beds on the next level, and a day bed on the porch another few steps lower.

It has a sunken, mosaic bath (the size of some lodges' small plunge-pools, and effectively a 'micro' swimming pool for small children), a shower, and of course that en-suite toilet.

The garden room is open to large gardens on either side, leading to the mangroves. Although it is the closest house to the bar and restaurant it is still totally private thanks to strategically planted hedges and full-height curtains.

Jean and Anne spent three month living in the ground house, while their own house at Chole Mjini was being extended, and they were very reluctant to move out. Jean thinks it is perfect for a young family.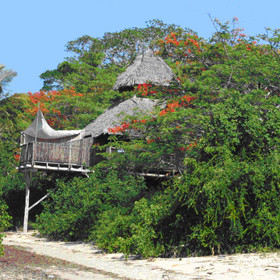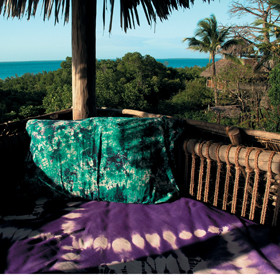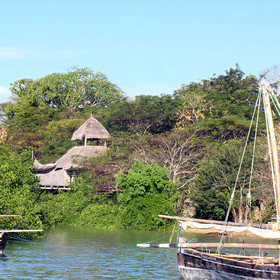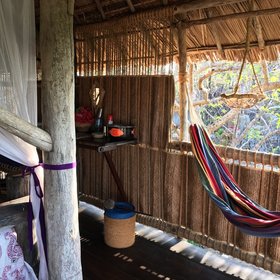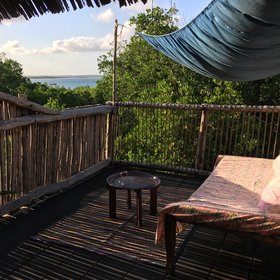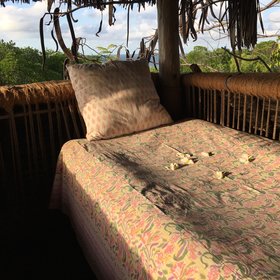 No7 - Tree-house
Tree house no7, or Saba, has been the most popular tree house at Chole Mjini from the day it was finished. Chole's owner, Jean, admits that the reasons for this escape him. He maintains that Saba is gorgeous but no more so than Nne, Mbili, Moja, his favorites Tatu and Sita ... and Jean does like Tano a lot, too.

Saba is one of the biggest tree houses at Chole Mjini, and can easily accommodate two adults and two children. It has a lovely flamboyant tree and also incorporates some of the ruins – giving it a great atmosphere. Its tea house offers fabulous sunset views over the beach and often attracts a cooling breeze. It also has a large sundeck over the beach. The toilet is new, light and airy and there is a shower.

This is the only tree house at Chole Mjini with a good view of Mafia Island, across the water. Jean maintains that the electric lights to be seen in the distance have caused the fireflies to disappear from the mangroves in front of Saba.

On the down side, Saba is right on the beach, so can sometimes be a little noisy in the morning, when the fishermen leave or return – but then that also lends character.
Other lodges in Mafia Island
Alternative places to stay in this same area.
---