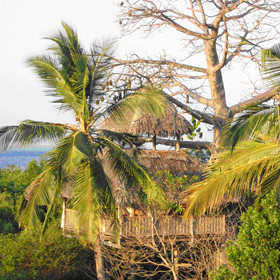 The Nne tree-house has an upper floor - a tea-house - with an all-round view
No4 - Tree-house
Tree house 4 at Chole Mjini, also called 'Nne', was the first of three houses with the upstairs 'tea house' design. (The 'tea house' is a small, raised upper floor with its own thatched roof projecting above the top of the main roof; it's a bit like a loft with a dormer window – but with all-round views!)
Nne is another of the most popular houses, and for good reason. The 'tea- house' is ideal for relaxing in, with a great through breeze, 360
º
views and a spectacular place to watch the sunset.
Although, quite similar to
tree house 7
, Nne has a baobab tree and views to the open ocean (7 has a flamboyant tree and faces more across the water towards Mafia Island).
Nne has perhaps the most appealing of all the showers and toilets at Chole Mjini. Ironically, they were designed by Anne, and built by Fundi Rashid while Jean was away.
No1 - Tree-house | No2 - Tree-house | No3 - Tree-house | No4 - Tree-house | No5 - Tree-house | No6 - Ground-house | No7 - Tree-house | Tree-house overview |