Longclaw Fly-in Safari: Summary
Longclaw safari in a nutshell
This varied fly-in safari offers an in-depth exploration of Tarangire National Park and the Serengeti. The three camps have been chosen for their combination of rich wildlife and remote surroundings, where it is possible to see all of the popular big game with considerable exclusivity.
Beginning in the wilder, quieter south-east of Tarangire, Oliver's Camp provides excellent wildlife and birding opportunities away from the crowds. Moving on, the luxurious Namiri Plains is at least 45 minutes' drive from its nearest neighbours, whilst migratory Kimondo is either nestled in the remote northern Lamai Wedge or in the quieter south-eastern Kusini area.
Be it amidst the forests and marshlands of Tarangire or the short grass plains and rolling country of the Serengeti, guests will enjoy rich wildlife encounters in some of the more isolated areas of these renowned parks. This intimate safari experience is enhanced by the size of the camps, which each have no more than 10 tents.
Further immersive experiences such as bush walks and night drives are available, and a consistency in management ensures that there is a high level of comfort and quality throughout. Staying in camps which boast considerable luxury, guests are also able to benefit from seasonal long-stay discounts.
Keep watch for the "big five", the great migration and a plethora of other interesting species during this spectacular exploration of northern Tanzania.
At a glance
Starts:
Kilimanjaro International Airport
2 nights
Oliver's Camp

-

Tarangire National Park,

Tanzania

Full Board
2 nights
Namiri Plains Camp

-

Serengeti Migration Area,

Tanzania

Full Board
3 nights
Kimondo Camp

-

Serengeti Migration Area,

Tanzania

Full Board
Ends:
Kilimanjaro International Airport
Oliver's Camp
Days 1-3
In the quiet south-east of Tarangire National Park, beside Silale and Lormakau marshes, Oliver's Camp is a lovely tented camp set on a low, sandy ridge. It is particularly good for wildlife in the height of the dry season, when the marshes attract huge herds of buffalo, zebra and wildebeest. It originally started off as a temporary camp, but was made permanent in 2008.
View full itinerary
Namiri Plains Camp
Days 3-5
Namiri Plains is located an hour and a half's drive due east from the game-rich core of the Serengeti – Seronera. The camp first opened in 2014 in an area that for more than 20 years had been closed to the public. Previously this region had exclusively been used for cheetah conservation and the number of big cats found here – especially lion prides and cheetahs – is astonishing.
View full itinerary
Kimondo Camp
Days 5-8
**Kimondo Camp closed in late 2021, as numbers of travellers were reduced by the Covid pandemic. We're still awaiting news of when it will re-open.**

Kimondo Camp in Tanzania moves location to follow the migration. Between July and October, it is situated in the Lamai Wedge, a small pocket of the Serengeti north of the Mara River and south of the border with Kenya – and is one of the more remote camps in the area. From mid-November to mid-March, Kimondo moves to the south-east of the Kusini area. There are only a few other camps around here, so it's a quieter option than the Ndutu area if you want to see the migration during this time.
View full itinerary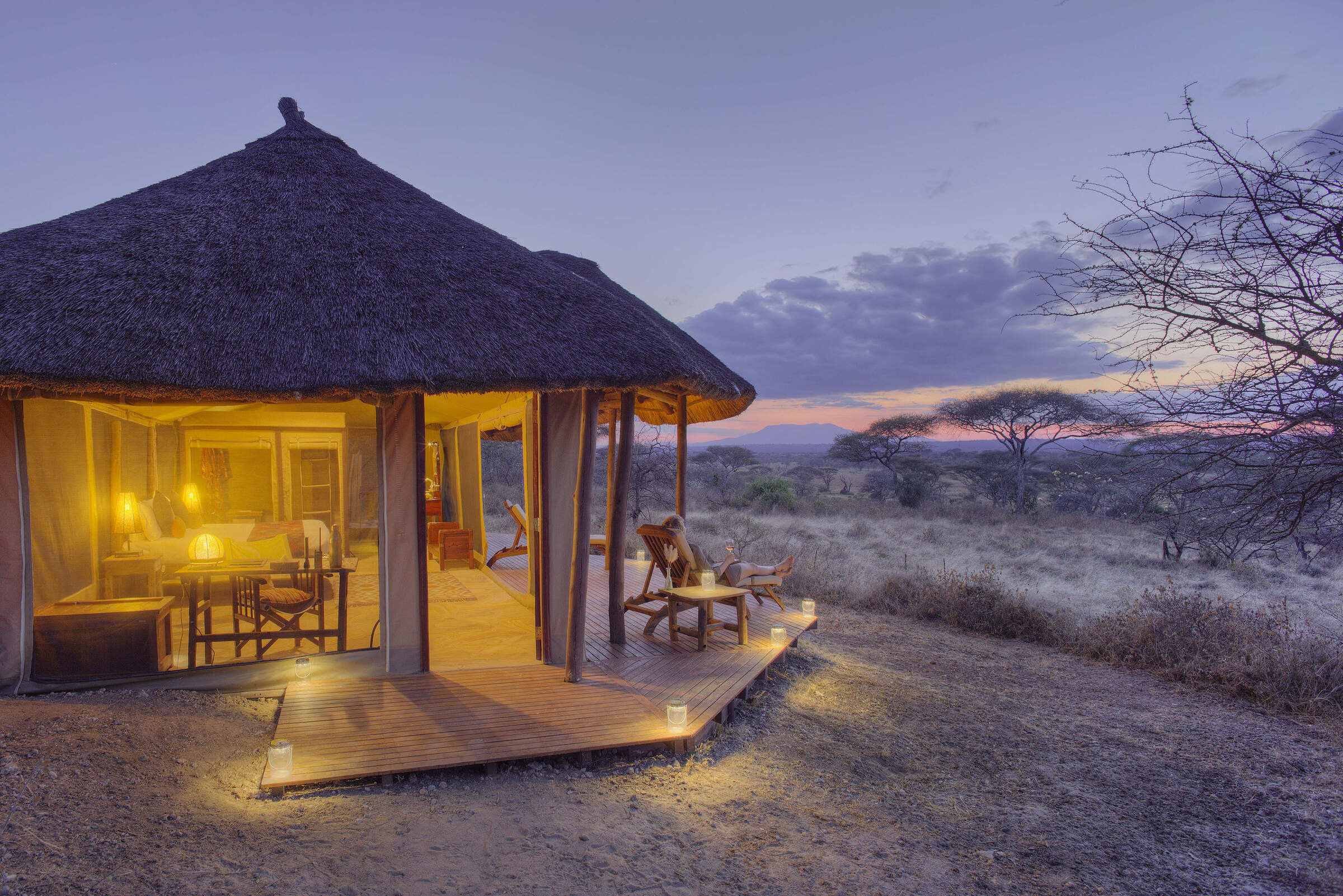 Oliver's Camp
Tarangire National Park, Tanzania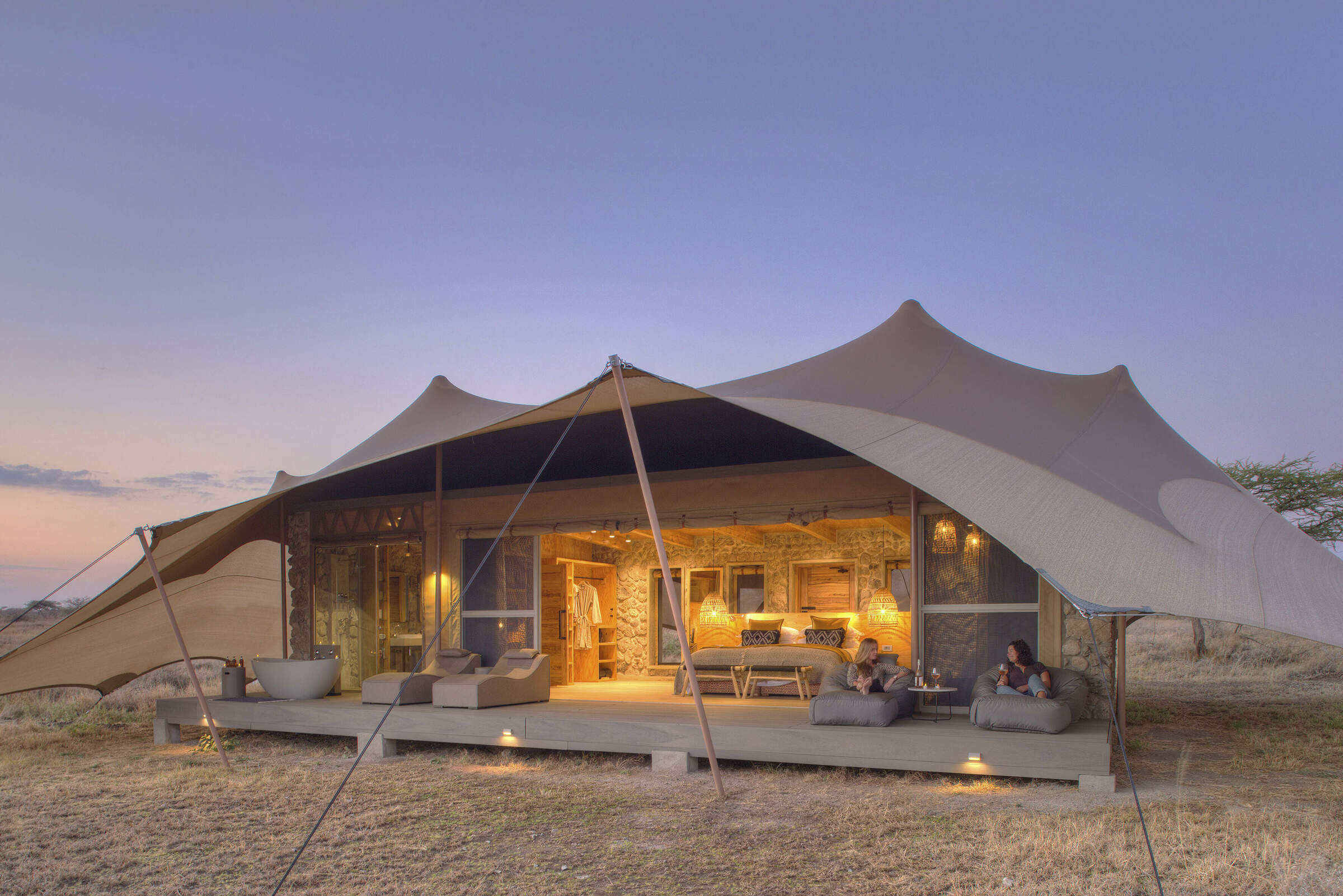 Namiri Plains Camp
Serengeti Migration Area, Tanzania

Kimondo Camp
Serengeti Migration Area, Tanzania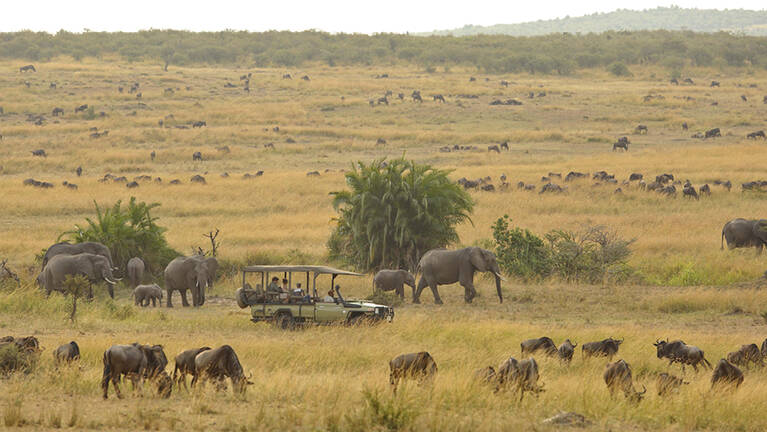 Highlights
Our thoughts on five of the top experiences of this Longclaw Fly-in Safari.
Safari by moonlight on a 4WD night drive
Marvelling at some of Tarangire's 500+ bird species
Watching lions lounge in the plains around Namiri
Following vast mixed herds as they migrate
Learning about the local flora during bush walks
Activities
Some activities which can be included in the Longclaw Fly-in Safari: talk to us about those which interest you.
4WD Safari

Birdwatching

Cultural excursion

Guided walking safari

Hot air ballooning

Night drive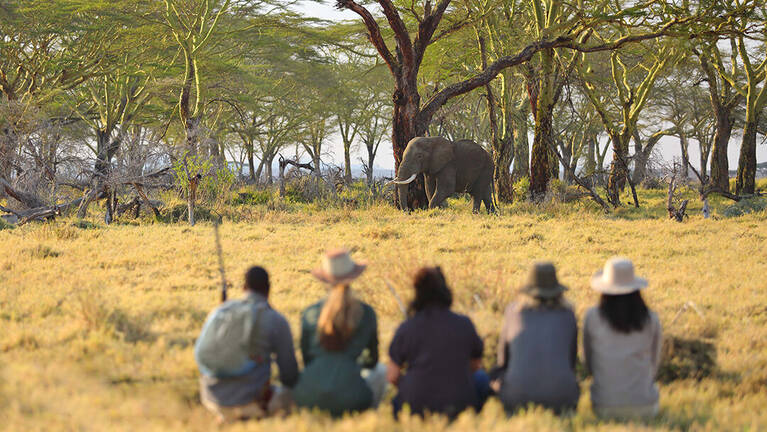 Key species to see on the Longclaw Fly-in Safari
Based on our travellers' observations, we've estimated the likelihood of seeing these species during the Longclaw Fly-in Safari. Click on the animals and our wildlife surveys page for more info.
---








Roan antelope
100% chance

Spotted Hyena
100% chance

Striped Hyena
100% chance








Side-trips whilst on this safari
We may be able to build in some of these optional excursions from the Longclaw Fly-in Safari. Talk to us: they're usually best arranged when you book.
---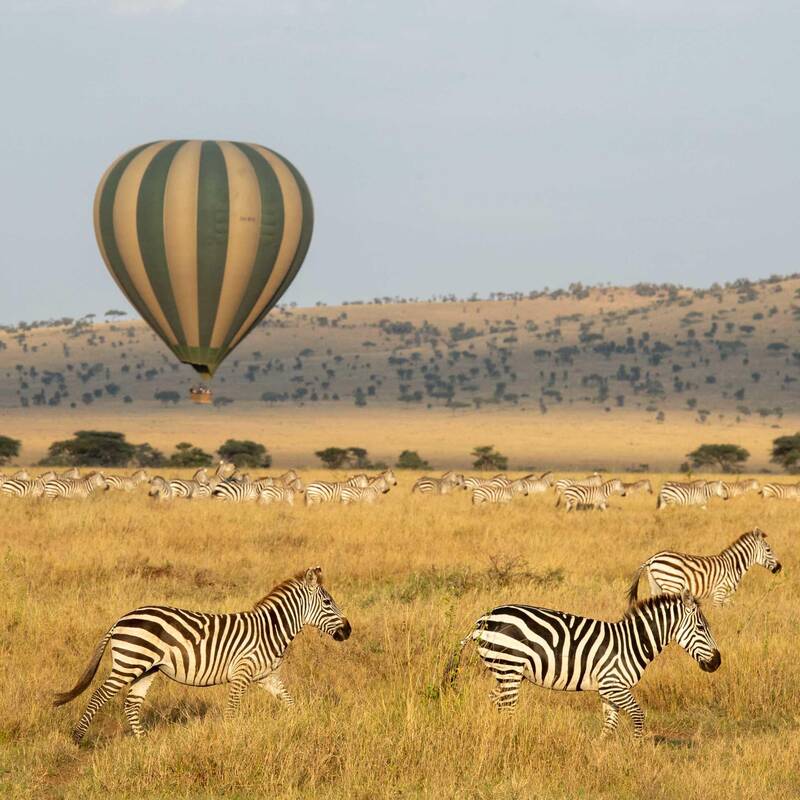 Balloon Safari over the Serengeti
Three hours - approx. one hour flight
As the sun rises over the Serengeti National Park in Northern Tanzania, climb aboard for an extraordinary adventure. For an hour you'll float in a hot air balloon over beautiful savannah and woodland and a diversity of plains wildlife.
More about Balloon Safari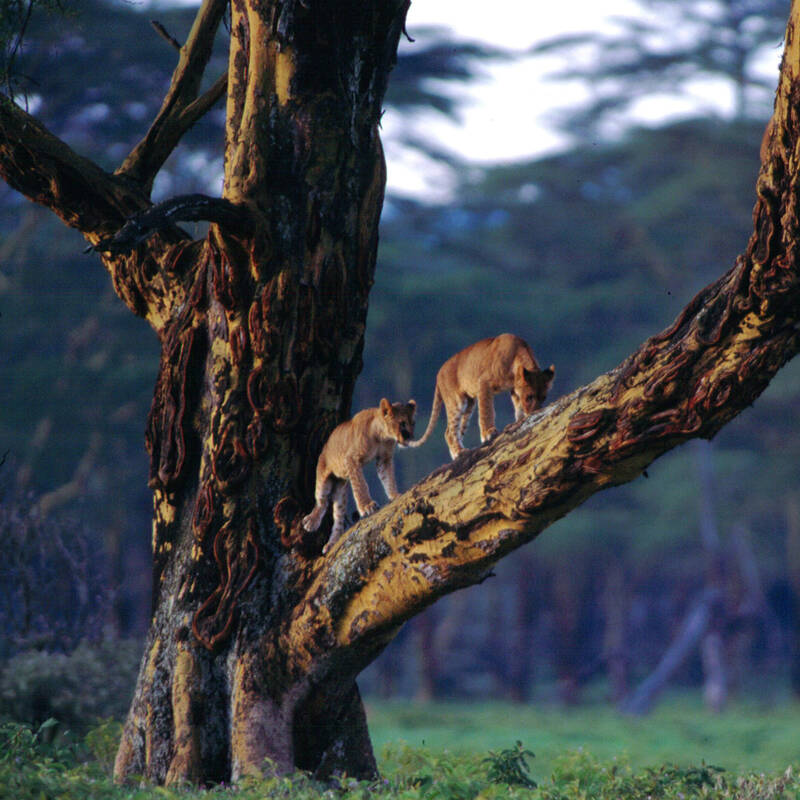 Lake Manyara Safari
Half-day or full-day
Set against the spectacular backdrop of the Rift Valley escarpment, Lake Manyara National Park makes a great safari destination. Here, along with elephant herds and plains game, you'll find jungle-like forests that are home to blue monkeys, a soda lake tinged pink by flamingos and some of Tanzania's best birding.
More about Lake Manyara Safari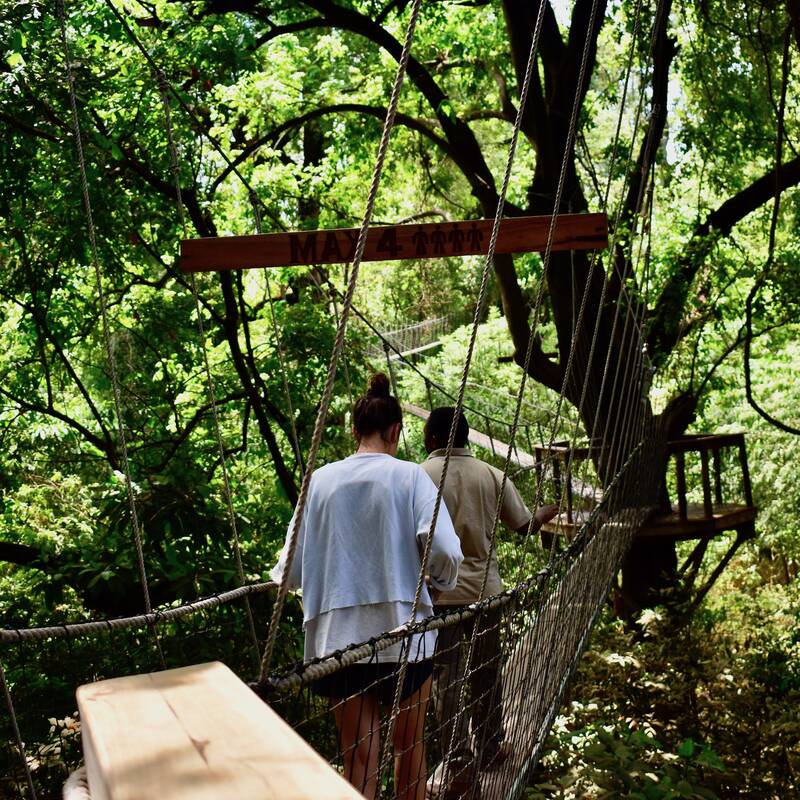 Lake Manyara Treetop Walkway
Usually one hour
Experience the forest of Lake Manyara National Park from a whole new perspective – high up in the trees. The first suspended walkway in Tanzania, it stretches underneath the canopy for 370m between the mahogany and fig trees, giving intrepid visitors a unique view of the surrounding flora and fauna.
More about Manyara Treetop Walk
Let us help you customise your trip
All of our holidays on this site are just ideas; none are fixed. All of our trips are tailor-made, so we'll always adapt them to suit you. Talk to an Expert and let us help you to work out your perfect trip.
---

Talk to an Expert
Call us now! We'll match you with the Specialist in our team who is best suited to help you. Then together we can start planning your trip.

Set up your itinerary
Based on our experience and your ideas, your specialist will create a detailed, costed itinerary. We'll refine it together, until we have a trip that you're perfectly happy with.

Prepare for your trip
The same Specialist will make the seamless arrangements for your trip, send you detailed travel documents, and be available to answer any questions before you depart.

Travel with peace of mind
After you set off, you'll be cared for by our partners in Africa, most of whom have worked with Expert Africa for decades. And if you ever need us urgently, we're available 24/7.

When you return
We love to learn about your trip, and so will always be grateful if you've the time to give feedback to your Specialist when you return.

Other ideas for Tanzania safaris
Look at these ideas in Tanzania: then talk to us. Will will design a trip that's perfect for you.
---
Other safari ideas across Africa
Talk to us: help us to understand what you like and we can create a safari that will really suit you.
---