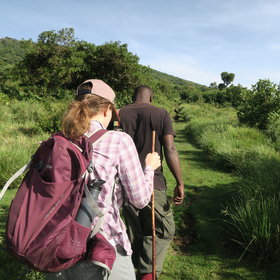 You'll walk through the Highlands with an experienced guide and ranger
Olmoti Crater walk
For the chance to see flora and fauna up close and to enjoy the beautiful Highlands area of the Ngorongoro Crater Conservation Area, head to the
Olmoti Crater
. The gentle ascent takes you through mountain forest, grassland and rocky outcrops – and makes an excellent break from sitting in a safari vehicle.
The Details
The walk offers very good birding, with raptors such as the augur buzzard, and daintier forest birds, including the golden-winged sunbird that we spotted. A large array of butterflies is attracted by varied vegetation, with some splendid fern species. Our guide told us about the traditional medicinal uses of the various plants, as well as pointing out animal tracks: a hyena had walked along our path, just a few hours before us.
As you walk, you'll enjoy mountain views and hear the faint chimes of cowbells – long before you spot the cattle that are brought here by Maasai herders to graze on the lush grass. At the summit, you will be rewarded with a stunning view of the Olmoti Crater and the seasonal Munge waterfall. This is a good spot to relax before making your way slowly down, back to your waiting vehicle.
Start location/time:
You'll be collected from your camp either in the morning or afternoon.
Duration of excursion:
The walk itself lasts 2–3 hours, with the drive from/to your accommodation varying according to the location.
What to expect:
The walk is not hugely strenuous, so only moderate fitness levels are required, although as you are at an altitude of around 2,500m, you may find yourself getting out of breath a bit sooner than normal.
What to take:
, Walking boots may not be necessary, but good sturdy shoes are advisable. Maasai walking poles are provided.
Do take plenty of water and sun protection as, depending on the time of year, it can be quite warm here.
End location:
After the hike, you will be driven back to your camp, or on to your new destination depending on your itinerary.
Maximum size of group:
This is a private hike, tailored to your group size and ability.
Meals included:
You could either bring a packed lunch or have lunch at your accommodation.
Guide:
The walk will be led by an experienced Maasai guide and accompanied by an armed park ranger as both buffalo and big cats are found in this area.
Please note
:
Expert Africa
only books excursions as a part of a full,
Expert Africa
itinerary.