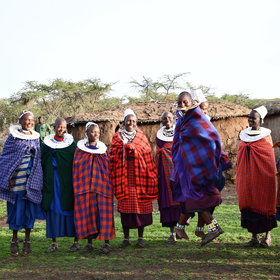 Expect a traditional welcome from the villagers.
Maasai Village Visit
Enrich your safari holiday with a visit to a Maasai village in the Ngorongoro highlands – perhaps including a leisurely walk to the village across the rolling hills of the plateau. Spend time with the villagers, find out about their way of life, and join in their exuberant singing and dancing.
Tanzania has a rich cultural history, but finding genuine experiences can be a challenge, as many tribal villages are now purely a commercial set up.
Entamanu Ngorongoro
and
The Highlands
, both excellent tented camps on the Ngorongoro Crater rim, have established a relationship with nearby Maasai communities in order to offer the camp's guests an authentic insight into the Maasai way of life. This excursion is available only to those staying at Entamanu or The Highlands. The communities are located nearby to the individual camps. Therefore different villages will be visited depending on which camp you are staying at, however, the structure of the visits remains largely the same.
What to expect on the village visit
In the afternoon, depart from camp with your guide, an armed park ranger and a Maasai from the village, to enjoy a walk over the Ngorongoro highlands as you head towards the village. The walk takes approximately one and a half hours, at a gentle pace, and is a great opportunity to look out for wildlife and learn about the flora and fauna up close. While giraffe are conspicuous by their absence on game drives on the Crater floor, the rolling hills and plateaus of the Crater's outside walls are home to impressive herds. You can drive (about 15 minutes) to/from the village from camp if you prefer not to walk.
On arrival at the village, expect to be greeted in the traditional manner: plenty of singing and dancing, with participation very much encouraged! There is then the opportunity to learn about some of the customary practices such as fire-making and beadwork. You may also get the chance to meet and speak to villagers in their homes - questions are very welcome and your guide will happily interpret if needed. It is worth noting that it can be quite smoky in the houses if the fires are lit inside.
During your visit, there is also the opportunity to purchase handmade leather and beadwork from the villagers, although these are also available in the camp shop.
Once your time in the village has come to an end, you can either be driven or walk back to camp, stopping for sundowners along the way.
Notes:
The walk to the village is over steep and uneven ground in places, so closed shoes are recommended, as is a reasonable level of fitness.
Please note
:
Expert Africa
only books excursions as a part of a full,
Expert Africa
itinerary.