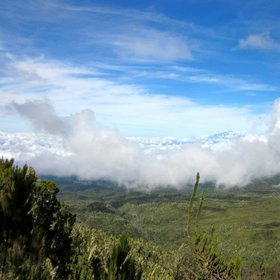 Hiking up through the forests of Kilimanjaro...
Day Hike on Mount Kilimanjaro
To climb Mount Kilimanjaro is on many a bucket list – but for a flavour of the mountain, how about a day hike? The highest mountain in Africa, Kilimanjaro is 5,985m, and it can take around a week to climb to the summit, but head for the less-visited western side and it's possible to do a one-day excursion, with some hiking.
A day hike on Mount Kilimanjaro can be a great addition to your Expert Africa safari.
The details
From your accommodation in Arusha, depart with your guide after an early breakfast for the drive to Kilimanjaro National Park. Depending on the location of your hotel, the journey will take 1½–2½ hours.
You will be driven to the western side of the mountain and up through the forests to the Londorossi Gate, at an altitude of 2,100m, where the hike begins. The ascent is over 1,000m, moving steadily up through tropical montane forests, home to a variety of animals and birdlife. With the help of your guide, you may spot colobus monkeys, crested turacos and more. As well as being the less-visited side of the mountain, these western regions are known to be frequented by big game from Kenya's Amboseli National Park, which neighbours Kilimanjaro National Park. It is not uncommon to hear elephants rumbling through the forest; you may even catching sight of them through the trees.
Your hike takes you up to the vast Shira Plateau, at 3,400m, a 500,000-year-old volcanic caldera that is now a World Heritage Site. You can stop for lunch here, or continue on to Shira 1 Camp, Lion Gorge and the foothills of the Shira Pinnacles. Kilimanjaro's iconic snow-covered table top, Kibo Peak, should be visible from here, as well as neighbouring glaciers.
For those with limited fitness or mobility, it is possible to drive all the way up to the Shira Plateau and then gently explore the surrounding areas on foot. Reasonable levels of fitness would be ideal for the longer hike.
Then, at the end of the day, most walkers are driven the full way back to their accommodation, allowing you to make the most of your time on the mountain.
What to wear:
The walk can be over uneven ground in places, so closed shoes are recommended. Due to the altitude, warm clothing and/or waterproofs are also advisable.
Start time:
Approximately 8.00am
Duration of excursion:
Full day
Meals included:
Packed lunch. Water will be provided in your vehicle.
Maximum size of group:
Private group
Please note
:
Expert Africa
only books excursions as a part of a full,
Expert Africa
itinerary.