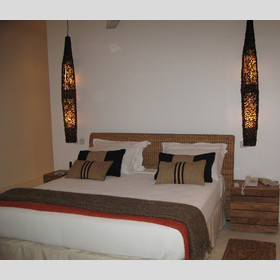 The bedrooms at The Oyster Bay Hotel are cool and contemporary...
Suite
The large Oyster Bay suites are cool and contemporary. They have been furnished in the same vain as the rest of the hotel: natural and chic with an Africa twist.

They have been decorated with calming colours: fawns and light browns and have a stylish feel to them. There are modern touches all over the rooms - a plasma TV, WiFi connection, air conditioning, funky art and furnishings. As in the main areas of the hotel, there is a lot of wooden furniture, adding to the natural feel of the place.

The walls have been painted a fresh white and have wood-framed artwork on them. The large double bed dominates the centre of the room and has been placed between two oblong, woven wood light fittings. A floor length mirror free-stands on the floor and there is a sofa and a desk. Rugs frame the bed and as in the dining room, the light fittings set a certain atmosphere. Despite the size of the rooms, they don't feel at all sparse, yet have a minimalist, stylish feel to them.

All have views over the ocean which can be admired through glass, French doors or from a small balcony.

The last time we visited Oyster Bay (September 2016). We were very impressed by the fixtures, fittings and the layout of the rooms. A great deal of thought has been put into the design and specific feel to the rooms.

The large bathrooms at The Oyster Bay Hotel are all en suite. The furnishings are in keeping with the rest of the hotel, in that they are crisp, elegant and natural. There is a free standing bath and an entirely separate 'walk through' shower.

Fluffy white towels and complimentary toiletries sit alongside the sink. There is an oblong mirror above the sink and stylish lights either side of it. There is a ceiling fan and views over the garden and pool.

There are pale blue tiles in the shower and this is the only splash of colour in the bathroom, but they don't feel in the slightest bit clinical.