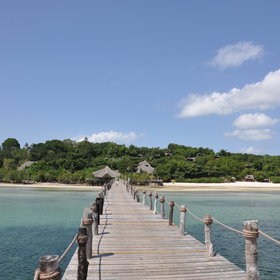 Fundu Lagoon is located in a remote corner of Pemba Island ...
Superior Suite
The two 'superior' suites at Fundu Lagoon are much larger than the
standard rooms
and even the normal
suites
. Situated on vast decks right on the beach, each has a two-storey lounging area, a huge tented room and a large circular plunge pool with a couple of sunloungers and a shady umbrella.
The whole building is open-fronted, affording views out to sea. On the ground floor, along with two further sunloungers, there's a dining table that is perfect for secluded dinners. The more relaxed lounge area above has sumptuous cushions scattered across the floor – and the view from here is beautiful.
Although the tents in the 'superior' suites are still quite rustic in style – with wooden floors and draped white fabric to mask the canvas roof and walls – they are quite vast in comparison with the other two room categories and can happily accommodate a third bed. Along with a good-size lounge area they have plenty of storage space for clothes. Like the other rooms, they also have a ceiling fan and a complimentary minibar.
The en-suite bathrooms, set behind a stone dividing wall, are bright and very spacious. His and hers sinks are set into a beautiful wooden surface, but the best feature of these bathrooms is the vast twin hot-and-cold shower.
Suite | Superior Suite | Tented room |