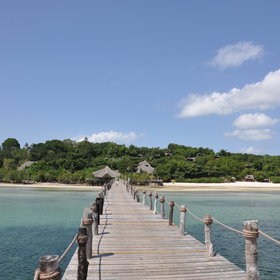 Fundu Lagoon is located in a remote corner of Pemba Island ...
Tented room
The 'Standard Rooms' at Fundu are spacious safari tents, set on wooden decks and under thatch. Within the standard room category there are two slightly different options -
beach-front rooms
and
hillside rooms
. The beachside rooms are slightly more costly than the hillside rooms – although the difference is nominal
The beach-front rooms are set right on the beach and have a number of loungers in front for sunbathing. Then the hillside rooms are set away from the beach and up the hill slightly. These rooms may not have the beachside location – but the high vantage points give these rooms spectacular vistas. They also have extended decks with sun-loungers on and they benefit more from the sea breeze.
In build, size and style the rooms are the same. Both have a quiet shaded verandah with large comfortable armchairs. The rooms are then behind this verandah and up a few stairs.
The tents are relatively rustic, with simple wooden décor and flowing cream fabrics – yet they are thoughtfully put together. Fresh flowers are set on your coffee table each day and the complementary mini-bar is stocked with whichever drinks you would prefer. Torches, mosquito coils and spray are also provided.
All the rooms have a lock-box for valuables and there is a ceiling fan for hot nights.
At the back of the tent and behind a partition wall is the en-suite bathroom. The bathrooms are relatively small and can feel a bit dark, but are perfectly functional with a hot-and-cold shower, single sink and proper flush toilet.
A lovely touch is the full range of complementary toiletries made specially for Fundu Lagoon. (There's a 'day' range, and an 'evening' range!) Local spices are sent to the UK and the scents are captured in a variety of soaps and shampoos. There are a few to choose from, depending on your desired mood.
Suite | Superior Suite | Tented room |